Currently Reading:
Building, Lives & Service – All in One Habitat for Humanity Home
September 16, 2013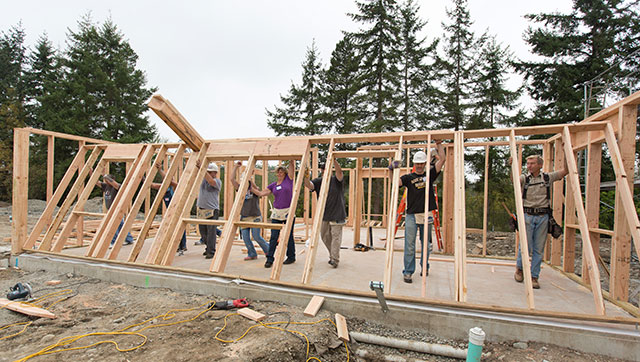 Wall-raising of the Habitat for Humanity home for Dianna and David Sullivan sponsored by PLU and Thrivent Financial on Saturday, Sept. 14, 2013. Dianna Sullivan is a graduate student studying Marriage and Family Therapy. (Photo/John Froschauer)
Update: Dedication Ceremony Set for Jan. 25, 2014
Building, Lives & Service – All in One Habitat for Humanity Home
You hear it a lot at Pacific Lutheran University—how everything comes together to fulfill a core mission: Building Lives of Service. And now, one project—along with one family and one innovative coming-together—is interpreting that "building" concept quite literally.
In a first-time initiative that combines philanthropy, direct service and advocacy of Pierce County housing issues, PLU is partnering with Thrivent Financial for Lutherans and Tacoma/Pierce County Habitat for Humanity to build a home in The Woods at Golden Given, a sustainable-design community about a mile and a half from campus.
Habitat Home Dedication
Event date and time: 12 p.m. Jan. 25, 2014. Celebration, fellowship and refreshments follow.
Location: The Woods at Golden Given, 962 104th St. E., Tacoma; house number 10504.
Admission: Free.
PLU service at work: Since August 2013, 235 PLU students, staff and alumni volunteers have put in more than 1,410 hours at the build site.
"This year, through good karma or good connections, chemistry happened," said Sue Potter, Habitat's director of Development and Communication. "In this new partnership with PLU on board, we have a new energy that gets college kids and alumni involved."
Speaking of good connections: If all goes according to schedule, one PLU graduate student and her family will inhabit that Habitat home by Christmas.
It's the American dream come true—and a family legacy fulfilled—for Dianna Sullivan '13, who's pursuing her master's degree in Marriage and Family Therapy.
Sullivan and her family—husband David; children Mason, 6, and Kallie, 3; and stepson Manny, 8, who visits regularly—now rent a 700-square-foot apartment in Lakewood, living solely on David's income as a cook at Red Lobster. Mason and Kallie share a room. Everyone shares a bathroom.
Their Habitat house certainly will have more space—more bathrooms, separate bedrooms for Mason and Kallie, plus room for Manny when he visits—but it also has even deeper meaning.
Sullivan said her father always had wanted to own a home and pass it on. He had paid off his mortgage just before he died, in 2009.
Now, Sullivan said, "I'm carrying that legacy. I'm the first and only child to own a home."
The Sullivans' church, Lakewood's Little Church on the Prairie, set the dream in motion by nominating the family to Habitat. When they didn't qualify the first time because of debt from medical bills, church members donated enough to pay it off.
As Habitat partners, the Sullivans are obligated to share in the work—and the expenses—of homeownership: They'll pay a mortgage slightly higher than their monthly rent (but at 0% interest), and they'll put in 500 hours of sweat equity—working on their home; attending financial-literacy and homeownership classes; and helping out at Habitat, whether in the office or, in Sullivan's case, starring in a promotional video.
On Sept. 4, 10 days before the official house "wall-raising," Potter and Habitat Director of Family Services Elliot Stockstad filmed Sullivan at PLU to chronicle her path to The Woods. They met at East Campus with the intention of capturing her classroom environment—but then realized school didn't actually start for another week.
So Sullivan flipped through her textbook and wrote on the whiteboard for art's sake only—but with a happy surprise: "I'm actually getting work done," Sullivan said. "I found a really good quote for my paper!"
The Habitat crew followed Sullivan downstairs, to the Couples & Family Therapy Center, where she had worked with clients before starting her internship at Greater Lakes Mental Healthcare, and then to Xavier Hall, where she perched on the stoop  and reflected on all the PLU connections that had brought her to this point.
With a bachelor's degree in Child Development and Family Relations from the University of Maine, Sullivan had worked in Maine until she was laid off. After her father's death, she and her family followed her sister to the Pacific Northwest, and her sister, as sisters sometimes do, gently pushed Sullivan to go back to school. Sullivan said PLU's program seemed just familiar enough, and more in-depth.
"I applied, I got in and that's why we're still in Washington," Sullivan said. "So much has come full circle: PLU sponsoring the house, me being here, the PLU community helping."
And that help is substantial.
PLU committed to raising $10,000 and to offering at least 1,200 hours of service for the Habitat house this year. So far, Lutes from all walks of life—Sociology classes, faculty, alumni, the women's basketball team and Sullivan's entire Marriage and Family Therapy cohort—have been integral to the process.
When the process wraps up, the Sullivans will be the proud owners—and part builders—of a three-bedroom, 1.5-bathroom, 1,050-square-foot home. It will be blue—not just because Sullivan's childhood dollhouse was blue; but also because she and David chose the color together. If it's like most Habitat homes, its underlying studs will be covered with good wishes written by volunteers (Sullivan loves that one of the men working on the foundation also is from Maine.)
And it will be filled with gratitude—and vital PLU connections.
"There's something about raising our kids in a house that's meaningful to me," Sullivan said. "I never felt like this was going to happen."