Currently Reading:
Breaking rules, honoring the ordinary, opening up to God
September 18, 2013
Lutheran Studies Conference 2013
Breaking rules, honoring the ordinary, opening up God: Lutheran perspectives on Jesus of Nazareth
The Lutheran Studies Conference will take place at Pacific Lutheran University on Sept. 26.
All presentations – which will begin at 2 p.m. –  will take place in the Scandinavian Cultural Center at the Anderson University Center on the upper campus of PLU (Park Avenue and 122nd Street South). Online registration began on Monday, August 26, at the Lutheran Studies website. This year's conference will be looking at differing perspectives on Jesus of Nazareth.
This year, the keynote speaker Gail Ramshaw, Professor of Religion Emerita, La Salle University, Philadelphia. She will talk on Jesus as Champion, Sacrifice, Lover, and Tree of Life:
The Christian meeting of history and metaphor. Her talk will begin at 7 pm.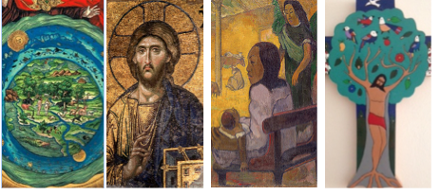 Christians have always sought for the Jesus of history. In our time, both biblical critical studies and popular literalism ask the question, "Who was Jesus?" There is, however, a different question to consider: "Why is Christ?"  Ramshaw's presentation will focus on four Christological images embedded in ancient texts and contemporary hymns that open up, rather than narrow, the Christian understanding of God.
Ramshaw is a graduate of Valparaiso University (B.A.), Sarah Lawrence College (M.A.), Union Theological Seminary (M.Div.), and the University of Wisconsin-Madison (Ph.D.). Her doctoral dissertation is a study of the poetry of Thomas Merton. Ramshaw is much published, her works ranging from Reviving Sacred Speech (1999) to Under the Tree of Life: The Religion of a Feminist Christian (2003) and her most recent work, What is Christianity? (2013). A Lutheran scholar of international repute, she is considered one of the world's leading experts on religious language and its liberating capacities. Ramshaw has lectured and offered courses in many countries, including Australia, China, Denmark, England, Italy, Japan, and Norway.
Other speakers include:
Visiting Assistant Professor of Religion Brenda Ihssen
Byzantine conceptions of Jesus: the Christ of council, court, and monk
Byzantine perspectives offer westerners a contrast to their cherished assumptions about Jesus. This presentation will reflect on how Eastern Christians opened their understanding of God through the theological work of bishops, the Byzantine court's care for the welfare of imperial identity, and the Byzantine monk's care for the welfare of the individual. Ihssen teaches religious history in the Department of Religion at PLU. Ihssen will speak at 2 p.m.
Professor of Religion Samuel Torvend
Luther's cosmic Christ and care for our wounded earth
While he was taught as a child that Christianity helps one escape the earth for a "better life" elsewhere, the adult Luther promoted an earth-embracing view, one that embarrassed his followers and led to his condemnation, a view that gained prominence only in the late 20th century. We ask: Why did he get in trouble and how might his insights sustain human care for this wounded earth? Torvend holds the University Chair in Lutheran Studies and teaches church history at PLU. Torvend will speak at 3 p.m.
Professor Daniel Peterson
Jesus Christ as the site of God's demise: A radical Lutheran Christology for the None Zone
The None Zone is a place where religion has been transfigured: "spiritual but not religious" is its creed; individual "harmony and happiness" its goal. The most radical strain of Lutheran Christology, one in which God gives Godself away totally and completely to the "other" by becoming incarnate and dying, provides a corrective to None Zone narcissisms and informs Christian discipleship in the None Zone than its more orthodox alternatives. Dr. Peterson teaches humanities in Matteo Ricci College at Seattle University. Peterson will speak at 4 p.m.