Currently Reading:
Building leaders through faith, trust and risk-taking
September 24, 2013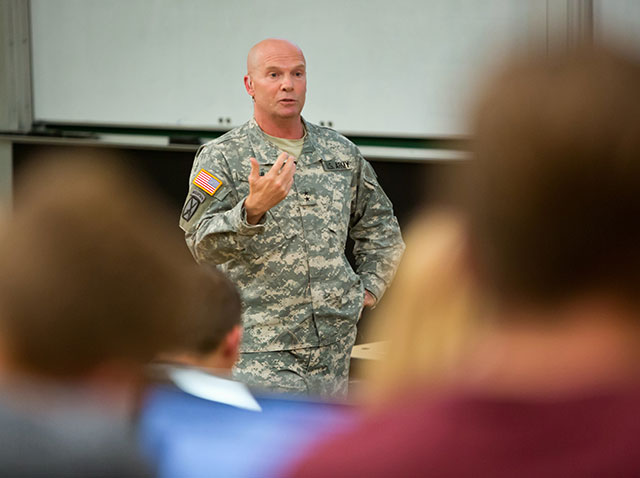 Building leaders through faith, trust and risk-taking
By Chris Albert
In any organization, the pillars of integrity, trust and faith build strong leadership and a functioning unit, Maj. Gen. Kenneth R. Dahl told PLU students at the opening lecture of the MBA Executive Leadership series on Sept. 24.
Dahl, Deputy Commanding General, I Corps of Joint Base Lewis-McChord, said keeping those tenets in mind hasn't always been easy for him: Two or three times in his military career, he said, something he was tasked to do, didn't sit well with him, and he was fired. In each case, cooler heads prevailed and he was rehired, but he would not sway from his core beliefs.
"In each of those cases, if I had remained fired, I would have been comfortable with it," Dahl said.
Pyramid Staging and Events presents the PLU MBA Executive Leadership Series for fall 2013. The next talk is Oct. 9.
Reflecting on his path to JBLM, Dahl told students that their college years will shape who they will be and what passion they will follow, just as his time at the United States Military Academy at West Point did for him."It was a formative experience for me. I didn't know that at the time, just like many of you don't know how formative this is for you," he said. "But it catches up to you."After his time at West Point and seven years in the military, Dahl headed to the University of North Carolina at Chapel Hill. He was older than many of the students and had more life experience. Many of the students learned from him and, likewise, he gained new perspectives.
"It really broadened my mind," Dahl said.
As his career continued in military service, he continued to take unconventional routes that helped widen his experiences and worldview. At one point, he had the opportunity to work at the Pentagon, but chose to serve as an Army Senior Fellow with the Brookings Institution in Washington, D.C., and as an Army Senior College Fellow with the National Security Program in the John F. Kennedy School of Government at Harvard University.
It was a risk, he said, but worth it.
"I mention that because each of you are going to be faced with those opportunities," Dahl told the students.
The world needs those who take risks, he said. And knowing what risks are worth taking is key not only to a successful career, but also to a fulfilling life.
"You should be very aware of the risks and go into those risks with eyes wide open," he said. "Have a philosophy of who you are and what you're comfortable with."
Effective leadership doesn't stop at risk assessment, though.
"If you're going to be an effective leader, you need to have balance in your life," Dahl said. "If you're going to help other people, you need to be on firm ground."
He said a firm foundation of health, job, finances, relationships and family helps build stronger leadership skills and establishes balance.
"There's no doubt in my mind you will experience crisis in those areas at some point in your life," Dahl said. "When all those are happening, you're in the hurt locker."
A strong faith has helped Dahl through those times, he said; but for the first 15 to 18 years of his career, he felt it was inappropriate for him to talk too much about that.
"But then I became more comfortable with it when I discovered it was important to lead," Dahl said.
It's not important what faith you hold, he said, but to have one faith in something that works for you.
"When all those other things aren't going well, your faith is there, especially when you invest in it," he said. "That gives you a shoe to stand on when things aren't going well."
Dahl recalled an artillery training exercise he was leading in Hawaii that turned potentially deadly when a lieutenant's miscalculation resulted in mortar rounds dropped on soldiers.
"I was terrified," he said.
No one was hurt. Dahl's commander was ready to pull the plug on the training. Dahl argued that they had addressed the problem and it would not happen again. The training continued without issue.
"That's an incredible amount of trust," he said. "You're going to have days like that. You hope it isn't irreversible. You're going to have to take risks, and someone is going to have to have trust and faith."