Currently Reading:
The changing Constitution
September 27, 2013
The changing Constitution
In celebration of the 226 anniversary of the United States Constitution, Pacific Lutheran University hosted speaker Leno Rose-Avila, and a panel discussion on immigrant rights.
Rose-Avila is the Executive Director of Seattle's Office of Immigrant and Refugee affairs. He has been involved in immigrant rights issues for many years.
Rose-Avila discussed the issues of immigrant rights and how the Constitution helps shape how laws are made and amended with the changing nation.
"While I love the Constitution, I know it has to changed," Rose-Avila said. "To the future we are going to, there is no GPS. We have to create it."
He talked about how immigration has been a problem since the beginning of the United States. Avila described how Cuban immigrants are allowed to stay in the U.S.A. if they get one foot in America. However, it is not the same for immigrants from other nations, Rose-Avila said. Rose-Avila helps immigrants find homes, work and safety in the United States.
"People don't come here to go to Disneyland," Rose-Avila said. "They come here to work."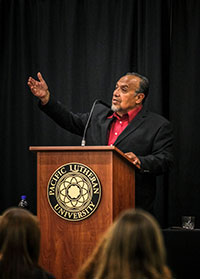 Executive Director of Seattle's Office of Immigrant and Refugee Affairs,Leno Rose-Avila, spoke during PLU's Constitution Day.(Photo by Quinn Huelsbeck)
Rose-Avila explained how people are not always aware of immigrant rights and how they can affect them."We can see things far away but not always right next to us," Rose-Avila said.
Rose-Avila emphasized facts about the detention center in Tacoma where a number of immigrant detainees are held.
Mary Beth Leeper, a panelist and PLU alumna, works as an immigrant lawyer and represents a number of immigrants held at the Tacoma detention center. There are more than 1500 detainees held at the detention center, Avila said, majority of which have no criminal record.
Rose-Avila suggested the audience visit the detention center and see the workings of it. He encouraged the audience to speak up if they think it is unjust.
"Know that you have a right and a responsibility to make a difference," Rose-Avila said.
Wendy Martinez, PLU senior on the panel, strongly emphasized how everyone may know and even be friends with an undocumented immigrant.
"There are undocumented students on campus and they may be sitting next to you in one of your classes," Martinez said. "Just think how immigration affects everyone."
This lecture connected to the anniversary of the Constitution by explaining how laws and amendments are being made regarding immigrant rights currently. Recently an immigration Senate Bill passed in June and a House Bill may reach the floor in October, Leeper said.
All three speakers emphasized the power of the individual and how each person can make a difference.
"The journey that began so many years ago is still changing today," Leeper said. "All of us have the ability to shape the future."