Currently Reading:
Kennedy memories
October 1, 2013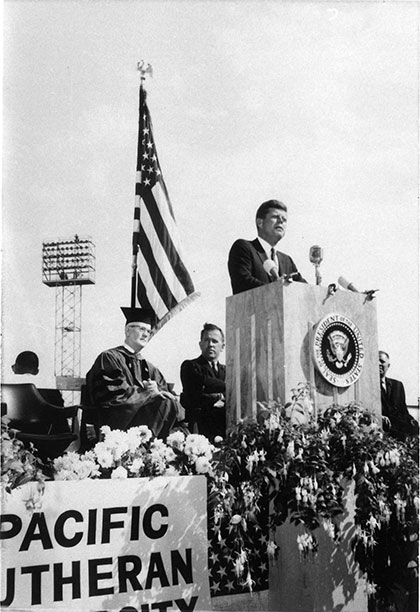 Share Your Slice of History
On Sept. 27, 1963—just weeks before his death—President John F. Kennedy spoke at a joint PLU-UPS Convocation at Tacoma's Cheney Stadium.
Speaking to a huge crowd of rapt Lutes and major-league dignitaries (including then-PLU President Robert Mortvedt, U.S. Sens. Warren Magnuson and Henry (Scoop) Jackson, Washington Gov. Albert Rosellini and Secretary of the Interior Stewart Udall), Kennedy called for social justice, community and stewardship of nature—issues that still resonate today, especially at PLU.
And, we imagine, especially if you saw Kennedy in person.
We've already heard informally from several Lutes who attended Kennedy's Tacoma speech—so we suspect there are more of you out there.
We'd love to hear from you, too.
Please help us mark the 50th anniversary of Kennedy's death this November by sharing your memories of his Tacoma appearance—or even stories you've heard from other Lutes who were there.
You may post your stories on our brand-new Scene Facebook page (www.facebook.com/pluscene) or in the Comments section below. (And if you weren't there yourself, check out the historic stories of those who were!)