Currently Reading:
Black History Month Concert
January 24, 2014
PLU concert celebrates Black History Month
Pacific Lutheran University pays tribute to the artistic entrepreneurship of African Americans with a Black History Month Concert that celebrates a lasting legacy of music, literature and art.
Covering a rich tapestry of gospel, blues, jazz and concert works, along with recitations from classic African-American literature, the concert will feature PLU student ensembles—including the University Symphony Orchestra, Wind Ensemble, Jazz Ensemble and Chorale—as well as prominent local talent: steel-drum artist Obe Quarless (pictured), vocalist Marlette Buchanan and DaNell Daymon and the Greater Works Chorale.
Concert details
Date and time: 8 p.m. Thursday, Feb. 20.
Location: Lagerquist Concert Hall in the Mary Baker Russell Music Center at PLU.
Tickets: $8 general admission/$5 for alums and patrons over 55/free to the PLU community and students under 18; call 253-535-7411.
For more information: http://bit.ly/PLUConcert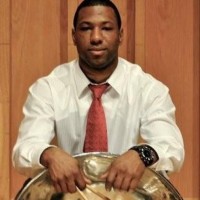 In addition to showcasing the music of African Americans, the program also will feature works of European composers from the early 20th Century inspired by African-American music, including Milhaud's La Creation du Monde and the second movement of Dvorak's New World Symphony. In addition, the PLU Jazz Ensemble will perform the music of Duke Ellington, accompanying the PLU Swing Club dance troupe.
The concert, organized by David Deacon-Joyner, PLU Professor of Music and Director of Jazz Studies, serves as the first event of PLU's 2014 School of Arts and Communication FOCUS Series on Entrepreneurship. It acknowledges how music grew into a public voice for personal and community cultural expression by African Americans after emancipation and the Civil War, propelling black writers, artists and musicians into roles as heroes, mentors, spokespersons and ambassadors to the larger culture.