Currently Reading:
PLU to Sochi: Prof. travels with Team USA to Olympics
January 29, 2014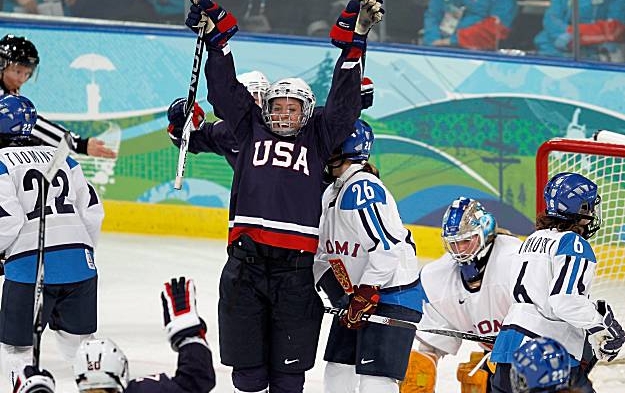 From PLU to Sochi: Professor Colleen Hacker teaches teams, individuals to possess a gold-medal attitude.
PLU Kinesiology Professor Colleen Hacker knows all the Olympics predictions, all the stats for the U.S. Women's Hockey Team.
World champs. Favored to win the gold in Sochi. The ones to beat.
As she faces her fifth Olympics, and first Winter Olympics, Hacker, the mental-skills coach for the U.S. team, said she doesn't think about any of that. She doesn't want her team to focus on these facts—or predictions, either. She wants them to focus on their first game against Finland on Feb. 8, the day after the Games' opening.
She would love to march in with the team during Opening Ceremonies, but she wants the team to keep focused on that all-important game in the first group, and then focus on other opponents in the first round of competition, including Canada and Switzerland.
"Yes, it's going to be a tough round," she laughed, as she set about packing this week to first meet up with the Team USA in Boston on Friday, and then fly together to Germany and then on to Sochi.
"But if you start thinking about the quarter finals before you get out of that first group, you're in trouble," she said. "You need to stay focused on what's in front of you."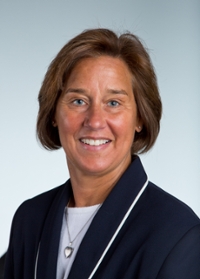 And to think and act like a team, which explains why Hacker was working with the team in California last fall, running them through team-building skills on the beach—from working together to keep a tennis ball from hitting the sand, to fun drills where two members protected a third from a fourth player trying to break apart their linked hands.
This passion is something Hacker discovered a long time ago. She recalls learning the importance of playing with a smart head and with your emotions under control early on.
"I am the youngest of three children. I learned at a very early age that it's not always the fastest and the strongest," Hacker said. "What you're doing with your head and what you're doing with your heart is the key difference."
Hacker's success as an athlete and as a coach and mental-skills coach speaks volumes about her expertise. After coming to PLU in 1979, Hacker led PLU's women's field hockey team to victory at the conference championship and to a spot in the 1980 national tournament.
She started the intercollegiate soccer team at PLU and led the team to 11 conference championships, district and regional championships, and to five national tournaments, three of which they won. Hacker was on staff for the U.S. National Soccer Team's first gold medal win in 1996, the 1999 World Cup Championships, a gold medal win in the Goodwill Games, a silver medal in the 2000 Olympic Games and gold-medal wins in the 2004 and 2008 Olympic Games.
She also was on the 2008 Olympic Coaching Staff for USA Field Hockey when the team qualified for its first Olympic Games in 16 years. Team USA has medalled in all four appearances since the sport was first introduced to female competitors at the 1998 Winter Olympics.
However, 1998 was the only time they've reached the top of the podium. Canada has won three straight Olympic gold medals, beating the Americans in the finals in 2002 and 2010. The United States took the bronze medal in 2006, when Sweden won the silver.
"This is really an opportunity to for this group to shine," said Hacker. "This team has been preparing for this their entire lives."