Currently Reading:
MSF Team's Stock Rises at Major Financial Competitions
March 19, 2014
MSF Team's Stock Rises at Major Financial Competitions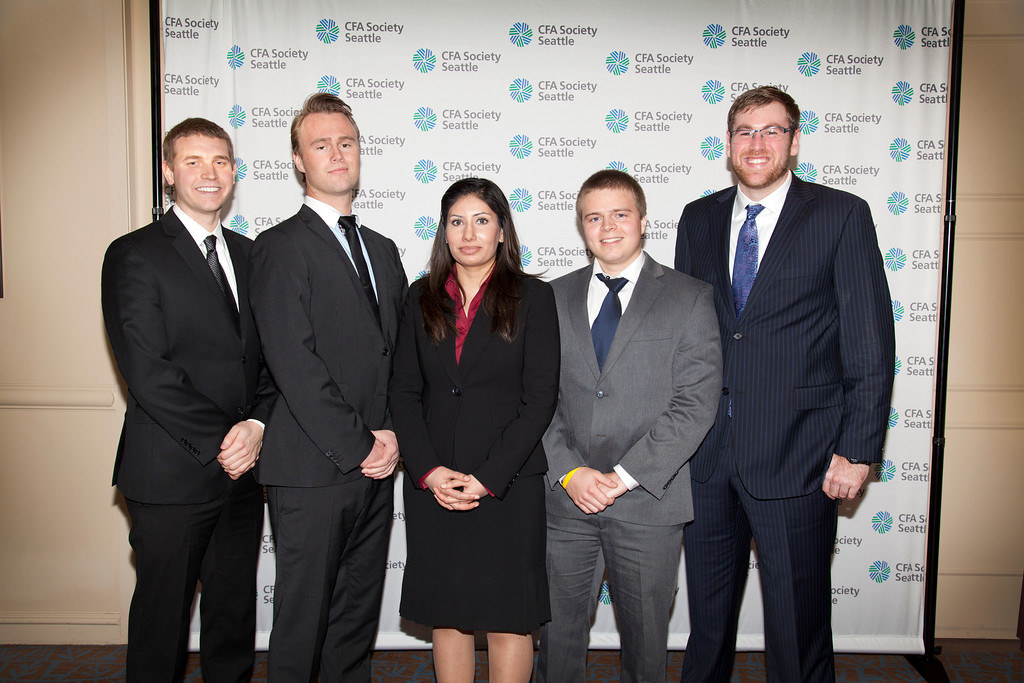 By Sandy Deneau Dunham
PLU Marketing & Communications
PLU Master of Science in Finance students have won the local 2014 Chartered Financial Analyst (CFA) Institute Research Challenge and competed in its prestigious Americas Regional Finals. And all this less than one year after acceptance into the CFA Institutes University Recognized Program.
The CFA Institute Research Challenge is an annual global competition—the "investment Olympics" for university students—that provides university students with hands-on mentoring and intensive training in financial analysis. Students gain real-world experience as they assume the role of a research analyst and are judged on their ability to value a stock, write an initiation-of-coverage report and present their recommendations.
First, in late January, Pacific Lutheran University's team out-analyzed four competing teams—from Seattle University, The University of Washington-Seattle, Western Washington University and The University of Puget Sound—to take the local title and advance to the Regionals, held March 18-19 in Denver.
There, PLU's team—Kirk Swanson, Tobias Kornberg, Raji Kaur, Kristoffer Dahle and Evan Turner, advised by MSF Prof. Ufuk Ince—was randomly assigned to compete against four other teams in the first round: Fordham University (New York), Marquette University (Wisconsin), Rhodes College (Tennessee) and Cal Poly Pomona (California). Fordham and Marquette advanced to the next round in the NCAA-like bracket; the team from the University of Missouri-Kansas City ultimately won.
"We're very proud to get where we did," said team member Evan Turner '14. "The obvious point is we're disappointed, but we had a very tough draw."
This was the first PLU team to advance to the Regionals, Turner said, while Fordham was considered a front-runner and Marquette has competed five years in a row.
"We are so proud of this remarkable team of PLU students," said Nancy Albers-Miller, Dean of the School of Business. "The CFA Challenge represents an opportunity to compare our students to those studying at many well-respected and long-established programs in our region. It is rewarding for our students to confirm they are among the elite and the very best-educated students in the Northwest."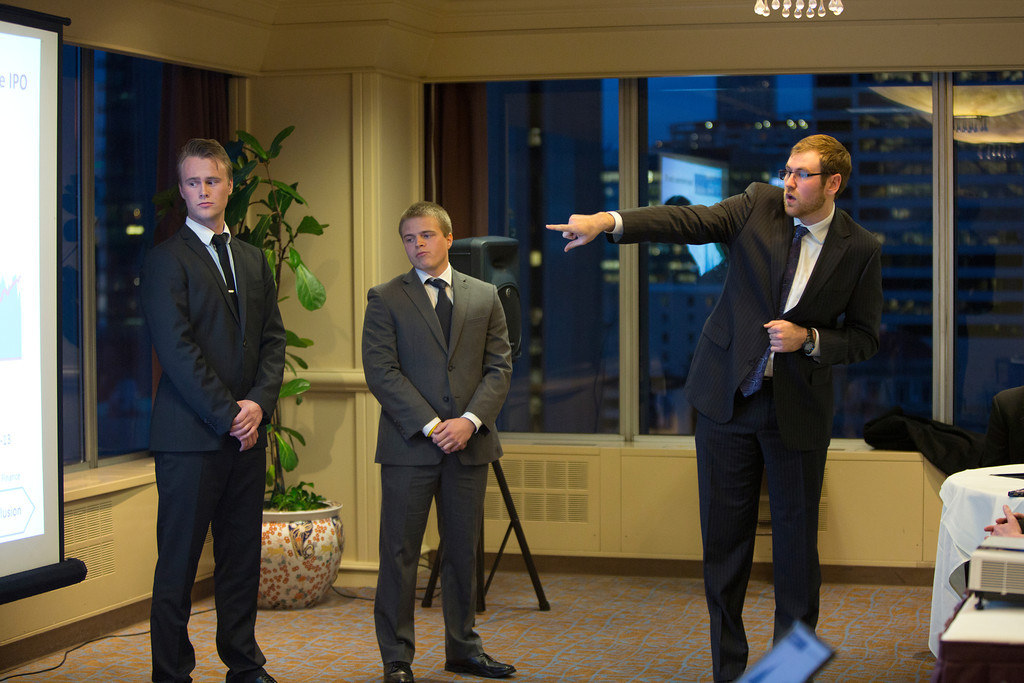 At the CFA challenges, students work in teams to research and analyze a publicly traded stock. Each team produces a report on its assigned stock with a buy, sell or hold recommendation and then presents and defends its thesis to a panel of industry veterans.
It's a challenge perfectly suited to PLU's MSF, which is jointly offered by faculty from Finance, Economics, Accounting and Mathematics to present a cross-disciplinary education that uniquely prepares graduates to excel in financial careers by equipping them with a powerful set of skills and tools from a curriculum designed in collaboration with industry. PLU's MSF was accepted into the CFA Institutes University Recognized Program in April 2013.
PLU's team started working on its analysis in October after being assigned Zumiez Inc., which sells clothing and gear for skateboarding, snowboarding and surfing (each team is assigned a company whose headquarters is in the same geographic region as the team's local CFA Society).
PLU's presentation at the local competition in January knocked the socks off the judges, and the team went from one of 350 from leading universities and business schools across North, Central and South America to one of 49 teams at the Americas Regional."At the local level, they thought we had a very good chance to advance to the (Regional) semifinals," Turner said.
Even though that didn't happen, Turner said the team had an excellent trip—and laid some very important groundwork for future PLU teams.
"It's really excellent for the university," he said. "We came into the event very blind, but knowing what we know now, and what our faculty advisor knows now about how it's set up and what presentations do well, we can clearly say to the next group: 'These are the things they look for; these are the ways they're looking for questions to be answered,' and that alone is huge."