Currently Reading:
Take Back the Night
April 25, 2014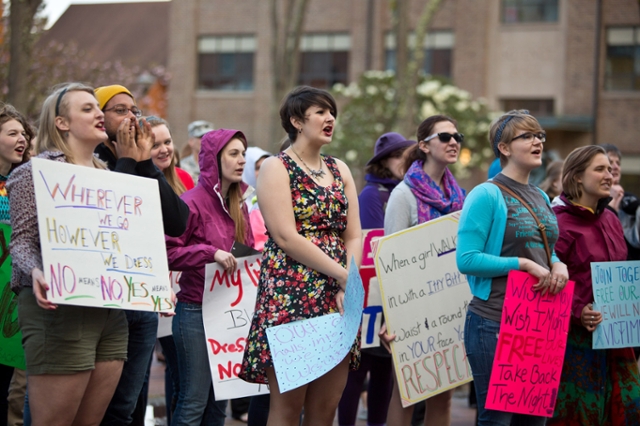 Crowd gathers for Take Back the Night event at Red Square. The annual event is part of an international campaign to raise awareness against sexual assault. (John Froschauer, Photo).
Take Back the Night event focuses PLU campus on the campaign against sexual assault
By Barbara Clements
Director of Content Development
It comes down to a singular act of courage on an individual's part, and taking responsibility for one's own actions, to put a stop to sexual assault and violence, speakers stressed at PLU's annual Take Back the Night march.
Hosted by PLU's Women's Center, the event featured speakers who stressed that each individual—men and women—has to decide to act.
President Thomas W. Krise noted that one study found that 25 percent of college women have reported being sexually assaulted, and it's a statistic the entire community should be concerned about, and work to change.
Lt. Col. Kevin Keller, head of PLU's ROTC program and professor of military science, said this issue has affected his family personally, and he is frankly embarrassed and dismayed by recent headlines of the rising rate of rape and sexual assaults within all branches of the military.
"Our institution is built on honor," Keller said. "And it's personally embarrassing to see these reports. No mother, sister, wife should have this happen to them.
"We need to get out of the 'man box' that society has put us into, where we need to be controlling to be a man," he said.
The Take Back the Night event was attended by about 70 people, with Caitee Borges '14 leading the group in chants and, with signs in hand, on a march around campus. The event comes just before President Barack Obama's task force, which has been looking into sexual assaults on college campuses, is due to release its report on the issue, possibly as early as April 29.