Currently Reading:
Former Congressman Norm Dicks to speak at 2014 Commencement
April 27, 2014
Norm Dicks to be Commencement Speaker at
Pacific Lutheran University Commencement in May
Former Congressman Norm Dicks will be Pacific Lutheran University's Commencement speaker at the university's Commencement ceremony on May 24."After almost 36 years in Congress, U.S. Representative Norm Dicks closed out a career as one of the most powerful people ever to represent Washington state in Congress," said PLU President Dr. Thomas W. Krise.  "As the top Democrat on the powerful House Appropriations Committee, he steered hundreds of millions in federal money to clean up Puget Sound and the Hanford nuclear reservation, revive the downtowns of Tacoma and Bremerton, and bolster defense projects in the state.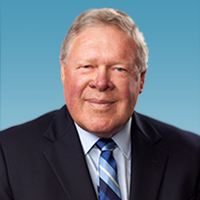 "We are honored to have him speak to the graduating class of 2014, and we imagine that he will go a long way in inspiring the next generation of leadership in our state," Krise said. Dicks began his service in Congress in 1977 and served continuously until 2013. He now serves as a senior policy advisor in Ness Van Feldman, a law firm with offices in Washington, D.C., and Seattle.
PLU was in Dicks' Congressional district for a good share of the time he was in office, but even when the district boundaries were remapped and the university was not in his district, he and his office were always helpful to the university. Throughout his career, Dicks led the way in key educational and environmental issues, including the instrumental role he played in securing federal funding for the Math, Engineering, and Science Achievement (MESA) program now located in the Morken Center.
Dicks was a remarkable leader for our community and an advocate for the community at the federal level, securing federal funding for the Puget Sound Water Quality Authority and for its successors, including the Puget Sound Partnership. In 2001, he was instrumental in setting aside $12 billion for the Land and Water Conservation Fund and other conservation programs. He was a key player in  establishing various Washington wilderness areas, including the Clearwater Wilderness Area adjacent to Mount Rainier National Park.
He secured funding for Superfund cleanups in Tacoma, and helped break many jurisdictional and regulatory logjams that threatened to slow cleanup plans. He also worked to revitalize downtown Tacoma and Bremerton.
Dicks is also well-regarded for his legislative acumen and for his commitment to the aerospace industry and the military. From 1995 through 1998, Dicks served as the Ranking Democratic member of the House Intelligence Committee and was awarded the CIA's Director's Medal upon completing his service. Upon his retirement, he received the Department of Defense Distinguished Public Service Medal, the highest honor bestowed upon a civilian, for his work on behalf of military members and their families.
Dicks is a native of Bremerton, Wash., and a member of an ELCA congregation. Dicks graduated from the University of Washington in 1963 and received his law degree from the University of Washington School of Law in 1968. Later that year, he joined the staff of Sen. Warren G. Magnuson. Dicks left Magnuson's staff in 1976 to begin what was a successful campaign for Congress in Washington State's 6th Congressional District, where he served 18 consecutive terms.