Currently Reading:
The Career Whisperer
June 22, 2014
The Career Whisperer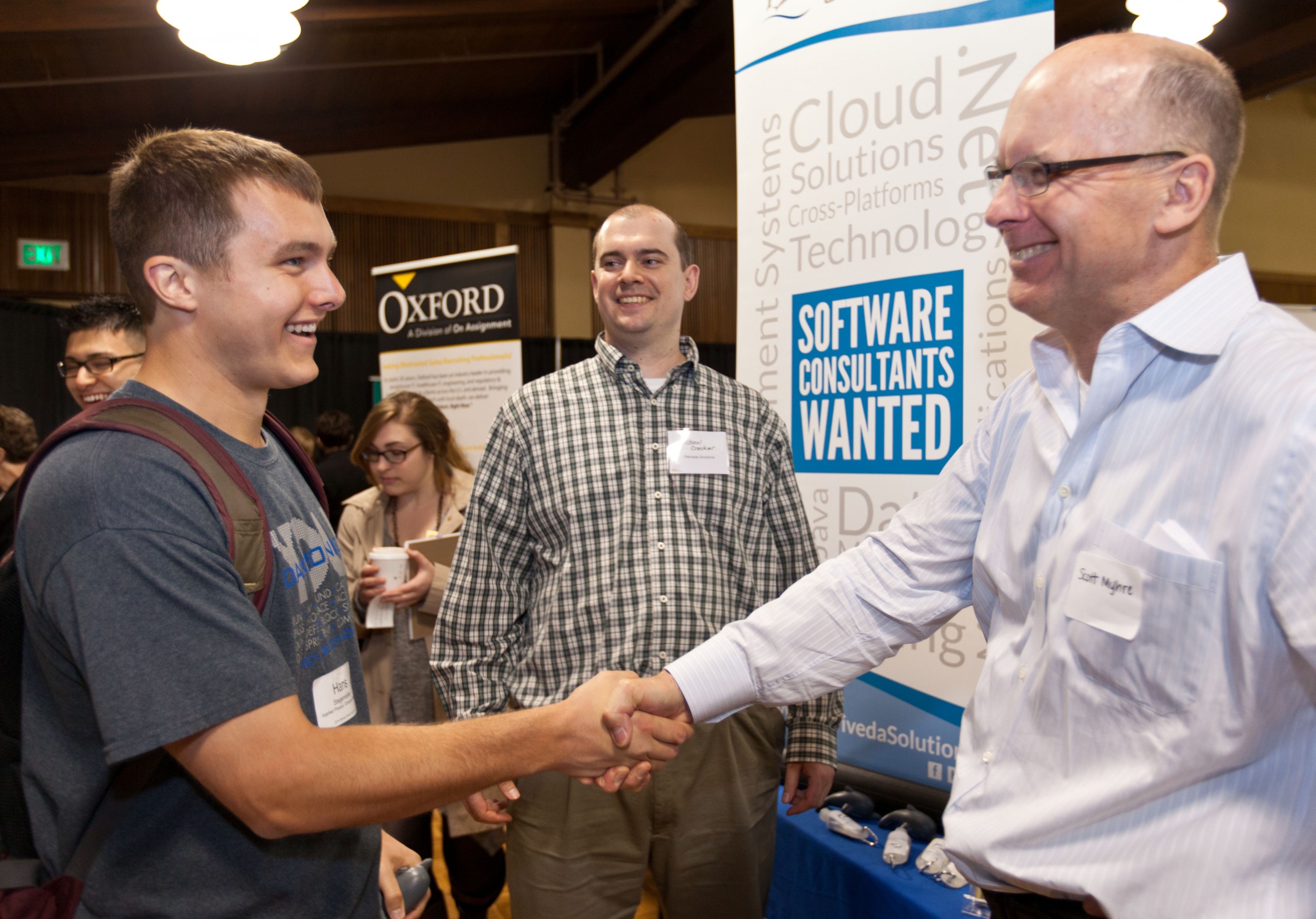 Hans Stegemoeller '14 shakes hands with Scott Myhre of Pariveda Solutions at the 2014 Career Expo at PLU. (Photo: John Froschauer/PLU)
New Graduate Had a Job Before He Had a Diploma
By Shunying Wang '15
Many college seniors encounter a real-life challenge even before they graduate—finding a job that matches their interests and skills and pays the bills. Hans Stegemoeller '14, however, didn't have the same struggle.
Stegemoeller received a deferred job offer from a technology consulting company, Pariveda Solutions, in Fall 2013. He had met a recruiter from the company at Pacific Lutheran University's Career Expo, hosted every spring on campus to bring together successful organizations, companies and students. Students who attend can connect with company representatives and gather job information.
It turned out that Pariveda didn't have an available position at the time, so the company guaranteed Stegemoeller, an Applied Physics/Computer Science double major, a job once he graduated in May 2014.
Stegemoeller attended this year's Career Expo, too, where he recalled the great success of the previous year's.
Knowing that only a few tech companies would be represented at the 2013 fair, Stegemoeller took five printed resumes in hand.
"I figured I'd go anyway," Stegemoeller said. "And I am really glad that I did."
Unexpectedly, Stegemoeller got to speak with the recruiter from Pariveda that day and handed in his resume. Then he was offered a job interview. One of the Pariveda recruiters said his first impression of Stegemoeller was that he was well-spoken and had a great resume and a great vision for himself.
"I think what really made me stand out was that I did internships during my time as a student, and companies really like that," Stegemoeller said.
During the summer and fall semesters in 2012, Stegemoeller consulted with his academic advisor and decided to take a break from the previous heavy-loaded semester. Not only did he want a vacation, but he also wanted to gain professional experience and make himself more marketable by working somewhere.
The first internship Stegemoeller obtained was at Daktronics in Brookings, S.D. Facing a move away from the Pacific Northwest, he considered the journey an exciting adventure. Interning at Daktronics, Stegemoeller worked on a team of 10 to help develop and complete a major project by adding new features, fixing a bug and writing codes.
"I got experience working on the real software project; that is huge," he said. "I got experience using a lot of tools, which is something you have to learn on the job, and it is very valuable."
Stegemoeller's second internship, in comparison, was very different, as he was able to create a project he could own. Instead of working on a team, he worked closely with his supervisor and build a code-review tool using his supervisor's initial idea, guidelines and requirements.
"The project was much smaller," he said. "But I finished it, and they are still using the tool now."
With two valuable job experiences, Stegemoeller not only can comfortably answer interview questions like, "What applicable experience do you have?" but he also can present himself to employers as an individual who knows his values and goals.
According to Scott Myhre, Office Managing Vice President at Pariveda Solutions, Stegemoeller was the ideal candidate because he could apply himself to become what he wants to be.
"Over time, Hans has concentrated on one goal, has maintained good grades, has found the internships and could speak to his accomplishments… and that's what we are looking for," Myhre said.
Since almost all college graduates hope to find a stable job, professionals say one way to get there is to gain more self-awareness and to develop personal expectations and goals.
"Prepare yourself all the way, so when you show up, the employers are interested," Myhre said.