Currently Reading:
Pacific Lutheran University Again Named a 2015 Military Friendly School
September 25, 2014
Pacific Lutheran University Again Named
a 2015 Military Friendly® School
By Sandy Deneau Dunham
PLU Marketing & Communications
Pacific Lutheran University has been named one of the top Military Friendly® private universities in the country for the sixth year in a row.  
Victory Media's 2015 Military Friendly® School designation is awarded to the top 15 percent of colleges, universities and trade schools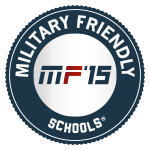 nationwide that are doing the most to embrace military students, and to dedicate resources to ensure their success in the classroom and after graduation.
PLU has earned the designation every year it's been awarded.
"Today, PLU is home to more than 150 students who have come here after a term of service to the nation—some to study and then return to the military with new knowledge and skills, others in the midst of their transition to civilian lives—and others still who are the dependents of military veterans," said PLU President Thomas W. Krise, who served 22 years of active duty in the U.S. Air Force, retiring with the rank of lieutenant colonel. "We are eager to grow our ranks of military-affiliated students because we know the value that these students bring to the classroom and the community. We understand that it's not about starting over; it's about adding to an already experienced person and creating a resume that stands above the crowd."
Now in its sixth year, the Military Friendly® Schools designation is a resource for post-military success, providing service members transparent, data-driven ratings about post-military education and career opportunities. The survey captures more than 50 leading practices in supporting military students.