Currently Reading:
PLU Welcomes New Nursing Dean
September 26, 2014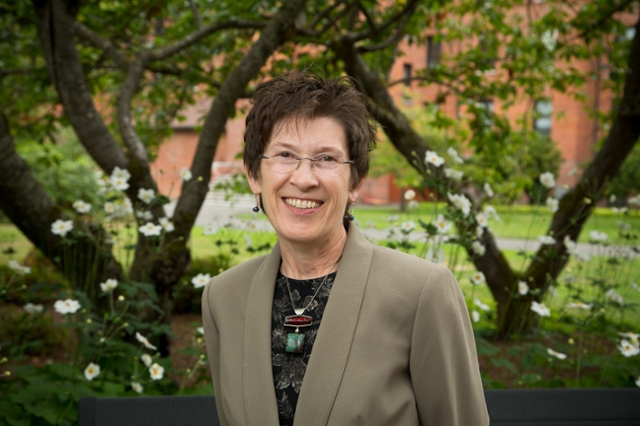 Shelia Smith, new Dean of the School of Nursing. John Froschauer, Photographer
Liberal Arts and Nursing. A Perfect Match of Science and Compassion
By Barbara Clements
PLU Marketing and Communications
Pacific Lutheran University's new Dean of the School of Nursing, Dr. Sheila Smith, says she was drawn to move across country and take the top leadership role at one of the premier nursing schools in the Northwest because of the sense of mission at PLU, commitment to academic quality and the small university atmosphere.
"The liberal arts component of the program has a progressive feel to me, and that means a lot of me," said Smith just before students started arriving on campus this month.
"I feel very strongly that the liberal arts component should be a part of the nursing program," she said. "Nursing is a very complex field and there needs to be an understanding of human nature and the complexities of the human experience.
"To do this work well, you need to be well-educated and well-rounded," she said.
And PLU nursing graduates fit that definition. PLU graduates are well suited to deal with the increasingly difficult and complex evolution of the healthcare industry because their experience here teaches them to treat the whole person, rather than just the symptoms in front of them, Smith said.
The applications for the slots available at the School of Nursing bear this out, with 300 applications submitted for the 80 available spaces in each yearly cohort group. Graduates usually have jobs waiting for them when they leave the School of Nursing four years later.
For those who are considering becoming a nurse, Smith had some rather surprising advice: Aside from striving to get top marks in science classes, nurses must also  have excellent language and writing skills.
As for the Class of 2015, who will be walking across the stage to receive their diplomas in May, Smith urges them to try and make a difference in the lives of the patients they interact with and "take the level of patient care to the next level of quality." That, and be proud of being a Lute, she added.
"It's nurses, most likely, who will make the most enormous difference in the patient's experience," she said. "They will be able to spot the trouble and mobilize resources on behalf of the patient."
Smith also noted that faculty in the School of Nursing are highly committed to excellence in nursing education, service, and practice.  These commitments have been repeatedly demonstrated through PLU graduates' tremendous performance on the nursing national licensure exam.
Smith came to PLU from the College of Nursing at East Tennessee State University, where she was the Associate Dean for Academic Programs and a Professor of Nursing. Previously, she served as a department chair and assistant dean of the College of Nursing and Health Sciences at the University of Wisconsin-Eau Claire, where she led the department's pre-licensure programs, evaluation efforts and strategic initiatives.
Her national contributions to the nursing profession include service on the Accreditation Review Committee for the Commission on Collegiate Nursing Education, with previous service on the CCNE Standards Committee. She has worked as a CCNE accreditation site visitor and team leader since 2002 and has conducted accreditation visits across the country and internationally.
Smith received her Ph.D. in Nursing with a minor in Feminist Studies from the University of Minnesota. In addition to her credentials as a registered nurse, adult nurse practitioner and advanced practice nurse prescriber, she also holds a certification in senior emergency management and a senior patrol certification with the National Ski Patrol.
Needless to say, when she's not at work, Smith loves to be in the outdoors, preferably on skis or hiking.
"The outdoors is my personal place," she said. "It's a place of peace and recovery for me."