Currently Reading:
Pierce County's Youngest City Councilmember is a Double-Major at PLU
November 2, 2014
Pierce County's Youngest City Councilmember
is a Double-Major at PLU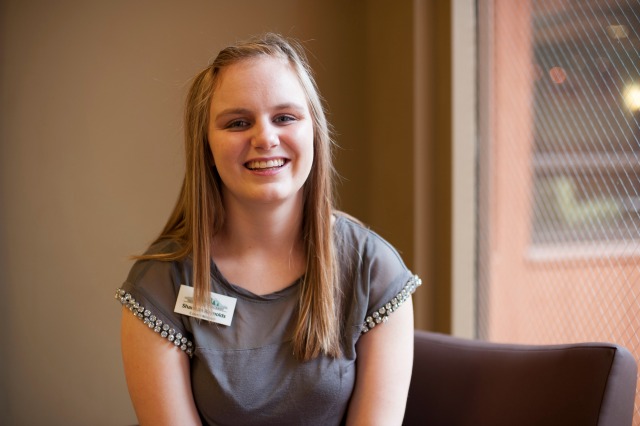 Shannon Reynolds '15 marks her first year
as an elected Fircrest official
By Brenna Sussman '15
PLU Marketing & Communications Student Worker
TACOMA, Wash. (Nov. 3, 2014)—For Shannon Reynolds '15, after-school activities extend far beyond campus clubs and sports teams. When she's not taking classes full-time at Pacific Lutheran University, the senior Biology and Economics double major serves on the city council for her hometown, Fircrest, Wash.
Voted in almost one year ago, the 21-year-old Lute is the youngest person elected to a council in all of Pierce County.
Also on the Executive Board for the Pierce County Young Democrats, Reynolds first became interested in city council when she grew frustrated that members of the council were relatively inactive.  "I initially ran [for council] to scare one of the members into working a little harder or being more involved in the public," said Reynolds. "Then they actually ended up electing me!"
Becoming a councilmember is a six-month process, during which most candidates do press interviews and campaign heavily. "I didn't do anything—yard signs or anything like that," said Reynolds. "I just paid my administrative fee and asked people to vote for me, and it worked."
Reynolds said she was too nervous to even look at the results of the election the first day. "My co-worker looked for me," she says with a laugh. "When he told me, I didn't believe him. I thought he was playing a joke on me."
As a councilmember, Reynolds spends time researching city issues and attends public City Council meetings on the second and fourth Tuesday of each month, and a study session the third Monday of each month.
People at PLU "definitely encouraged" her to run, said Reynolds, who will graduate in May.
Reynolds said she hopes to get her MBA after graduating and go into healthcare administration. "I want to help revamp the healthcare system we have going on now, leaning it back toward the nonprofit model," she said. "An MBA seems like the right tool in the toolbox to help me do that."