Currently Reading:
PLU Hosts Free Resource Summit for Veterans Communitywide
PLU Hosts Free Resource Summit for Veterans Communitywide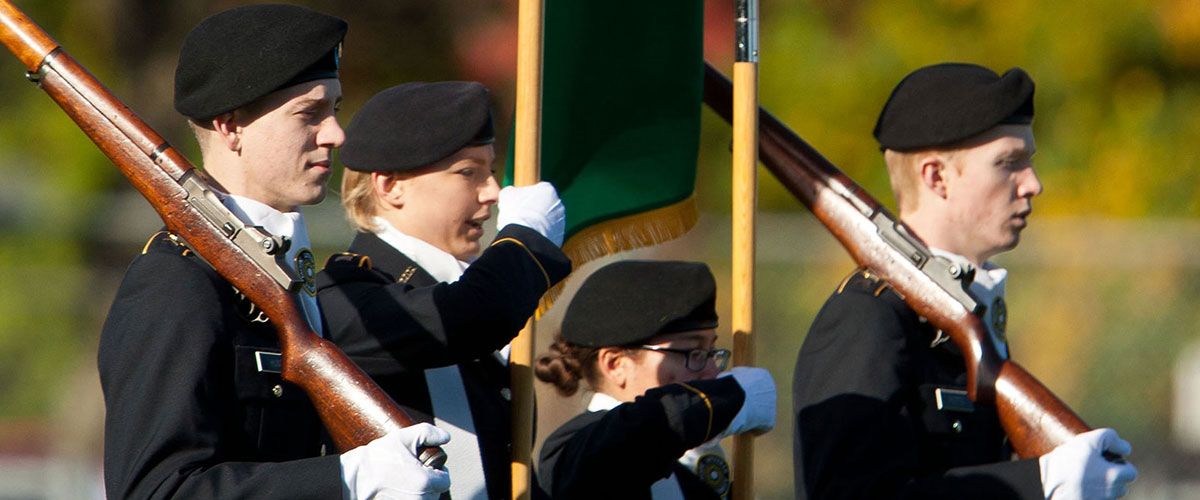 November 24, 2014
Event Details
What: PLU's Veterans Resource Summit.
When: 10 a.m.-2 p.m. Saturday, Dec. 6.
Where: Lagerquist Concert Hall, Mary Baker Russell Music Building, on the PLU campus.
To RSVP: Click here.
PLU Hosts Free Resource Summit for Veterans Communitywide
By Sandy Deneau Dunham
PLU Marketing & Communications
TACOMA, Wash. (Nov. 24, 2014)—Pacific Lutheran University is holding a free public Veterans Resource Summit on Dec. 6 designed to connect veterans communitywide with local resources on everything from post-traumatic stress disorder to GI Bill military education benefits.
Presenters at the high-profile event include representatives from:
U.S. Sen. Patty Murray's office;
the Washington State Department of Veterans Affairs, with information on benefits such as education, healthcare, mental health, post-traumatic stress disorder and military sexual trauma;
the Tacoma Vet Center;
the National Association for Black Veterans;
Delta Sigma Theta Inc.;
Joint Base Lewis-McChord Sexual Assault Prevention Response Program;
The JBLM Sexual Harassment and Assault Response Prevention Program;
Wounded Warrior Project, Seattle; and
The American Legion and VFW.
PLU, co-sponsor Delta Sigma Theta and all of the resource providers are very proud of Washington's veterans, said U.S. Army veteran Michael Farnum, PLU's Director of Military Outreach, and it's increasingly crucial that they connect with the resources they need and deserve.
"Every day we lose an estimated 22 veterans to suicide; that's one every 65 minutes, almost 5,000 a year," Farnum said. "There are between 300,000 and 900,000 veterans living on the streets, homeless, and an estimated 1.4 million at risk of being homeless. An estimated 460,000 veterans suffer from post-traumatic stress disorder; 19 percent of OIF/OEF (Operation Iraqi Freedom/Operation Enduring Freedom) veterans may have a traumatic brain injury; and 3.6 million veterans from all time frames have service-connected disabilities (I am one of them).
"Sexual-assault statistics in the military are disturbing, to say the least, and reports of domestic violence are rising. Self-medication, alcoholism and drug addiction are obvious contributors—and even multipliers—of the all of these problems," Farnum said. "I believe that Washington state is the most veteran-supportive state in the nation, and this summit at PLU will bring to bear some of Washington's finest resources to help combat these issues."
PLU has a rich history of working closely with the military community. Located just 4.9 miles from JBLM, PLU is ranked fourth among regional universities in the West in the 2015 U.S. News Best Colleges for Veterans list, and PLU has been named one of the top Military Friendly® private universities in the country for the sixth year in a row by Victory Media.
PLU partners with the United States Department of Veterans Affairs to offer unlimited full-tuition, Yellow Ribbon Scholarships to qualified veterans or their dependents. The Yellow Ribbon GI Educational Enhancement Program is a component of the Post-9/11 GI Bill of 2008.
The university's military collaboration is further evidenced by the significant number of military-affiliated students enrolled at PLU as well as the nationally recognized, award-winning Army ROTC detachment on campus.