Currently Reading:
Former PLU Student and Instructor Andrew Milton Explores School Success in New Book
Former PLU Student and Instructor Andrew Milton Explores School Success in New Book
November 26, 2014
By Brenna Sussman '15
PLU Marketing & Communication Student Worker
TACOMA, Wash. (Nov. 24, 2014)—Longtime teacher (and former PLU student and instructor) Andrew Milton has released his first book, centered on the regulations and social expectations that are harmful to our schools.

Milton has been involved with education and schools his whole career. He earned his undergraduate degree in political science at UC-Davis; received a Ph.D. in political science from the University of Oregon; and got his teaching certification at PLU, through the Alternative Route to Certification program (ARC).
After receiving his certification, Milton went on to teach at many different levels. He is currently an eighth-grade English teacher in DuPont, Wash., and an Adjunct Professor of International Relations at Troy University. Milton's teaching career took a brief stop at PLU from 2000-02, when he was a visiting Assistant Professor of Political Science.
A political science researcher first and teacher second, Milton says his research and teaching of bureaucracy and institutional change forced him to look at schools and education from that standpoint. Working in a middle school in 2006, Milton first became interested in the effects of government regulations on school systems, the basis of his new book.
Milton's book, The Normal Accident Theory of Education, discusses the regulations and politics that have become ingrained in many school systems. As he explains, "The pattern in which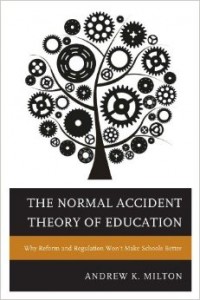 regulators assume a program will have a predictable effect on all schools, regardless of circumstances, is seriously detrimental." Milton discusses that as school regulations move from local to state to federal governments, the requirements become more intense, yet less useful to the classroom setting. This book argues increasing governmental management, in other words, makes it more likely that schools will "fail" to meet their goals.
The Normal Accident Theory of Education delves into the organization of school systems, analyzing what they do right and wrong, and how society's expectations can play a detrimental role. When asked about how society needs to change its way of looking at school systems, Milton points directly to the acknowledgment of student challenges: "Schools are an institution—which means they follow a narrow set of patterned organizational behaviors but are expected to be able to adapt to the wide range of challenges that students bring with them to school. Our social conversation needs to be more aware of the difficulties here."
Milton credits PLU with helping him "hone his teaching for younger students." He encourages PLU students working toward a teaching degree to get to know a variety of school settings. "Make sure you get as wide a sense as possible of what different schools, school cultures, districts, etc., are like," he said. "Then be prepared to be flexible in your work."