Currently Reading:
From First-Year Communication Student to Election Night Reporter With the Pros
From First-Year Communication Student to Election Night Reporter With the Pros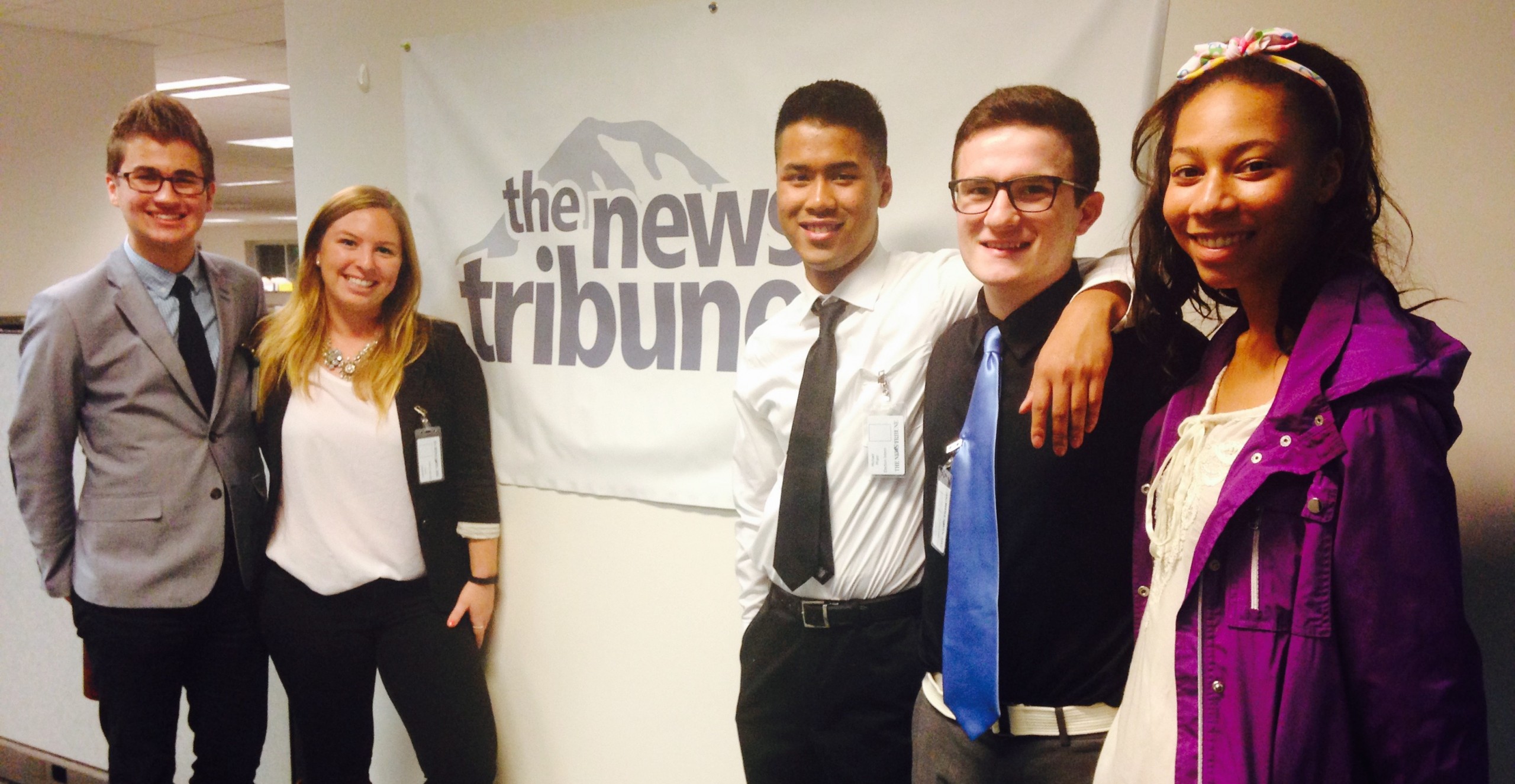 November 26, 2014
By Matthew Salzano '18
PLU Communication Student
TACOMA, Wash. (Nov. 26, 2014)—I woke up at 8:15 a.m. Nov. 7, 2014, to an email from Michael Bartanen, Chair of the Communication department, with the subject, "You're famous."
I came to PLU intending to focus my Communication degree on public relations and advertising. By the end of October, passionate faculty members and even more enthusiastic peers convinced me I was made to be a journalist.
In late October (after just declaring a Communication major with an emphasis in journalism), I visited my academic advisor, Professor of Communication Joanne Lisosky. With wide eyes and hands suspended in midair, she half-asked, half-told me that I was going to be reporting for The News Tribune on Election Night from parties in the greater Seattle area. (In 2014, eight students worked for The News Tribune, and four students worked at KOMO-TV. Each year since 2008, Communication students have worked with local media outlets to cover election night—one of the only programs in the country where students work Election Night alongside the professionals.)
I signed up with my best friend, Michael Diambri, a fellow journalism major (and my employee at PLU's college newspaper, The Mooring Mast). We showed up at the TNT dressed in our best, excited to be first-years at an award-winning paper on election night, ready to report the news.
The political editor, Kim Bradford, briefed us in a conference room about the hashtag we would be using (#waelex) and where we were headed: the "Yes on I-591" rally in Bellevue, Wash., which was anti-gun-regulation.
She also told us what we were looking for: color.
("Color" is a term used in journalism to describe what makes the story more human-interest-related. The same word is used to describe the sports anchor who accompanies play-by-play: Color commentators give expert analysis, player history and light anecdotes.)
As The Mast's A&E Editor, I knew finding color wouldn't be a problem. Making stories PLU-centric, Lute-focused and engaging to an impatient audience is literally my job from week-to-week.
When we arrived, the first quote was from the Second Amendment Foundation's Director of Development—"60 to 70 percent" of people were "carrying" tonight, he said.
Tweeted that.
The most memorable part of the evening was in the bathroom. When I went to take a quick journalistic break, I found something interesting: four gun-related magazines and "The Little Red Book of Obamunism."
Tweeted that.
That bathroom Tweet got my name and my photography in The News Tribune. A segment called "The Nose" retold my story of "gonzo journalism."
Within my first three months at PLU, I was reporting on Election Night and my name was printed in an award-winning newspaper.
It was something I thought I would never do.
Now, I can't wait to do it again.
Matthew Salzano is from Spokane, Wash. He is the Arts and Entertainment Editor of The Mooring Mast, Community Garden Outreach Coordinator for the Office of Sustainability and president of the Foss Residence Hall Council.