Currently Reading:
New PLU Kinesiology Club Uses Some Muscle to Meet Seahawks Head Coach Pete Carroll
New PLU Kinesiology Club Uses Some Muscle to Meet Seahawks Head Coach Pete Carroll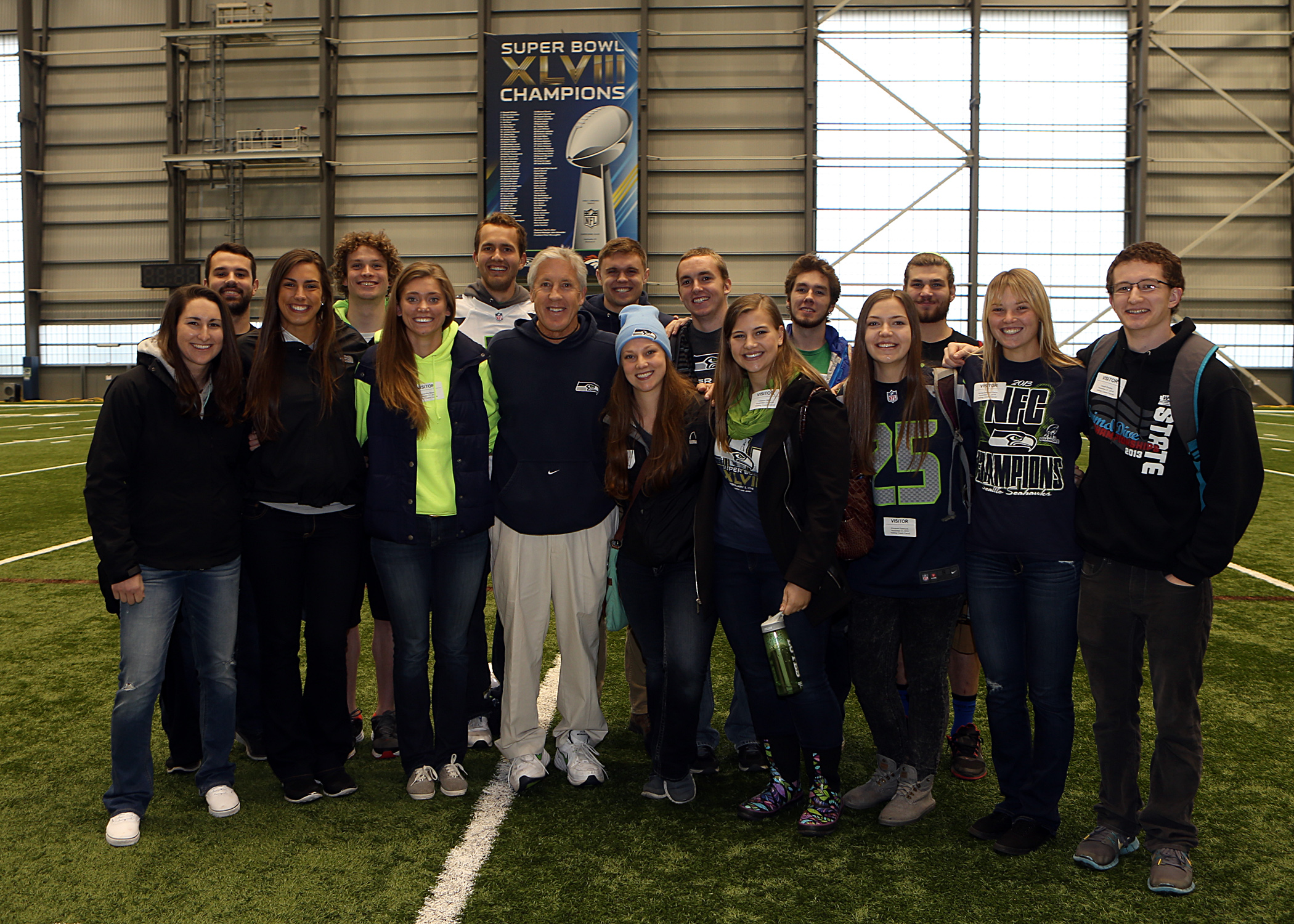 December 2, 2014
By Taylor Lunka '15
PLU Marketing & Communication Student Worker
TACOMA, Wash. (Dec. 2, 2014)—One of the newest clubs at PLU this year—the Kinesiologists of the Future Club or, as it's known on campus, KFC—is kicking off with a bang.
Since it is the Kinesiology club, founders Kevin De Jong and Jordan Zepernick, both seniors, knew they wanted to do an activity for all of campus: It ended up being the PLU KFC Scavenger "Haunt."
As a Haunt prize, Zepernick contacted his friend—who happens to work as an assistant to Seattle Seahawks Head Coach Pete Carroll—to see whether the winners could attend a Seahawks practice.
"Our jaws kind of hit the floor when we read that text [saying we could attend a practice]," said Zepernick. "We accepted that opportunity and played it up quite a bit."
Word spread quickly around campus at the chance to go see the Super Bowl Champions practice and meet the head coach.
Two teams had signed up for the Haunt a week ahead of time. On Oct. 30, the day of the Haunt, there were 14 teams signed up.
"Little did we know people would be running around [during the Haunt]," said Zepernick. "People were without jackets in the pouring rain—and we thought, 'All right! This is KFC!'"
The winners of the Haunt were Lutes Gage Gibson, Jake Dacus, Matt Wehr and Joseph Bowley.
The winning Lutes, PLU KFC board members and randomly selected club members attended a Seahawks practice on Nov. 21 and met Carroll himself.
"It was a sensational experience," said De Jong. "Meeting Pete Carroll was great! He was very fun and energetic, personable and friendly. It was great just to be there and take it all in."
De Jong and Zepernick started the club last spring with several important goals.
"We wanted it to be a networking opportunity for Kinesiology students as well as providing opportunities for building professional portfolios," said De Jong. He said he hopes the club will prepare members for graduate school.
The KFC board is comprised of:
President: Zepernick
Vice President: De Jong
Secretary: Katie Nelson
Treasurer: Sam North
Chief Information Officer: Kevin Long
Associate Professor of Kinesiology Harry Papadopoulos advises the club.
The Scavenger Haunt was the club's first major event this semester, and it's planning more events for next semester, including one in January.
For more information about KFC, email plukfc@plu.edu.