Currently Reading:
Into The Wild: Acclaimed Nature Photographer Josh Miller '01 Started at PLU's 'Mooring Mast'
Into The Wild: Acclaimed Nature Photographer Josh Miller '01 Started at PLU's 'Mooring Mast'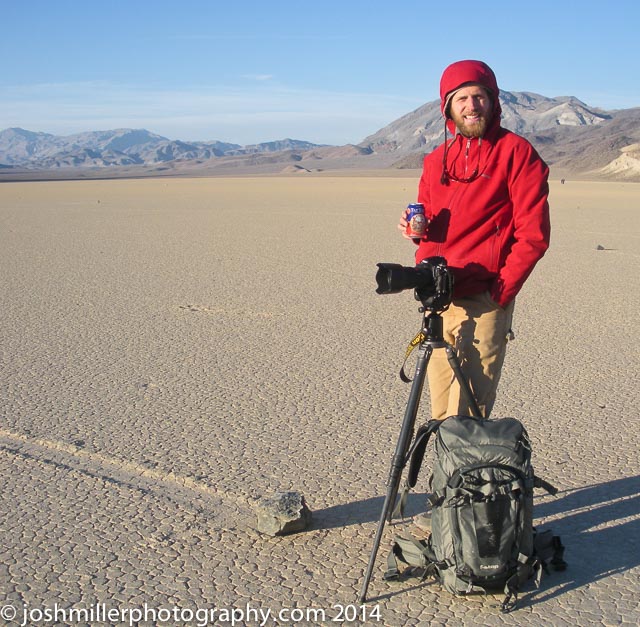 December 4, 2014
Photographer Josh Miller '01 stands with a camera in Death Valley. (Photo courtesy of Josh Miller)
By Shunying Wang '15
PLU Marketing & Communication Student Worker
TACOMA, Wash.—(Dec. 5, 2014)—Nature photographer Josh Miller '01 has had his work featured by numerous national publications and businesses, including National Geographic, Shutterbug Magazine, Sierra Heritage Magazine and Microsoft. In addition to his work as professional photographer, Miller, who graduated from Pacific Lutheran University in 2001, is also a photography teacher and backcountry excursion guide.
Miller is living the life he dreamt about as a PLU student, but his success was not achieved overnight. He has spent his entire adult life honing his craft and traversing the wild in search of unique environments to explore and photograph.
The secret to his success, Miller says, was identifying his personal passions and combining them to seek out his vocations. He credits PLU for helping him develop the tools required to pursue his professional and personal goals.
Miller's first paid photography job was a position with The Mooring Mast, PLU's student newspaper. He also worked as a student photographer for PLU's Staff Photographer, then Chris Tumbusch. Miller remembers Tumbusch as a tough editor, but credits his former manager's challenging feedback for much of his early growth.
"I loved my PLU experience because it was all new," Miller says. "Photography was the first thing that I fell in love with that I was good at."
By the time he graduated, Miller had not only shot events all over campus for a variety of campus media outlets, but he also had completed photography internships with The News Tribune in Tacoma and The Puyallup Herald.
While at PLU, Miller took every opportunity to escape campus for rock-climbing trips and days spent hiking around Mount Rainier. He was always sure to bring his camera. "Every cent that I didn't have to spend on food, rent or gas was spent on climbing gear or film," Miller recalls with a laugh.
After graduating from PLU with degrees in Environmental Studies and Art, Miller immediately immersed himself in the world of wildlife photography.
"I could have transitioned straight into working for small newspapers and worked my way up to a big daily newspaper like The Seattle Times," Miller says. "But I wanted to photograph things that I was passionate about."
He packed his bags and moved to California, where he would live in his minivan for a while and work for Naturalist at Large, an organization that provides outdoors education programming to youth. Miller spent three years leading teens on outdoor recreation trips and teaching about wildlife and natural ecosystems.
In the years to follow, Miller's desire to experience and photograph natural environments motivated him to travel independently and lead groups of teens on excursions throughout North and Central America, including Costa Rica, the North Cascades, Glacier National Park, and the Alsek River.
During his years spent leading youth into the backcountry, Miller came to understand how his work as an educator and guide could inform his work as a nature photographer.
Eventually, Miller's passion for photography, naturalism and education synergized and led him to his current career. Now 35, Miller is both a nationally acclaimed professional photographer and a photography teacher at Forest Charter School in Nevada City, Calif. He also continues to guide outdoor-adventure trips all over the world.
"Being a nature photographer is one the best gifts in the world," Miller says. "I get to go to the coolest places in the world at the best time of the year when the conditions are at their best."