Currently Reading:
PLU Community Gathers for #BlackLivesMatter Forum
PLU Community Gathers for #BlackLivesMatter Forum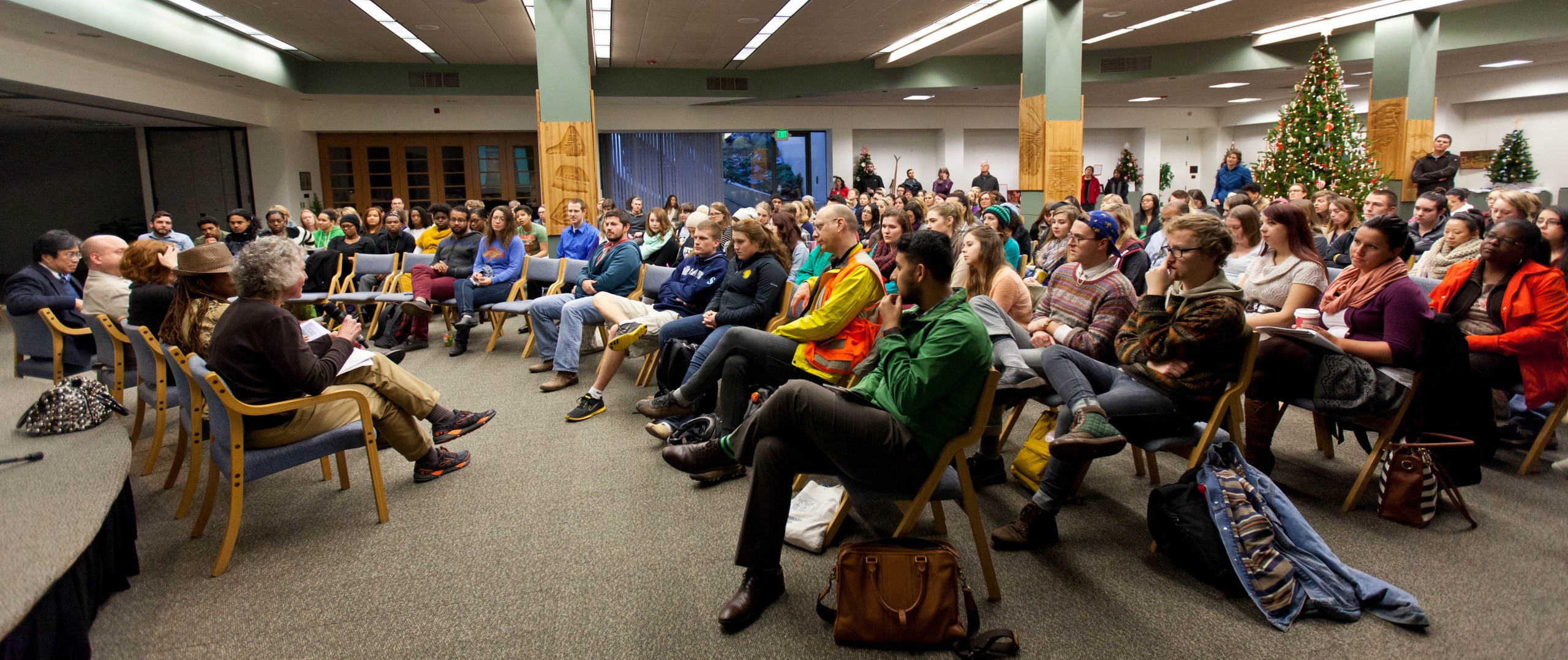 December 8, 2014
A forum at PLU on Dec. 4 called #BlackLivesMatter addressed issues surrounding the deaths of African Americans by police. The forum, attended by more than 250 students and members of PLU faculty, staff and community, was sponsored by the Diversity Center, the Women's Center and the Center for Community Engagement and Service and was held in the Scandinavian Cultural Center. (Photo: John Froschauer/PLU)
By Zach Powers
PLU Marketing & Communications
TACOMA, Wash. (Dec. 5, 2014)—More than 250 Pacific Lutheran University students, faculty, staff and community members gathered Dec. 4 in the Anderson University Center to engage in dialogue and express concern regarding recent events in Ferguson, Missouri, and New York City.
"This program was the result of a wide variety of campus groups expressing a desire to come together as a university wide community and reflect on these emotionally stirring current events," explained Diversity Center Director Angie Hambrick.
Organized by the PLU Women's Center, the PLU Diversity Center and the Office of Community Engagement and Service, the community forum included personal stories, a spoken-word performance, a prayer led by University Congregation Present Ruthie Kovanen and a moment of a silence for unarmed African Americans who have been shot and killed in the United States.
The program also included a panel discussion providing philosophical, historical and physiological framing led by Professor of History Beth Kraig, Assistant Professor of English Jenny James, Professor of Psychology John Moritsugu, Assistant Professor of Philosophy Michael Schleeter and Director of Multicultural Recruitment Melannie Denise Cunningham.
In addition to the events in New York and Missouri, the forum also considered the culture at PLU regarding race.
"What do you see as the challenges that this university faces in terms of structural racism?" PLU senior Chris Jordan asked the panel.
Panelists said they believed a variety of racially implicated challenges exist for PLU that could be addressed immediately, or in the near future. Among their suggestions were the potential founding of an Ethnic Studies Program, the hiring of more racially diverse faculty and the continued involvement of recent alumni in helping to influence campus culture.
"One of the biggest drawbacks we have is that energy (for a cause) will build on campus, but then it graduates," Kraig explained. "Then new students have to start again to build that energy."
"Don't let that happen!" she encouraged.
On-campus dialogue continued Dec. 5 as PLU President Thomas W. Krise invited members of the University House to an open conversion about race and current events.
Krise has encouraged the campus to heed the advice of the PLU Fall Conference speaker, Dr. Carolyn Finney, who, regarding matters of race and social justice in the United States, urged communities to "just start talking about it."