Currently Reading:
PLU Associate Professor Rebekah Mergenthal to Join Actor Danny Glover at Buffalo Soldiers Museum Event
PLU Associate Professor Rebekah Mergenthal to Join Actor Danny Glover at Buffalo Soldiers Museum Event

January 20, 2015
[Photo Courtesy of U.S. Army Materiel Command/ Creative Commons License]
By Zach Powers
PLU Marketing & Communications
TACOMA, WA (Jan. 20, 2015)—On Jan. 25, one of cinema's most trailblazing actors, Danny Glover, will visit Tacoma's Theatre on the Square for a fundraising event in support of the Buffalo Soldiers Museum.
Rebekah Mergenthal, Pacific Lutheran University Associate Professor of History, also will speak at the event.

"I will be giving a short talk to provide some context and historical background about the Buffalo Soldiers, who they were and what they did," Mergenthal said. "I want people to understand both the challenges the Buffalo Soldiers faced and the lasting impact of their service."
"Buffalo Soldiers" is the historic nickname given to the African-American soldiers who originally served as members of the U.S. 10th Cavalry Regiment of the United States Army, formed on Sept. 21, 1866. Buffalo Soldier regiments served in the American West and beyond, under General Pershing in World War I, in the Pacific Theater in World War II and in the Korean War.
"After the Civil War and into the 20th century, Buffalo Soldiers struggled to expand the role of African Americans in military service, often in the face of explicit and implicit discrimination," Mergenthal said. "Moreover, military service in a Buffalo Soldier unit became an important basis for claims of fully equal citizenship during a time when African Americans were often deprived of their rights at both the state and federal level.
"Understanding the experiences of the Buffalo Soldiers can help us better understand both their opportunities and challenges in the aftermath of the Civil War and beyond," Mergenthal said. "That understanding in turn gives us insight into how and why the country changed during this period."
Located in Tacoma's historic Hilltop neighborhood, the Buffalo Soldiers Museum seeks to educate, preserve and present the history and contributions of America's Buffalo Soldiers through educational programs, historic research, youth outreach programs and exhibits.
"The Buffalo Soldiers Museum in Tacoma provides a great chance for Tacomans to understand this important but little-known piece of American history," Mergenthal said. "It's wonderful that this museum can both celebrate local connections to the subject and provide an important lens to explore a broader history."
Opened in February 2012, the Buffalo Soldiers Museum has been a welcome addition to Tacoma's vibrant museum sector. "With its distinctive focus on the Buffalo Soldier, the museum is well-positioned to contribute mightily to the public's, and especially young peoples', discovery of the distinguished place of these African-American soldiers in the history of the United States and in the U.S. Army," said Professor of History Dr. Neal Sobania, who teaches Museum Studies at PLU.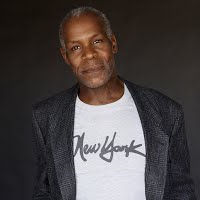 Glover starred in the 1997 film Buffalo Soldiers, chronicling the regiment's battles with American Indians in 19th-century New Mexico and the complicated racial tensions and realities that existed between the sides.
In addition to a keynote speech from Glover and Mergenthal's talk, the event also will include musical and dance performances and comments from local leaders including Tacoma Mayor Marilyn Strickland and The Evergreen State College-Tacoma campus founder Dr. Maxine Mimms.
EVENT DETAILS
What: Buffalo Soldiers Museum and Broadway Center present: An Evening with Danny Glover.
When: 7:30 p.m. Sunday, Jan. 25. Ticketed meet-and-greet in Studio 2 begins at 6 p.m.
Where: Theatre on the Square, 901 Broadway, Tacoma, WA 98402.
Tickets: $19, $29, $35, $49.
Preshow Meet and Greet: $40 includes desserts and savory snacks.
More information: 253-272-4257.