Currently Reading:
Student-Director Mitchell Helton Hopes 'Charlotte's Web' Production will help Revitalize Children's Theatre at PLU
Student-Director Mitchell Helton Hopes 'Charlotte's Web' Production will help Revitalize Children's Theatre at PLU

January 30, 2015
By Zach Powers & Mandi Brady
PLU Marketing & Communications and the School of Arts and Communication
TACOMA, Wash. (Jan. 30, 2015)—Inspired by his passion for theater and children's literature, Director Mitchell Helton '15 is hoping to help kick-start a revitalization of the PLU Children's Theater program with the upcoming production of Charlotte's Web.
The timeless story about the unbreakable friendship between an affable pig and a courageous spider will be produced on stage by a cast and crew comprised entirely of PLU students.
We talked to Helton about the show and his role in it.
What inspired you to do Charlotte's Web?
I was inspired to do Charlotte's Web because of the story it tells. I like that this story focuses on what it means to be a friend. Charlotte has a line in the show that talks about how being a friend ultimately makes one's life more meaningful,  and I think that is an important message to pass on to children.
How did your Children's Literature minor play into your decision?
My Children's Literature minor has encouraged me to look deeper into the meaning of stories, and I feel that Charlotte's Web has a very deep message. Most children's books do not deal with death, and Charlotte's Web handles it so delicately. During my studies, I came to the realization that children need an outlet to deal with loss, and this story can help with that.
This is the first Children's Theatre production that PLU has done in a VERY long time. What went into putting all this together?
PLU had a very strong children's theatre program in the '70s and early '80s, and I wanted to revitalize it. I contacted the elementary schools in the area to see if there was interest, and there was, so I went ahead and brought the idea to my advisor, Jeff Clapp, and he told me to go for it.
What has been the most challenging aspect of putting all of this together?
The most challenging part of this process has been laying the groundwork and coordinating with elementary schools. There are just a lot of logistics that go into planning something like this, but it has definitely been worth it.
What surprised you most about the process?
I have been surprised at how much fun a show for children can be. Most times, theatre people like to do "challenging" or "deep" shows because they think that they have more weight and depth to an audience, and lose sight of the fact that theatre can also be fun and silly. Charlotte's Web rehearsals have reminded me that theatre, at its core, is meant to be fun.
Do you see this production as hopefully the first of a revitalization of children's theatre at PLU that will continue after you graduate?
I would love to see it continue, but that will depend on if another student takes interest in it. Right now we're using it as a fundraiser for Theatre Club, Alpha Psi Omega, but I'm revitalizing it just out of my own personal passion for children's theatre. We're reaching out to Franklin Pierce School District elementary schools, and a lot of those kids don't ever have the opportunity to experience theatre, so this a cool chance for them to do that.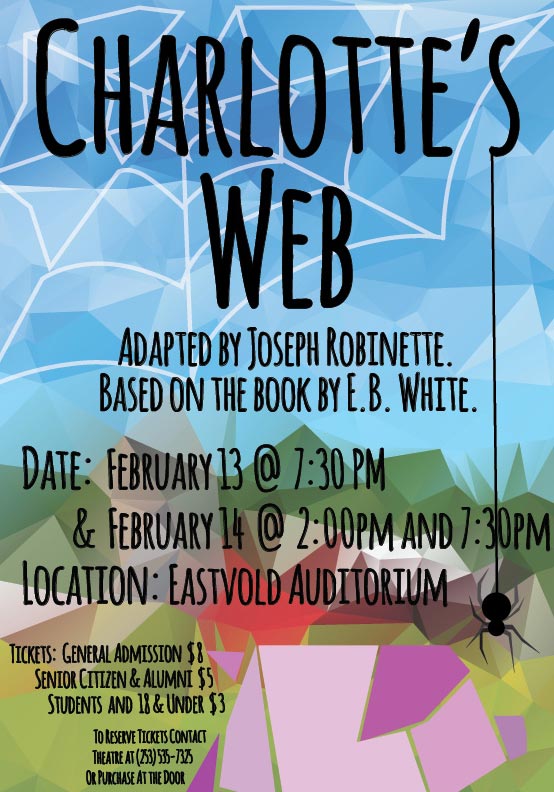 What place do you think children's theatre has in the world of theatre?
I think children's theatre has a very important place in the world of theatre. It gets children interested in theatre at an early age and allows them to be captivated and inspired and maybe one day influence them to be involved in theatre.
Do you expect that children's theatre and theatre education to be a central part of your life's work?
I hope so! I'd love to end up being an Artistic Director at a children's theatre company. There are quite a few. There is one actually in Vail, Colo., that I'd love to be a part of because I love that town. Ultimately,  I'd eventually like to be a professor somewhere, but that would be later on in life.
What do you plan on doing immediately after you graduate from PLU this spring?
I'm applying for a program called YAGM, which is Young Adults In Global Mission. It's through the Evangelical Lutheran Church. It's a year of service abroad. I'm hoping to be accepted into the program based out of Hungary. It would be a lot of working with communities there along with some student teaching opportunities, which I'd be really excited about.