Currently Reading:
PLU's New Lancelute Mascot Premieres, Reignites Spirit
PLU's New Lancelute Mascot Premieres, Reignites Spirit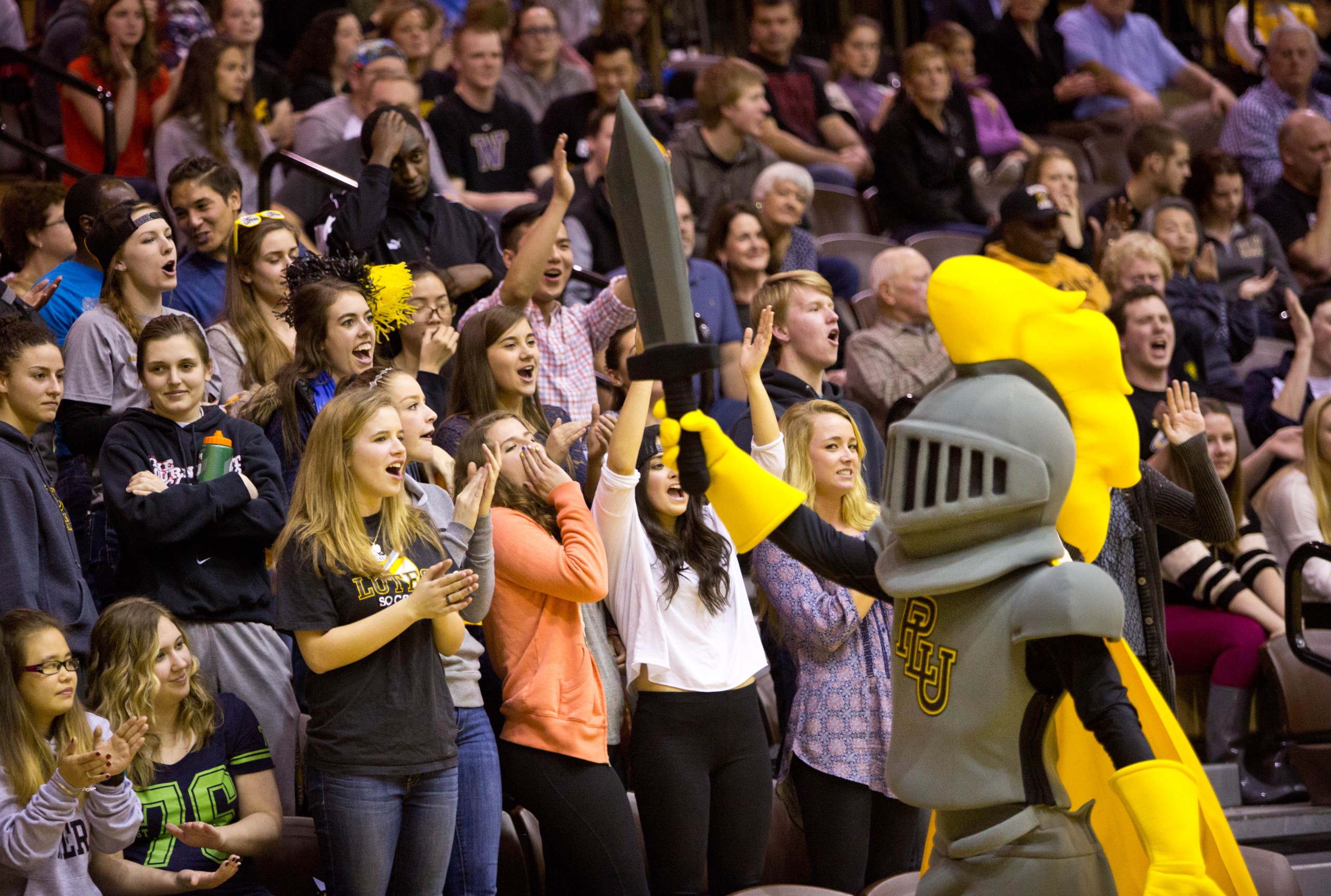 February 18, 2015
By Matthew Salzano '18
PLU Marketing & Communications
TACOMA, WASH. (Feb. 18, 2015)—The Pacific Lutheran University Athletics Department introduced a brand-new member during halftime of the men's basketball game on Feb. 6. His name is Lancelute, and he is the knight that leads the charge for Lute spirit. (His arrival was well-timed: The Lutes beat Lewis & Clark in a thrilling overtime battle, 55-51.)
Under the new plush exterior, Lancelute has a student underneath it who drives this energy. While his secret identity cannot be revealed, his thoughts can. 
"Being inside the mask itself is a whole new world," Lancelute said. "You can see everyone, but no one can see you. I just got really into it, into a whole new world. It was an awesome experience."
He wants the PLU community to know: "Lancelute is here to stay." 
PLU's mascot has been a knight since Fall 2009, when the PLU community voted to name him "Lancelute." In 2010, the Athletics logos were revamped and rebranded to their current form. 
Last year, the Athletics department decided the mascot needed to reflect this new brand. After receiving a grant from the Associated Students of Pacific Lutheran University (ASPLU), the department completed designs over the summer and had a mascot ready to premiere at the beginning of spring semester.
Athletic Marketing and Social Media Director Sarah Hebel said the new mascot fits not only with the athletics brand, but also with all of PLU. 
"We needed something that we could out into the community even beyond athletics that would be a recognizable image that people would associate with PLU," she said. "This can be the identity people associate with PLU campuswide." 
Sarah Giomi '18, a member of the cheer squad, loves the spirit Lancelute encourages.
"The mascot really represents the spirit of PLU and its students," Giomi said. "He's excited because he's a Lute, and that's why he's there—to represent why we are all proud to be Lutes."  
Men's basketball coach Steve Dickerson may have been a little distracted during Lancelute's debut on Feb. 6, but he finds a new mascot exciting, and even useful.
"When publications come out that rate the various colleges throughout the state, we used to appear at the end without a mascot," Dickerson explained. "This is good; it gives us a visible identification of who we are and what we are."
Hebel agreed: Lancelute is a fantastic personification of PLU. 
"Our biggest goal was to create a character that embodied our spirit and encouraged it," she said. "I think it's already doing its job."