Currently Reading:
Kiana The Mighty: PLU senior, transfer student shares story of personal struggle with mental illness
Kiana The Mighty: PLU senior, transfer student shares story of personal struggle with mental illness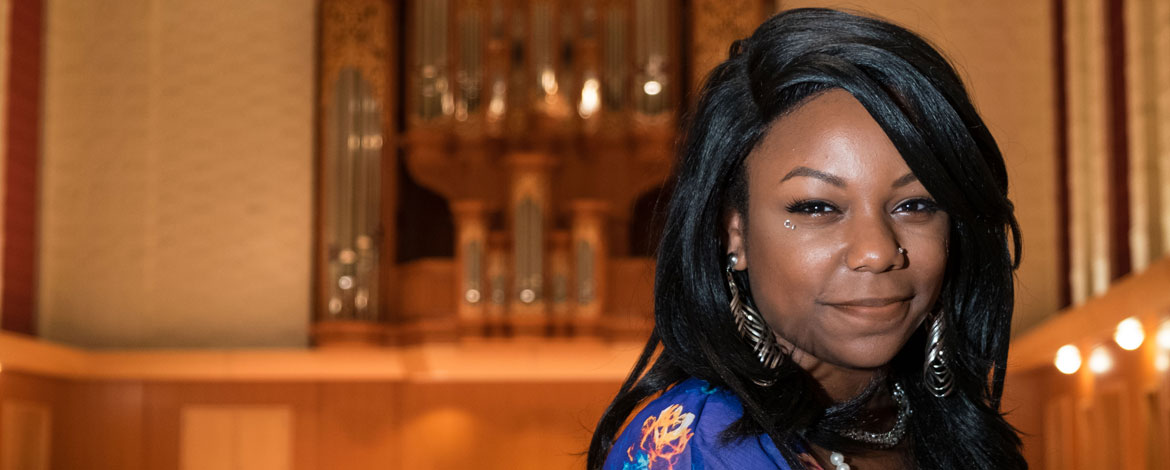 June 10, 2016
By Kari Plog '11
PLU Marketing & Communications
TACOMA, WASH. (June 13, 2016)- Kiana Norman '17 wears a lot of hats. She's a singer, an actress and a writer. She's a student, a sister and a daughter. A future world traveler, online journalist and theater critic, if all goes according to plan.
But Norman stresses that there's one thing she's not: "I'm not crazy."
Norman, a transfer student at Pacific Lutheran University who was diagnosed with bipolar disorder in 2013 during her first year of community college, said she struggled with mental illness throughout high school. Without labels to place on it, she tried several antidepressants with no signs of improvement. The journey was long, challenging and disheartening. But she made it to the other side, and she has the letter to prove it.
"Hey, Kiana, it's me! Well, actually it's you," Norman wrote in a column about her diagnosis published on the website The Mighty, dedicated to documenting personal stories about people's experiences with disabilities, disease and mental illness. She submitted the piece for consideration as part of the site's bipolar disorder section after the writing assignment rose to the level of "class favorite" in her upper-level communication class at PLU.
"It's the older and slightly wiser you, four years into the future," Norman's column continues. "I'm writing this to hopefully shed some light on how you're feeling at this moment, and hopefully to help you in your future."
How 19-year-old Norman felt wasn't great. After her first year of high school was marked by an abusive relationship, she did lots of counseling. Doctors who misunderstood how she felt during those turbulent years continued to raise dosages of her medications that weren't working. At times, Norman picked at the edges of her fingernails until they bled, a form of self harm she says gave her the feeling of controlling emotions that often felt out of her control.
"It sounds crazy, but I enjoyed the pain in a way," she said.
When she was down, experiencing depression, Norman would check out for weeks or months at a time. She couldn't focus in school, and often didn't show up to class at all. When she was up, experiencing what she now understands to be mania, Norman wanted to be everywhere doing everything. She would lose sleep, writing nonstop, often times about stuff that didn't make sense to her the following morning. She would have more motivation to do school work, though the efforts were fruitless.
It wasn't until she started seeing the psychiatrist in the PLU Counseling Center during her first year at the university in 2014 that Norman made a breakthrough. A combination of her own research and talks with the campus doctor led to a bipolar diagnosis and the proper medication.
She built a trusting relationship with a campus counselor and appreciated how consistent and comfortable the Counseling Center was, she said.  
"I'm happy I know why I am the way I am," she recalled feeling at the time. "Now, I can figure out the steps to take care of myself."
Fast-forward a couple years, and the journalism major is in a place to share her story not only with those close to her, but with the masses.
Professor Joanne Lisosky said she is very proud that her student's work garnered attention on a larger scale. "I adore her," she said of Norman, who is a member of Choir of the West and active in stage productions as a theatre minor. "She is a delight in the classroom where she demonstrates strong leadership skills and a pure joy of learning."
"I'm happy I know why I am the way I am. Now, I can figure out the steps to take care of myself."
- Kiana Norman '17
Norman said writing a letter to herself for Lisosky's assignment seemed like a natural approach.
"The idea just came to me," she said. It was an instant hit with her classmates. Lisosky said she had to get it published somewhere.
So, Norman decided to shoot for the stars and submitted it to The Washington Post, The New York Times and other notable publications.
After a series of "no" responses, Norman stumbled across The Mighty and its bipolar section. A week after sending the column to the website, editors told her they loved it.
Norman said the positive response to her story has been overwhelming since the column published April 26. A former classmate from Pierce College sent Norman a message on social media thanking her for "speaking into her life."
"She said 'this really helped me,'" Norman recalled. "I never knew sharing my story would help someone who is silently struggling."
Norman received similar responses when she "came out," so to speak, as bipolar on Facebook earlier this year. She said she was terribly nervous about publicly airing her mental illness with those closest to her. She posted a long, thoughtful message on March 30, World Bipolar Day, and put her phone away. Norman returned to an outpouring of support and encouragement, people "throwing glitter on me," she said.
"It was like a weight was off my shoulders," Norman said. "It was great to hear that people will still accept me. I never would have imagined that people would have accepted it like they have."
Norman plans to share her story as often as possible, not only to continue to battle her own daily struggles but also to break the stigma for others suffering from mental illness. "You can be a sane person with this," she said.
Norman said dealing with bipolar disorder is a constant struggle. She continues to go to an off-campus counselor, to have an "ear on the outside looking in." She often misses her manic episodes, when she was high functioning and her creativity was limitless. Maintaining emotional stability with medicine is a constant balancing act.
But Norman said her diagnosis no longer feels like a death sentence. She hopes to help others see that light at the end of the tunnel, too. Her advice: "Hang in there. It will be better on the other side, no matter what the other side looks like."
Counseling Center offers broad support services to all students
Kim Riano, director of the Health and Counseling centers, said mental illness isn't just prevalent on college campuses — it's prevalent everywhere. She said society as a whole could be more aware and accepting of those struggling with it. Despite the larger gap in awareness, Pacific Lutheran University is ahead of the curve.
"I think we have better services here, as a closed system, for students with mental illness," Riano said, in addition to support services for students who are merely experiencing life struggles as a part of major transitions.
Riano said college is the time where transitions are most jarring; students are learning to deal with moving away from home, often for the first time, or managing relationships. They also are facing financial and academic struggles, as well as challenges associated with living in a community environment.
"This is a really good age to start learning skills and tools to proceed through life with managing mood," she said, ranging from dealing with minor life transitions to new diagnoses. Beyond learning to navigate emotions, Riano said the Counseling Center can help students achieve what they've set out to do at PLU.
"Everybody here is here for a purpose. They are being academically challenged," she said. "To do that, we need to be mentally well to be able to succeed."
According to the National Alliance on Mental Illness on Campus, which has a PLU chapter, one in five students face a mental health condition. Nearly 75 percent of mental health conditions emerge by age 24, so many students are facing mental health concerns for the first time during an already difficult period of transition.
Amid those staggering statistics, Riano said she wishes the Counseling Center was used more broadly by students at PLU. She urges all students, with struggles of varying degrees, to use the valuable resource. Counselors are available to listen and address chronic mental illness, while a campus psychiatrist provides medication management.
"There's no way that somebody is going to get through four years of college without being scathed by something," she said. "Come on in."