Currently Reading:
National Parks postage stamp series features photo by PLU alumnus, self-taught photographer
National Parks postage stamp series features photo by PLU alumnus, self-taught photographer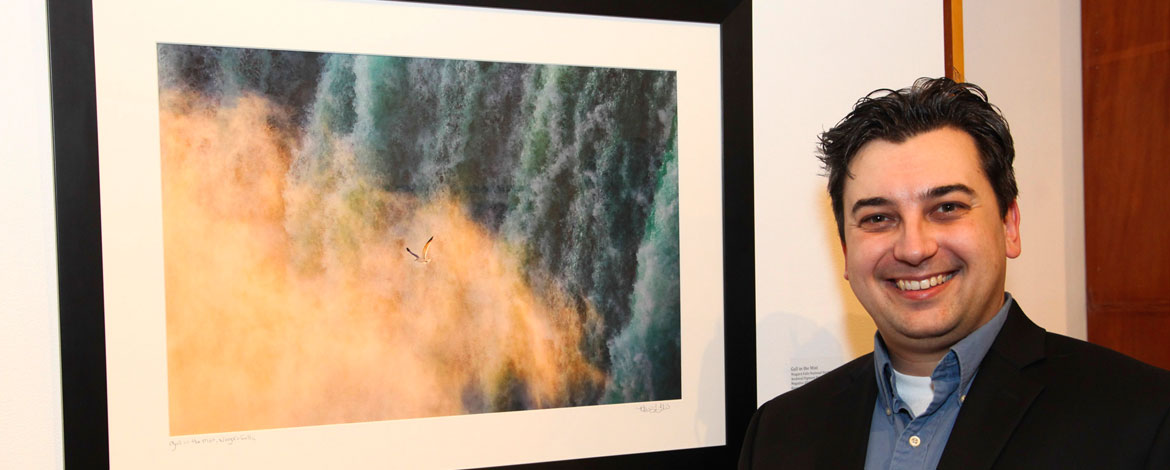 June 30, 2016
By Kari Plog '11
PLU Marketing & Communications
TACOMA, WASH. (June 30, 2016)- One frame. That's all it took for Kevin Ebi '95 to get his work on a postage stamp – sort of.
Ebi, a self-taught nature photographer who has made a living traveling around the world and documenting its beauty, weathered a terrible storm that day in 2008. He made his way up the mountain at Haleakala National Park in Hawaii, scouting a location for his sunrise photoshoot.
Legend says, as Ebi tells it, a demigod lassoed the sun there and released it only after it promised to move more slowly across the sky. So, perhaps Ebi has that demigod to thank for the perfect shot that is circulating as part of a series of 16 stamps depicting national parks.
Of course, Ebi's patience is also responsible. The photographer waited for tiny breaks in hail and rain to get the perfect angle, with a rainbow situated perfectly above the summit.   
"Over the next hour and a half I got four or five glimpses of rainbows," he said, noting that the one in his photograph illuminated for the shortest amount of time. "It was one frame. I took a couple dozen others that weren't as good."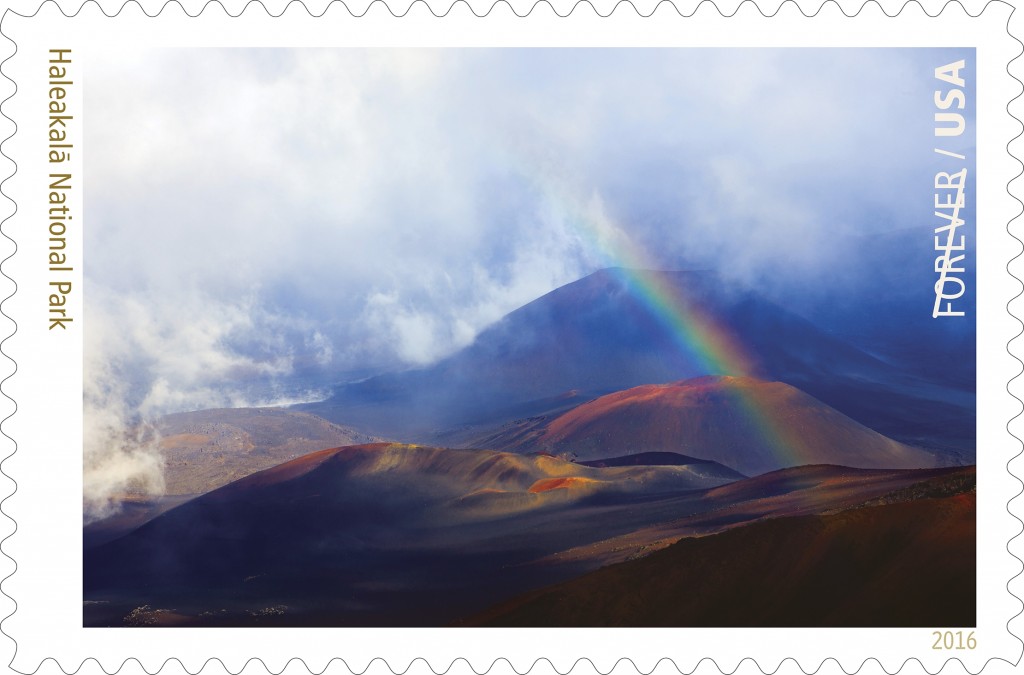 Ebi's job is to capture nature and build a catalog of his adventures. His photographs have been published in magazines, travel guides and lots of textbooks. He's even been featured in books published by National Geographic.
The former radio anchor studied journalism and economics at PLU. He spent time working in newspapers and financial reporting, and had a schedule that was conducive for outdoor play.
"You worked when the markets were open," Ebi said. "Here, that meant I was off at 1:30 in the afternoon."
Those early days landed him on mountains or in the water, hiking or kayaking with a camera in tote. "Every day was like a little bit of summer vacation," he said. "I wanted to share some of those experiences."
So, he read how-to photography books and learned how to tell compelling stories with his images. After word got out about his photos and he started getting emails from editors about using his images, Ebi realized his work stood out and turned it into a business.
"I love learning new things about the environment," he said. His work keeps life interesting — from going inside the magma chamber of an old volcano to documenting for several years how eagles fly.
"There is so much about the world around me that I've learned and am continuing to learn," Ebi said.
The postage stamp was a new and different inquiry that Ebi initially thought wouldn't actually come to fruition. Last July, he received an out-of-the-blue email from a company that does research for the U.S. Postal Service. The email asked if the image would be available for licensing on a stamp and sought verification that it was pure, void of any major manipulation.
"A couple days later, there was a mockup of the stamp," Ebi said, adding that the mockup came along with a 12-page contract and a vow of secrecy. The stamp licensing process is very secretive, he noted; Ebi couldn't talk about the achievement until April of this year — nine months after he was originally notified of the opportunity.
"It was a ton of waiting," he said. "It was excruciating."
The stamp depicting Ebi's image and 15 others are available for purchase now. It's a bright spot during a dark time for Ebi and his wife, Jennifer Owen. Owen's currently undergoing dialysis treatments five days a week at the couple's home while she awaits a living kidney donor, following failure of a kidney she received in a transplant in 2004.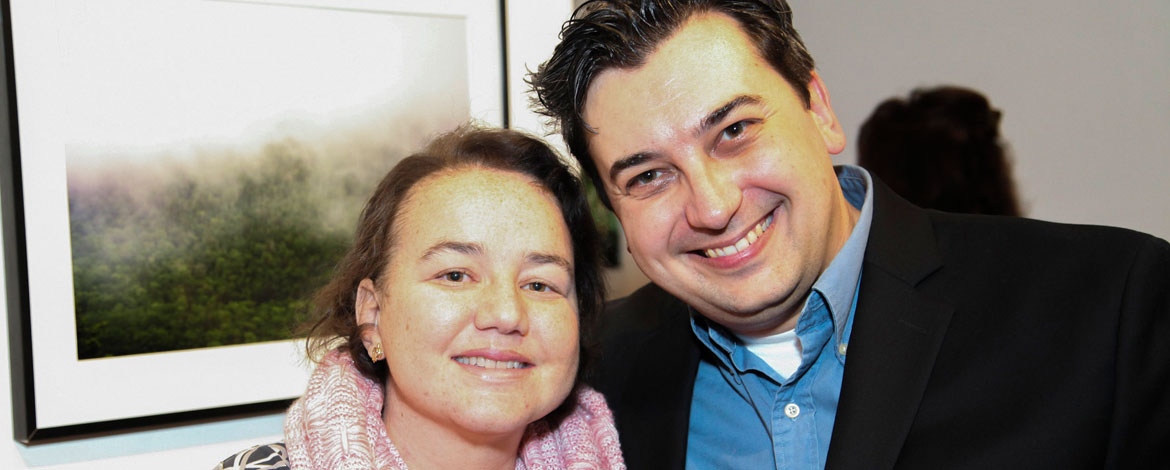 Before the couple faced medical troubles, Ebi was traveling a month and a half each year for his photography. Last year, he traveled just six days. "The problem with dialysis is that it keeps you alive but it doesn't give you the life that you had," he said. "You have your life, but it isn't really living."
To care for his wife and help her with dialysis, Ebi has switched gears with his photography business. He is working with inventory that is already cataloged. He's exploring the area around his home with the "same passion that I used to devote to exotic locations," he said.
That's included photographing a roost of 15,000 crows a short drive from his house (10 of those images are on display at the Blue Sky Gallery in Portland). And he's had time to compile national park images in his new book Our Land.
Some of the time and budget that he used to spend on travel he now spends working with galleries, something he was too busy to do in the past. As a result, his work has been a regular feature of the 100 Years of National Parks series at the G2 Gallery in Venice, California. He also had a piece featured in a Los Angeles Earth Month exhibit.
"My ability to do extensive travel and take on long-term assignments is in limbo and I'm anxious for things to get back to normal," Ebi said, "but photography has taught me that you can make something out of almost any situation."
Still, he looks forward to a day when he and his wife can get back to hiking and their more adventurous norm. In the meantime, the couple tries to focus on the positives. Owen has the most common blood type, increasing the odds of finding a successful match if one comes forward. The key now is waiting.
"The waiting list (for a kidney) is incredibly long," Ebi said.
He's had practice with patience. It's how he captured the perfect frame in November 2008, during a project documenting native legends, for the stamp that's circulating around the U.S.
"(Photography is) a lot of patience and going with the flow, having a very open mind and knowing when nature gives you something better than what you planned," he said.
Ebi said photography has helped him see the world differently.
"I love the fact that it gets me out to experiences things that I wouldn't have experienced otherwise," he said. "There so much about the world I would have missed."