Currently Reading:
Former State Superintendent joins PLU as interim dean of the School of Education and Kinesiology
Former State Superintendent joins PLU as interim dean of the School of Education and Kinesiology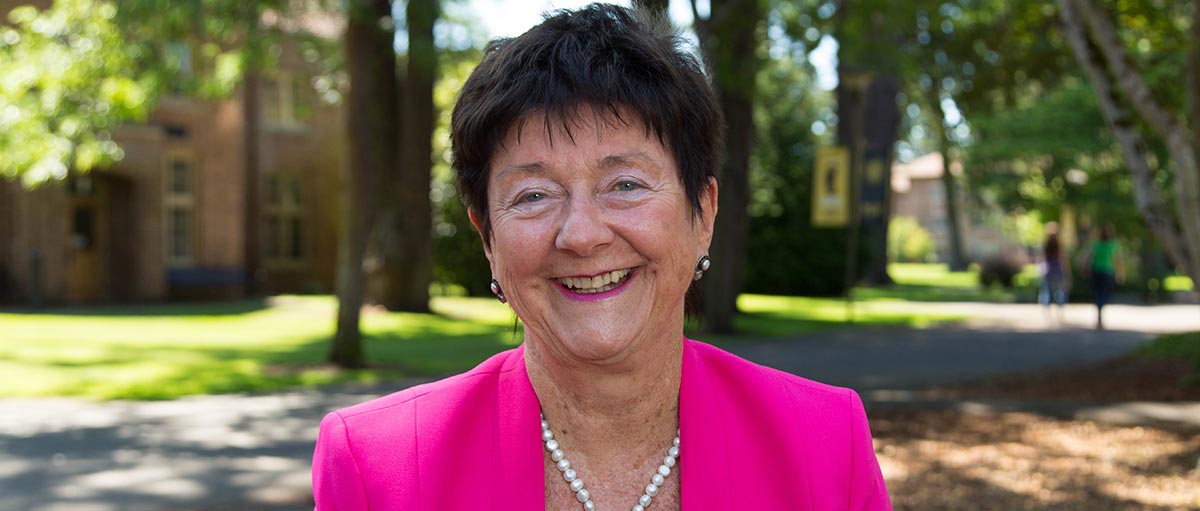 July 7, 2016
By Donna Gibbs
PLU Marketing & Communications
Former three-term State Superintendent of Public Instruction Terry Bergeson, Ph.D., succeeds, Frank Kline, Ph.D.
TACOMA, WASH. (July 7, 2016) – Terry Bergeson, Ph.D., has joined Pacific Lutheran University as interim dean of the School of Education & Kinesiology. Bergeson has extensive experience in state education, having served as Washington state superintendent of public instruction from 1997 to 2009, and as executive director of the Washington Commission on Student Learning from 1993 to 1996.  
Bergeson was most recently an adjunct faculty member at the University of Washington Tacoma, where she taught a course in Human Resources in Educational Institutions to students pursuing doctoral degrees in educational leadership. Prior to that, she served as executive director of the San Francisco School Alliance, where she brought community leaders together to correct funding inequities and support education reform initiatives for the nearly 60,000 students of San Francisco Unified School District.
"Terry is perhaps best known for her bold and visionary work to develop a statewide system of academic standards and assessments grounded in deep knowledge of human development and based on decades of research," said PLU President Thomas W. Krise. "PLU is lucky to have Terry's extensive experience developing systems that turned around academic performance in struggling schools across the state and improved capacity of districts with academic problems."
Bergeson earned a B.A. in English from Emmanuel College in Boston in 1964; an M.A. in Counseling and Guidance from Western Michigan University in 1969; and a Ph.D. in Education from the University of Washington in 1982.
"I am proud and excited for the opportunity to help build on the excellence of PLU's undergraduate and graduate Education programs and the long-term, productive school and district partnerships that undergird our work. I'm equally delighted to support and advocate for our PLU Kinesiology program, one of the fastest growing and finest in the nation," Bergeson said. "Higher education and our K-12 schools are at a tipping point. We need to help our students and our society prepare to tackle daunting challenges and take advantage of incredible opportunities.  PLU has both the mission and the university-wide spirit to do this work, and I am honored to be a part it."
Earlier in her career, Bergeson served as executive director of the Central Kitsap School District, and as vice president and president of the Washington Education Association, where she served as chief policy officer for the 48,000-member teacher association. She also served as a counselor at Gault Junior High and Lincoln High School in Tacoma and as a teacher and counselor in public schools throughout Massachusetts and Alaska.
About PLU
Pacific Lutheran University purposefully integrates the liberal arts, professional studies and civic engagement. With distinctive international programs and close student-faculty research opportunities, PLU helps its 3,300 students from all faiths and backgrounds discern their vocations in life. Founded in 1890 by Norwegian pioneers, PLU continues the distinctive tradition of Lutheran higher education through its commitment to the advancement of knowledge, thoughtful inquiry and questioning, the preparation of citizens in service to the world and to its ongoing reform.