Currently Reading:
PLU School of Nursing program earns $350,000 grant to continue commitment to helping underserved communities
PLU School of Nursing program earns $350,000 grant to continue commitment to helping underserved communities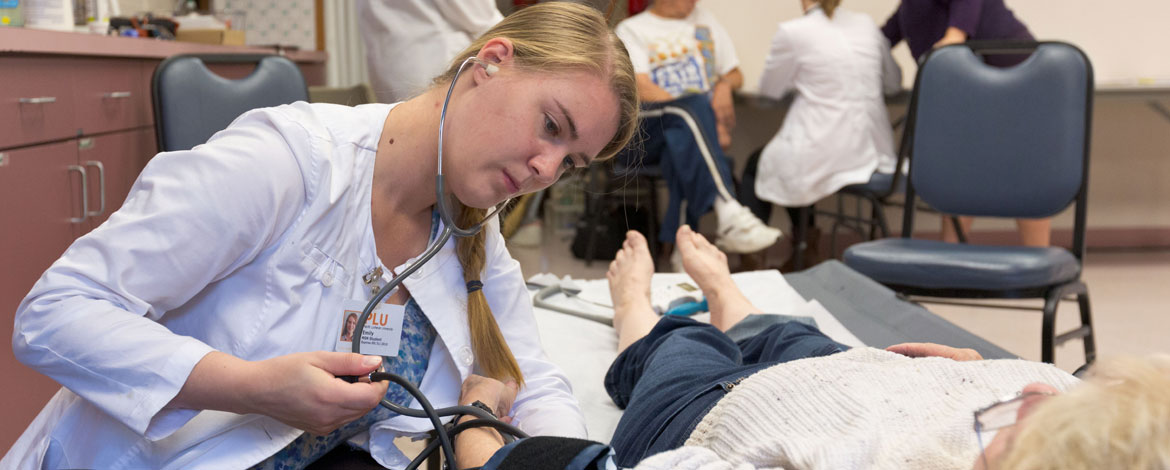 July 18, 2016
By Kari Plog '11
PLU Marketing & Communications
TACOMA, WASH. (July 18, 2016)- Pacific Lutheran University's School of Nursing earned $350,000 to further its long history of placing Family Nurse Practitioner (FNP) students in rural and underserved communities to administer primary care to those in need.
The money comes in the form of an Advanced Education Nursing Traineeship (AENT) grant for the 2016-17 academic year, awarded by the U.S. Department of Health and Human Services Health Resources and Services Administration (HRSA). It will cover tuition and living stipends for students in the FNP program.
Those students already have clinical experiences in a variety of clinics in the South Puget Sound, from Centralia to south King County and west to Aberdeen.
Funding awarded in 2012 from the St. Louis-based Cornelsen Family Charitable Foundation funded a mobile health van that provides outreach to the elderly and underserved. FNP students use the health van to conduct depression screenings at senior centers, skin cancer screenings, blood glucose screenings with diabetes education, and falls assessment and prevention education.
The AENT grant will provide additional resources to continue that important work. Dr. Teri Woo, associate dean for graduate nursing programs at PLU, said the effort fits perfectly with the university's mission to provide care for others and communities.
As a result of PLU students' time spent with these populations, 75 percent of 2015 FNP graduates are working in underserved areas or those that suffer from a primary care shortage.
"People do not seek out jobs working with the underserved," Woo said. "They go to inner-city jobs that are higher paid."
PLU graduates are picking those jobs, she said, because they build meaningful relationships with clinics in those areas during their time at PLU. "Our students are driving all over to have experiences working in those areas," Woo said. "They understand what it's like to work in an area like that."
The primary challenge for the communities in question is a lack of resources: patients are located far away from specialists for procedures such as ultrasounds, many of them are low income and they often don't have viable transportation options.
"Every part of caring for these types of patients is more complex," Woo said.  
PLU's nursing school, which earned the maximum amount allowed for the AENT grant, was one of 85 programs to receive the funding out of hundreds of applicants nationwide.
The grant makes it more feasible for financially strained students to take high-impact yet lower-paying jobs that they otherwise might not afford. Not only does it mean nursing students borrow less money and have fewer loans to repay, but they also don't have to work as much during their time in the FNP program.
"One student said, 'the stipend will pay for my babysitter for the semester,'" Woo said.
About 20 students will benefit from the grant funding. "Every full-time student will get money from this grant unless they are fully funded from another source," Woo said.