Currently Reading:
PLU alumna emphasizes the student in 'student athlete' in her new role as UW athletic director
PLU alumna emphasizes the student in 'student athlete' in her new role as UW athletic director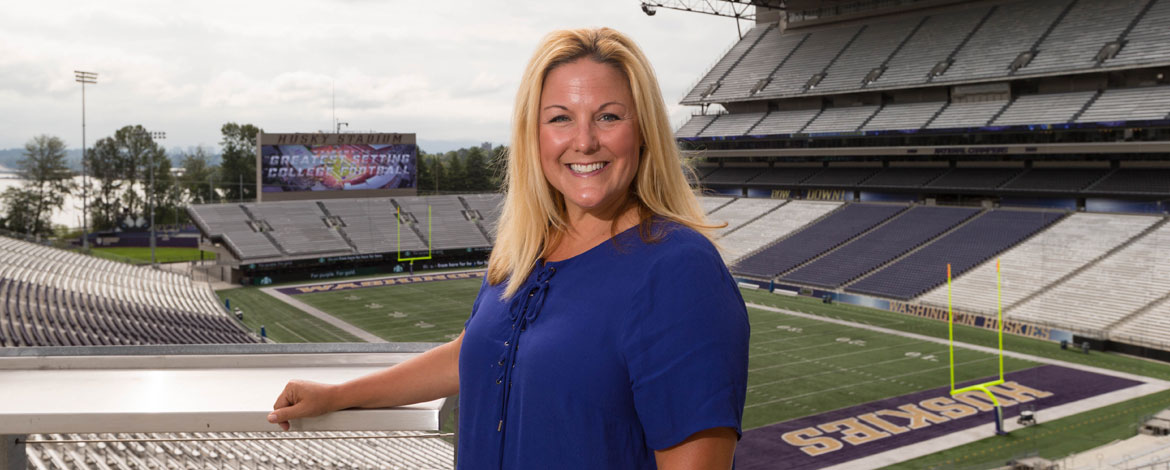 July 19, 2016
By Kari Plog '11
PLU Marketing & Communications
TACOMA, WASH. (July 19, 2016)- Jen Cohen '94 is all smiles. But the University of Washington athletic director, appointed to the position May 24, smiles the biggest while talking to, and about, student athletes.
"We feel like our students are students first," said Cohen, who earned her master's degree in sports administration at Pacific Lutheran University. "For me, this is all about education."
And Cohen walks the walk. During a recent tour of Husky Stadium, she gazed up at what the football staff calls the "3.0 wall," bragging about running out of room to showcase photos of all the football players with high grade point averages.
"It's really special," she said. "I love that we can be successful in the sport and do it the right way…do it at a high level, but know the difference between right and wrong."
That attitude is deeply rooted in her core values, Cohen said, and was reaffirmed during her time at PLU.
Cohen, who has worked at UW for 18 years, says Hall-of-Fame UW football coach Don James "planted the seed" that motivated her to go into sports administration, thanks to his response to a letter she wrote him in fifth grade.
"I never really looked back," she recalled. "I wanted to do exactly what I'm doing today."
Cohen said the support from the legendary coach and others means a lot, especially as a woman in her male-dominated field. She's only the second female AD in UW history and the only current female AD in the Pac-12 Conference.
Cohen said PLU was a perfect fit for her. She served as a graduate assistant, working primarily with the baseball team. She also helped coach the volleyball team, though she admits she wasn't the best coach or the best athlete.
She talks fondly of those years when she was doing it all, as she puts it, including making popcorn during basketball games. "I was gettin' after it," she said with a wide grin.
Cohen said it's clear what makes PLU stand out: "Hands down, number one — grit," she said. "People work their tails off at PLU."
During her time as a graduate student, Cohen worked in an athletic department that was home to the late Frosty Westering, a football coach who was known for promoting to his players the importance of exuding excellence on and off the field. She watched many programs bring home titles while they fostered a community of service-driven student athletes.
Cohen said witnessing the winning combination of high caliber coaching and character at PLU reaffirmed her values as a leader in athletics.
"PLU was a foundation for me," she said, for work, service and grit. "It set the tone."
Cohen said she attended PLU with the goal to get where she is today. A day in the life includes meeting with donors, leading her management team and attending speaking engagements. But in a perfect world, Cohen said, she would spend her time working with the most important group of stakeholders — students.
"If I could spend all day every day focusing on the student athlete directly, that would be the best day," she said.
And she's got the chops for it. During the tour of Husky Stadium, Cohen bumped into UW running back Lavon Coleman, offered him a big hug and some words of wisdom ahead of a football season many anticipate will be one of the best in years.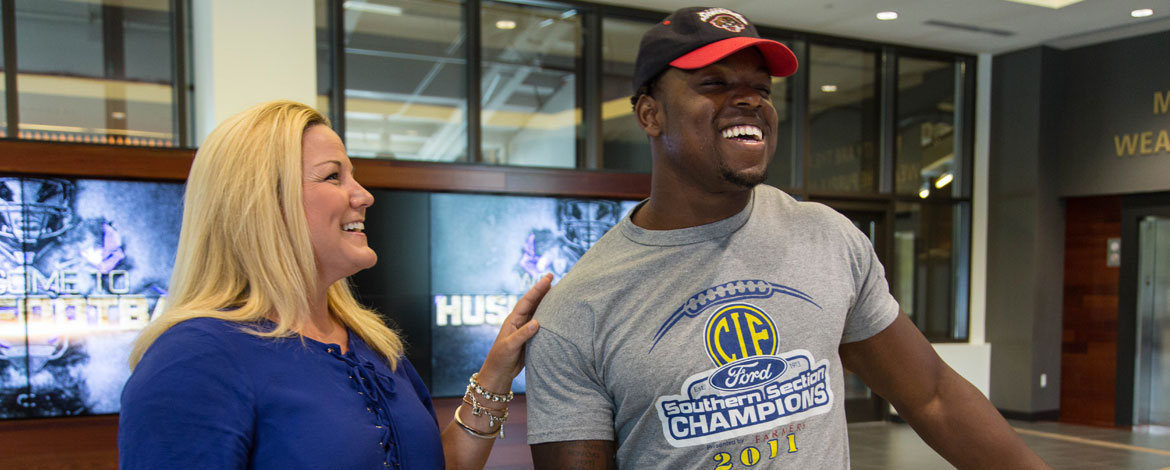 "I'm trying to stay humble," Coleman told her enthusiastically. "We're ready to win."
Cohen grinned in agreement: "I know," she said, reminding him to stay focused on the process and not to worry about the team living up to the hype.
That attitude aligns with Cohen's idea that athletes aren't just there to play sports. It's an approach that echoes the philosophy of PLU and Division III athletics. Cohen said she loves the Division III mentality; a comprehensive commitment to success of the student athlete as a whole. "It's what I believe in here," she said.
She's close to the students living out that mission, too. Following two big bear hugs outside the weight training room, offensive linemen Trey Adams and Henry Roberts — who tower over the AD at 6'8" and 6'5″, respectively — are eager to tell Cohen how training and summer school are going. And to congratulate her on the new gig, of course.
"I love seeing young people develop into great leaders and contributors," Cohen said.
Every day on the job looks different, Cohen said. But she approaches everything thrown her way with a bubbly attitude, a good sense of humor and a lot of passion. "It's very unpredictable," she said. "I love being in the process, even if it's ugly."
After all, Cohen appreciates a good challenge: "Oh, yeah," she said. "That's a given."