Currently Reading:
PLU climbs to 15th in national ranking of Best Master's Universities
PLU climbs to 15th in national ranking of Best Master's Universities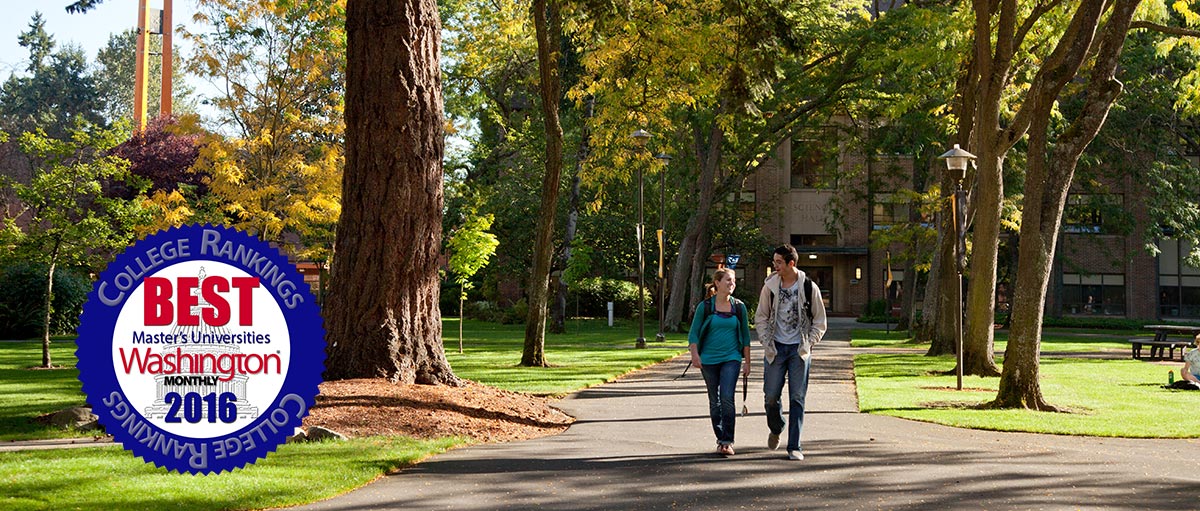 August 29, 2016
By Zach Powers '10
PLU Marketing & Communications
Tacoma, WASH. (August 29, 2016) — Washington Monthly's annual college guide ranks Pacific Lutheran University 15th nationally on its list of "Best Master's Universities," according to a report published Monday. It also ranked PLU the 72nd "Best Bang for the Buck" institution among western colleges. In 2015, PLU was ranked 25th and 101st in the two respective categories.
The Washington Monthly, a Washington, D.C.-based news magazine, began ranking colleges 11 years ago, as a direct response to the rankings published by U.S. News & World Report.
"Every year, (U.S. News & World Report) would rate the nation's institutions of higher learning on measures of wealth, fame and exclusivity, then publish the results as a list of 'best' colleges," Kevin Carey wrote in the September/October 2016 issue of Washington Monthly. Carey, guest editor of Washington Monthly's college guide, directs the education policy program at New America, a think tank and civic enterprise in Washington, D.C.
As a result, "colleges tried to claw their way up the U.S. News ladder by raising prices and excluding all but the most privileged students, exactly the opposite of what a nation struggling to keep higher education affordable for an increasingly diverse student population actually needed," Carey wrote.
Washington Monthly's college rankings, according to Carey's article, are based on what the institutions did for their country, not for themselves. The information aggregated by the Washington Monthly focuses on three broad categories:
Social mobility: recruiting and graduating low-income students;
Research: producing cutting-edge scholarship and Ph.D.s; and
Service: encouraging students to give something back to their country.
The report released Monday ranked PLU, among other master's universities, fifth for number of alumni who go on to serve in the Peace Corps, 23rd for the percentage of students who serve in ROTC, 26th for loan repayment, 27th for the number of bachelor's degree recipients who go on to receive a Ph.D. (relative to school size), and 47th for the combined number of students participating in community service and the total number of service hours performed (both relative to school size.) These factors contributed to PLU's "Best Master's Universities" ranking.
PLU's rise in Washington Monthly's rankings may be thanks to consideration of new data released last year by the Obama administration. For the first time, the publication's 2016 rankings included incomes of students 10 years after enrolling at a given college, how likely they are to be paying down principal on loans and the percentage of first-generation students at each college.
Earlier this summer PLU was named one of the top colleges in the country for awarding creative arts scholarships by LendEDU, the PLU School of Nursing was ranked the 16th best nursing school in the west by Nursing Schools Almanac and Forbes ranked the university one of its "300 Schools Worth the Investment."
About PLU
Pacific Lutheran University purposefully integrates the liberal arts, professional studies and civic engagement. With distinctive international programs and close student-faculty research opportunities, PLU helps its 3,300 students from all faiths and backgrounds discern their vocations in life. Founded in 1890 by Norwegian pioneers, PLU continues the distinctive tradition of Lutheran higher education through its commitment to the advancement of knowledge, thoughtful inquiry and questioning, the preparation of citizens in service to the world and to its ongoing reform.