Currently Reading:
PLU president, spouse rappel down Hotel Murano in downtown Tacoma for first Habitat Challenge fundraiser
PLU president, spouse rappel down Hotel Murano in downtown Tacoma for first Habitat Challenge fundraiser
October 4, 2016
By Kari Plog '11
PLU Marketing & Communications
TACOMA, WASH. (Oct. 4, 2016)- Pacific Lutheran University's partnership with the local Habitat for Humanity took an exciting leap forward — or down, rather — last week.
President Tom Krise and his wife, Patty, participated in the Habitat Challenge for Tacoma/Pierce County Habitat for Humanity. They raised money to rappel down the Hotel Murano in downtown Tacoma, along with dozens of other participants.
It was the first year of the Habitat Challenge. Elliot Stockstad, director of development for the organization, said 71 people raised money to support the nonprofit's mission of providing affordable housing for low-income residents in the community.
"We're having a great time down here today," Stockstad said from the rooftop of the Murano. "We have a crowd down there going wild."
PLU's presence was strong among the crowd, too. Members of the university's Habitat chapter carpooled from campus to cheer on the Krises at the base of the building on the sunny fall afternoon. The energy level was high as they led an "Attaway!" chant before the Krises took the plunge.
Each of them chose a hype song that played as they rappelled: Tom Krise went with "Crazy" by Gnarls Barkley and Patty Krise chose "Stairway to Heaven" by Led Zeppelin, one of her all-time favorites.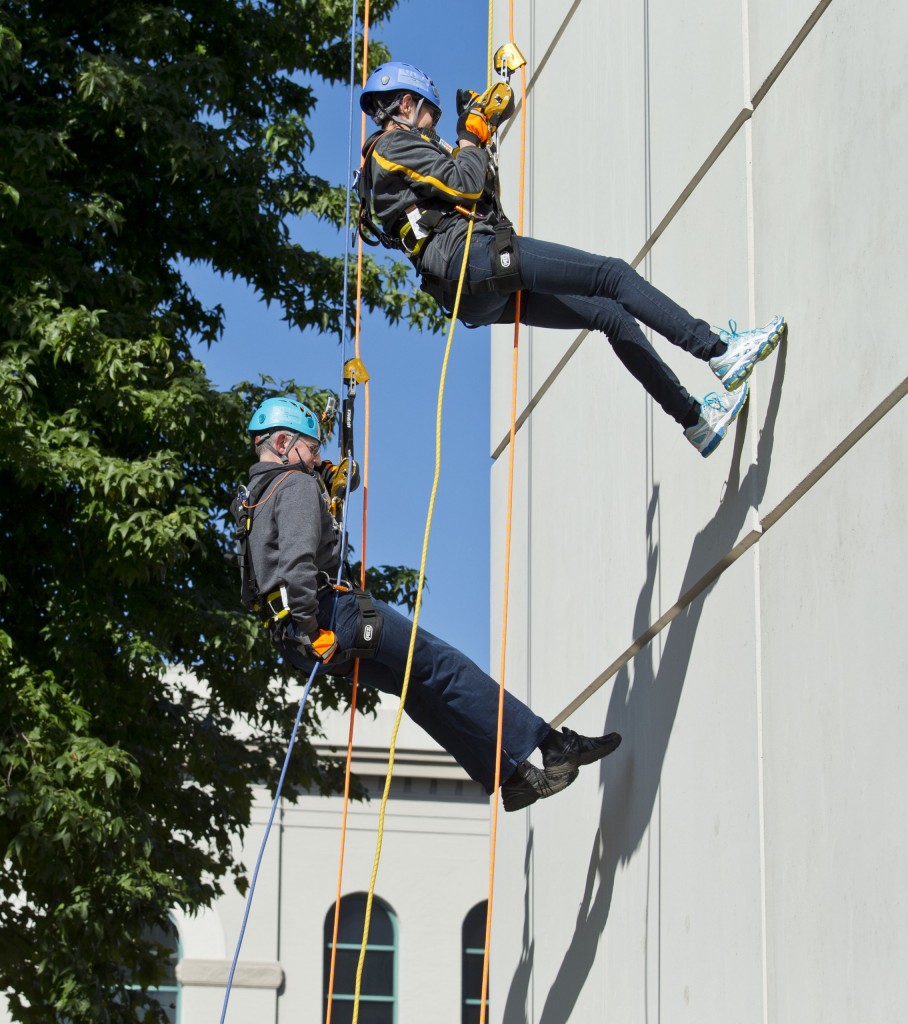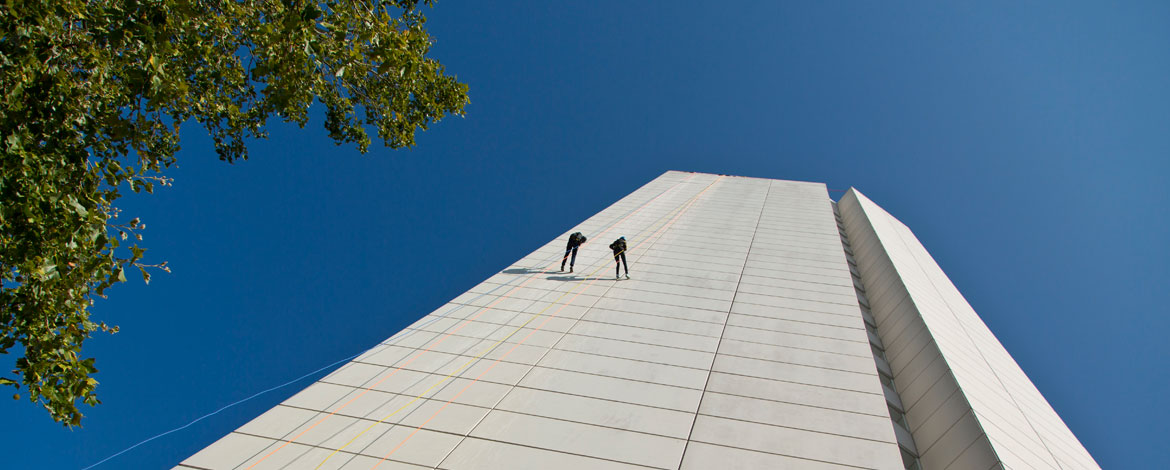 Patty Krise's choice was part sentimental, part speaking to the cause. She said her song is about a woman who gets everything she wanted in life without ever giving back herself, a contrast to what PLU and Habitat have long partnered to do.
"Giving back," she said. "It's why we did this."
Patty Krise said she kept telling herself not to look down as she creeped down the side of the building. But, she did look left: "I had a gorgeous view of the Puget Sound."
Joel Zylstra, director of the Center for Community Engagement and Service, said the Habitat Challenge was a fun way to spend a Friday. It's the most recent way PLU has shown its support for Habitat's mission in a partnership that dates back about four years.
PLU also has been very involved in the Woods at Golden Given, the nonprofit's sustainable 30-home community housing project. CCES provided grant funding to support the development, and about 250 PLU students have traveled to the Woods to assist with building.
Friday's event was less heavy lifting with a lofty result: the event raised roughly $90,000. Habitat organizers hope to make it an annual effort, given this year's success.
President Krise said the partnership with the organization is a key element of integrated education at PLU.
"Habitat for Humanity is one of our key partners with the Center for Community Engagement and Service," he said just after rappelling. "Congratulations to everyone who participated in this and congratulations to Habitat for Humanity."