Currently Reading:
Symposium uplifts collaborative student-faculty research
Symposium uplifts collaborative student-faculty research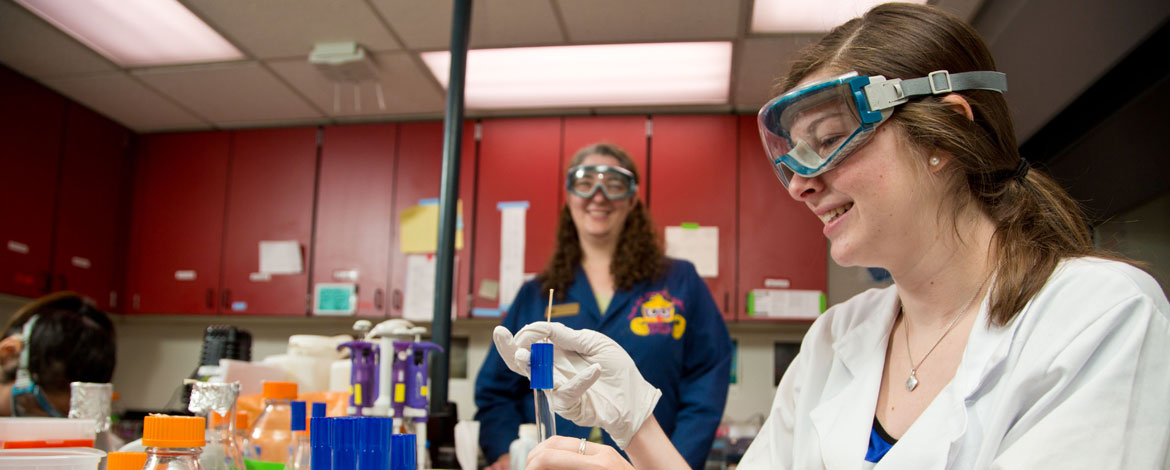 April 3, 2017
By Brooke Thames '18
PLU Marketing & Communications
TACOMA, WASH. (April 3, 2017)- Pacific Lutheran University is aiming to increase visibility of student-faculty research across campus with its first Undergraduate Research Symposium on April 8.
Previously, an annual reception in May showcased endowed projects. The change in format highlights a broader spectrum of research.
"We wanted an event that everyone was invited to — not just a certain set of people," said Jan Lewis, associate provost for undergraduate programs. "There's some great project stories of what students and faculty do. We want to be able to tell those stories."
Welcoming student speakers, the symposium works to tell the stories of student-faculty collaboration campus-wide.
Championed by Provost Rae Linda Brown, the Undergraduate Research Symposium features presentations by students concerning their collaborative projects with faculty colleagues. The symposium will host 42 oral presentations, arranged into hour-long student panels, and 15 poster presentations.
The presentations span all disciplines, Lewis said, from research-based science presentations to musical compositions and visual arts projects. Lewis says a main goal of the symposium is ensuring that creative projects and research in all academic fields are highlighted.
"We're really trying to find one place — one venue — where we can showcase and celebrate all of that work," Lewis said.
Students interested in participating in the inaugural conference submitted application forms at the beginning of the semester. Abstracts for the proposed submissions were reviewed by a faculty committee.
First-year Cessna Westra worked in tandem with Associate Professor of History Gina Hames to write a research paper on genetically modified crops in India. Together, Westra and Hames compared scientific documents, articles and books on the subject of GMOs to craft a paper that argues the ineffectiveness of genetically modified seeds.
Westra says working on this project helped sharpen her research skills.
"This project has helped increase my academic confidence and taught me a new method of research," Westra said. "It has also granted me the amazing learning experience getting to present in a formal academic setting, something I never would have gotten to do if not for this project."
Hames says working with students — particularly first-years — provides the opportunity for personalized teaching that impacts students' education all four years.
"This project has helped increase my academic confidence and taught me a new method of research."
- Cessna Westra, first-year
The symposium promotes student-faculty cooperation and partnership across the university. Lewis says she hopes the event will alert first-years and sophomores to future possibilities for student-faculty work across disciplines.
Lewis says emphasizing students' working relationship with faculty members helps students become entrenched in their studies. Through student-faculty research, students incorporate their own experiences with academia in a way that Lewis says improves critical thinking, writing and understanding of students' subjects of interest.
"I hope it helps you think about who you are, what you value, and the different ways you can apply and think about this work you're doing," Lewis said. "(The symposium) is a place where you can pull all of those things together and articulate them."
For faculty members, the symposium is a chance to see students' growth reflected in holistic projects. Faculty partners in attendance get to celebrate the achievement of students while also seeing the influence of their own guiding hand. "It's that guide-on-the-side part (that) I think is a very rewarding thing for faculty," Lewis said.
The symposium is this Saturday, April 8, from 8:30 a.m. to 3:00 p.m. in the Anderson University Center.