Currently Reading:
Local and international film critics lose their marbles — in a good way — over Lute's live-action short film
Local and international film critics lose their marbles — in a good way — over Lute's live-action short film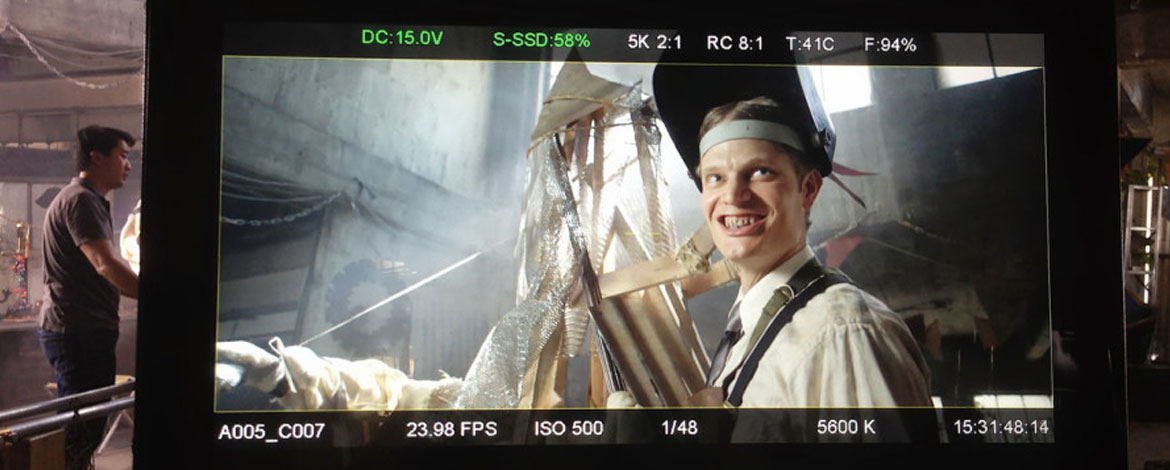 October 11, 2017
By Brooke Thames '18
PLU Marketing & Communications
TACOMA, WASH. (Oct. 11, 2017)- In a lively yet ominous steampunk world, a boy and a bully clash in the classic struggle of good and evil. The stakes: bravery and freedom. The battle: a simple game of marbles.
Such is the world depicted in a short film by Carl Petersen '04, titled "All the Marbles," a motion picture gaining recognition both at home and abroad. The film, written and produced by Petersen, screened at the 2017 Cannes Film Festival in France, and potentially is on its way to earning an Academy Award nomination for the 2018 Oscars.
"To even qualify (for nomination) is a big deal," said Petersen, who earned a bachelor's degree in theatre from Pacific Lutheran University. "I'm going to be one of those red carpet people (at the Oscars) who says it's just an honor to qualify."
The film has received rave reviews, Petersen said, and has even gained interest to expand to a possible full-length feature. Petersen said that script is in the works now. Before that takes off, though, Lutes and local film enthusiasts will have an opportunity to see the short this month, when it screens at the Gig Harbor Film Festival on Oct. 29 at 2 p.m.
The film follows young, unassuming Jameson as he travels into the den of nefarious marble player Wolf, who steals marbles from those he beats at the game. Having lost a very precious marble to Wolf's thievery, Jameson bets all the marbles he owns on a game to win it back from him.
"Jameson is like the quintessential underdog," Petersen said. "He's probably the kid who got picked on at school, or the last picked for any game that would be played."
Though timid, Jameson proves brave as he battles against Wolf in an intense, action-packed game of marbles. Wolf, played by Petersen, is a mob-boss-type character who uses the marbles he's stolen to wield power over the other characters in the world.
"Wolf is this character that just has to pay for his friends in a way. He gets his friends through intimidation," Petersen said. "I usually play boy-next-door comedic characters, so I was very interested in playing a villainous character. I wanted to go dark, but not too dark to be accessible to kids. I think that's a line that's fun to play with in what is an appropriately scary bully."
Throughout the game, Jameson's cause evolves from winning his own marble back to freeing all marble players from the threat of Wolf's tyranny. Petersen said the film aims to inspire audiences to act bravely despite fear.
"What I'd like people to take away is that we should — wherever we are in our lives — stand up and face our fears," Petersen said. "I think sometimes when you face your fears and stand up for something, you inspire the people around you."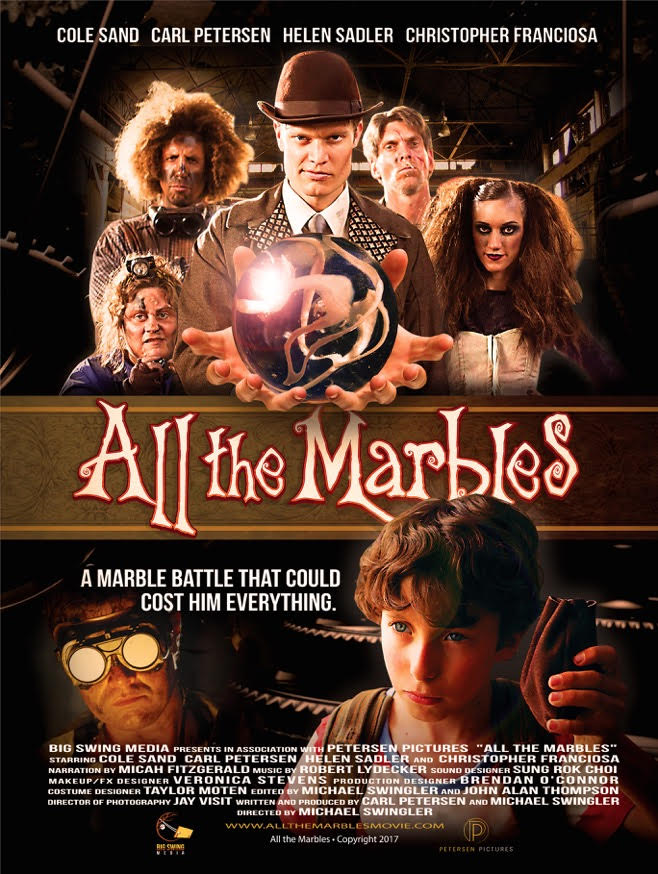 The film's concept came to Petersen while pondering an ancestral bag of marbles at his work desk in Los Angeles. The marbles belonged to his grandfather and were passed down to Petersen through his father, who played with the marbles as a boy. Petersen recalled his own boyhood experience playing games of marbles with his brother, who died in a work accident in 2010.
"I was sitting there thinking about the family nostalgia of growing up with this childhood game that I think is, in some ways, forgotten now," Petersen said. "I was just kind of thinking about my brother, who he was and what he had accomplished and not yet accomplished in his life."
Stirred by the memory of his brother, Petersen decided to pour his heart into a passion project that resulted in "All the Marbles."
"The story wasn't a direct correlation to my brother, but how I got to deciding to write a short about marbles," Petersen said. "My brother was definitely the inspiration behind getting me (to sit down) with my hands on the keyboard, typing away."
Petersen wrote the first draft of the script in 2014 and collaborated with director Michael Swingler to produce the final version. The film took three years to produce. With Swingler's input, the world surrounding Jameson and Wolf gained a playfully dark atmosphere and a Dr. Seuss-like rhyme scheme.
Petersen said telling the story through rhymes was one of the most strenuous aspects of writing the film: "Sometimes we would agonize over one line, but if we changed that, then we'd have to change the paragraph before that."
"There were all these various things in the theatre department that I had to work on that I realized really helped me later, because in creating this film I was wearing all the hats."
- Carl Petersen '04
The filming process saw its fair share of challenges, too.
Among them was a feat in costuming with the film's child actor, Cole Sand, who has starred on Disney Channel's "Austin & Ally" and NBC's "Parenthood." When Sand returned to reshoot a selection of scenes for the film, he sported a new haircut he received for another, separate role. He returned to the "All the Marbles" set looking considerably different from footage shot before, requiring the crew to match his hair to earlier footage using hair pieces.
The crew also ran into a filming permit issue that left them scrambling to capture some of the final footage: "The last shot of the film where (Jameson's) on his bike and looks back and smiles," Petersen said, "we got three takes of that."
The film also received attention from industry leaders in marble production. The marbles used in the film were donated by MegaFun USA, a North American toy manufacturer that's home to Mega Marbles. The prized diamond marble featured in the short was created specifically for the film.
"We are so thankful for that," Petersen said. "That would've been another huge budgetary concern having to purchase all these marbles."
Ongoing negotiations between Petersen and the company may lead to a distribution deal featuring custom-made marbles packaged with DVDs of the film to be sold in toy stores; those talks are still in flux, he said.
In the meantime, "All the Marbles" will vie for Oscar nomination in the Best Short Film (Live Action) category at the 2018 Academy Awards. The lengthy process involves competing against more than 100 qualifying films before the Academy narrows the nominee pool to five; Petersen hopes "All the Marbles" makes the cut.
Petersen said his time studying theatre at PLU helped prepare him to write, produce and star in film projects. His says the education in makeup, sound, set design and a host of other production elements equipped him for the roles he'd need to take on as an independent filmmaker.
"There were all these various things in the theatre department that I had to work on that I realized really helped me later, because in creating this film I was wearing all the hats," he said.
For current PLU students aspiring to craft their own projects or pave their own path in the industry, Petersen says "don't wait, just create."
"I think if you are passionate about something and you wait around until the perfect moment to create a masterpiece, you won't have the tools and experience to create it," he said. "If you want to be a mover and shaker, you need to just start doing it."