Currently Reading:
Lute navigates a complicated internal struggle along her path to United States citizenship
Lute navigates a complicated internal struggle along her path to United States citizenship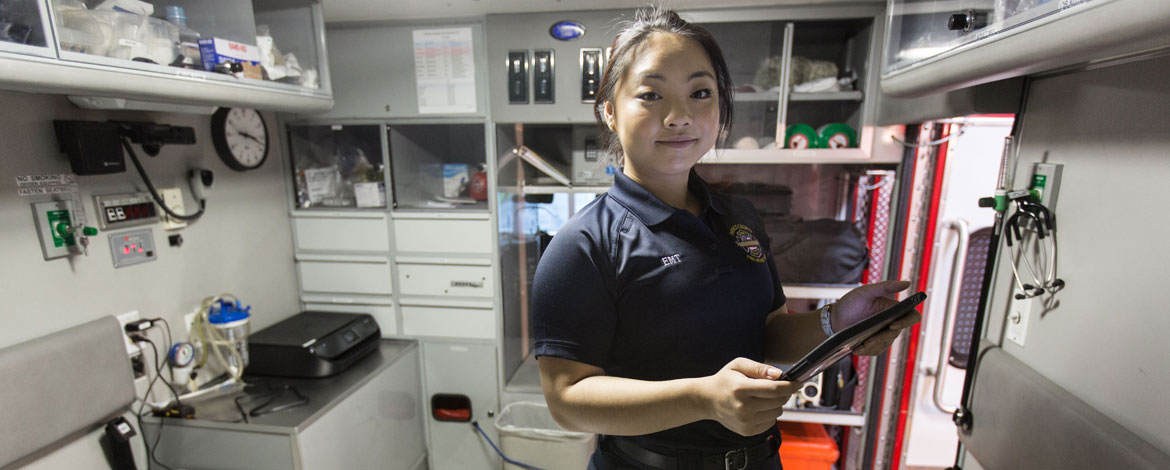 March 23, 2018
By Mackenzie Cooper '19
PLU Marketing & Communications
TACOMA, WASH. (March 23, 2018) — After living in the U.S. for seven years, Sunny Huang '18 took the oath of allegiance Jan. 29 against a backdrop of American flags. She completed the yearlong naturalization process to become a U.S. citizen.
The ceremony came months before another important one in May. That's when the Pacific Lutheran University student will take the commencement stage to celebrate the culmination of her degree in biochemistry, in pursuit of a career in medicine.   
But Huang's recent milestone followed a complicated internal struggle — one she continues to navigate.
She was sworn in — alongside a crowd of other newly minted American citizens from countries such as China, India and Canada — at the U.S. Citizenship and Immigration Services office in Tukwila. The room was spacious with rows of church-like pews.
They were welcomed by an enthusiastic host who greeted them with a big smile, firm handshake and many congratulations. After everyone settled into their seats, a congratulatory pre-recorded message from President Donald Trump played on a projector screen.
The path to citizenship can be arduous. It can take years from start to finish, requiring the applicant to pass various civics and English tests. Yet while others smiled and waved their U.S. commemorative flags in celebration of their long-awaited citizenship, Huang was uncertain.
"I don't know if I want to do this," she recalled thinking at the time. "I sprinted across the stage, grabbed my certificate, quickly shook the lady's hand, and walked off. I just wanted out of there."
Huang spent most of her life in Nanning, a Chinese city in Guangxi Province, where she lived with her family and friends. China always signified childhood, self and home.
But in 2011, she relocated to Everett with her mother, to live with her stepfather, Don Rollevson — someone she refers to, lovingly and simply, as "dad."
She finished her final years of high school and two years of community college before enrolling at PLU to major in biochemistry. Rollevson, a PLU alumnus, encouraged her to attend the university.
He also urged her to apply apply for citizenship. Huang said he thought it gave her better opportunities to pursue her educational and vocational goals in medicine.
"I really applied because my dad wanted me to be a citizen," Huang said. "Plus, I'm probably going to be living and working in the U.S."
Currently, China does not recognize dual citizenship. For Huang, completing the U.S. naturalization process meant facing the heavy consequence of losing her Chinese citizenship. No matter how she looked at it, she felt she was forfeiting a part of her identity.
"It's not that I can't go back to China ever again," Huang said. "It's just – I'm feeling distant now, like an outsider, because my nationality isn't Chinese but my – everything else is."
Still, Huang says time and reflection has helped change her perspective. Now, she is focusing on the opportunities that lie ahead.
The current tumultuous political climate has galvanized more and more people to exercise their civic rights and vote in their city, state and federal elections. And, for Huang, that's no different.
"I'm really excited I can vote now," Huang said. "That's a reason I like being a citizen. I can make positive impacts in the community that way."
"I'm really excited I can vote now. That's a reason I like being a citizen. I can make positive impacts in the community that way."
- Sunny Huang '18
Serving and supporting people has always been a driving force for Huang. She says her PLU experience — coupled with her time spent in the semester-long study away program in Namibia — bolstered her vocational resolve.
In Windhoek, Huang visited various clinics with her classmates. "I saw how hard it was for people to access proper care," she said. "Some people have to walk miles to a clinic only to find that they weren't able to provide the appropriate medical care. It reinforced my desire to become a doctor and help others."
While her schedule is filled with medical school applications, formidable biochemistry courses and an upcoming commencement ceremony, she continues to find time for her passion to help others.
Huang volunteers at the Browns Point/Dash Point Fire Department, located near the Port of Tacoma. She pulls 12-hour shifts as an emergency medical technician. Her volunteer work has enabled her to hone her skills through practical experience. She also has found a community – a family – that she says supports and encourages her to do better.
She also dedicates time to work as an international peer advisor at PLU where she helps international transfer students navigate their new environment.
Although her naturalization process was difficult, Huang looks forward to the next steps in pursuing her dream of becoming a doctor.
"That's all I want, I just want to help people because the world is very unequal," Huang said. "I feel like I can support the people who get left behind."
OTHER PLU PERSPECTIVES ON CITIZENSHIP