Currently Reading:
PLU Department of Communication launches Film and Media Studies concentration, beginning fall 2018
PLU Department of Communication launches Film and Media Studies concentration, beginning fall 2018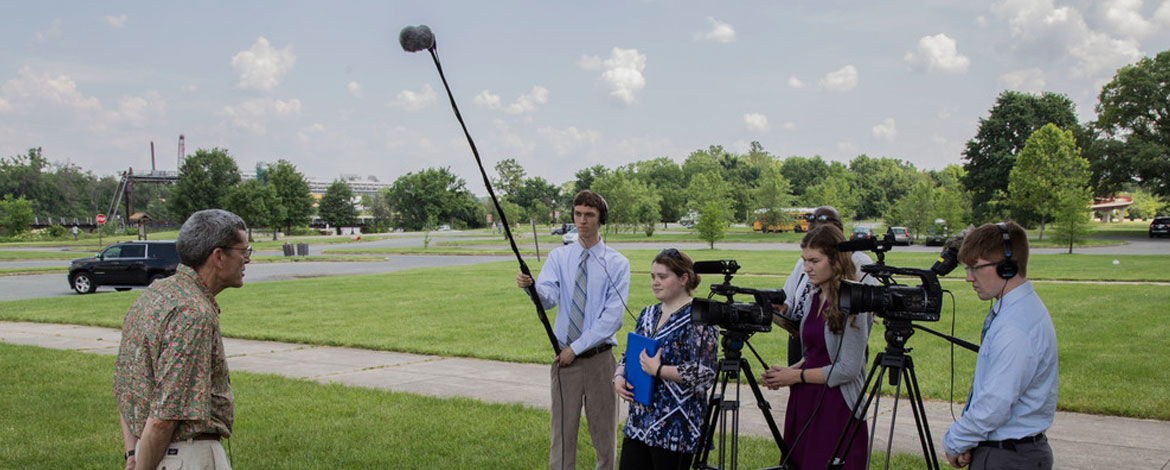 April 3, 2018
By PLU Department of Communication

TACOMA, WASH. (April 3, 2018) — In response to years of student inquiries and interest, Pacific Lutheran University's Department of Communication announced a new concentration in Film and Media Studies. Courses, which will be available for registration April 16-27, launch in fall 2018.
The new concentration consists of up to 44 credit hours in core communication courses, as well as classes in theory, criticism, research and media production, all of which aim to engage students with interests in various types of media, including television, narrative and documentary filmmaking, advertising and marketing, and more.
Amy Young, department chair and associate professor of communication, says a recent Mellon Foundation grant made the curriculum change possible.
"This is an exciting development in our department," Young said. "Our main focus remains media and media studies across a variety of contexts."
The goal in coming years is to design and implement a hallmark PLU program, by harnessing existing faculty interest and leadership in Communication and elsewhere on campus.
This is hopefully the start of something big, says Robert Marshall Wells — associate professor of communication and one of several faculty members involved in planning the concentration.
"Much will depend on student interest and reaction to this new concentration," he said. "Of course, it would be wonderful to see this initiative blossom into a minor, or perhaps even an interdisciplinary major somewhere down the road. But this is what is possible right now, and it's a good and important first step in the right direction."
Previously, PLU was one of the few colleges and universities in the Pacific Northwest without some sort of formal film or media studies curriculum.
Implementation of the new Film and Media Studies concentration builds on the success of MediaLab, PLU's award-winning, student-faculty applied research program housed within the School of Arts and Communication's Center for Media Studies. Since its establishment in 2006, MediaLab has received dozens of regional, national and international recognitions for its documentary film productions, among its many other activities.
The Center for Media Studies, created in 2013, was founded in part to offer the PLU community and the region high-quality multimedia productions and services, while also teaching students the fundamental elements of communication practices.
The Center, which is run as a media agency, provides PLU students with pre-professional experiences in media production and services, including documentaries, support for news-gathering efforts, public relations support, video projects, web-based productions, community communication efforts, as well as on-campus multimedia productions.
Some students — including Joshua Wiersma '18, a communication major and former member of MediaLab — say the new concentration is a good fit that will assist students who want to pursue interests in film and other visual media.
"I've heard several students say, during my time at PLU, that if there was a film program or concentration available, they would pursue that track in a heartbeat," Wiersma said. "The appeal of visual media is about capturing and sharing human stories. I think the inclusion of a Film and Media Studies Concentration will help to craft the next generation of storytellers – right here at PLU."
Students interested in learning more about the new Film and Media Studies concentration in the Department of Communication are encouraged to contact their academic advisors. They also may contact Chair Amy Young at youngam@plu.edu or Associate Professor Robert Marshall Wells at wellsrm@plu.edu.