Currently Reading:
PLU announces UMBC president Freeman Hrabowski III as Commencement 2018 keynote speaker
PLU announces UMBC president Freeman Hrabowski III as Commencement 2018 keynote speaker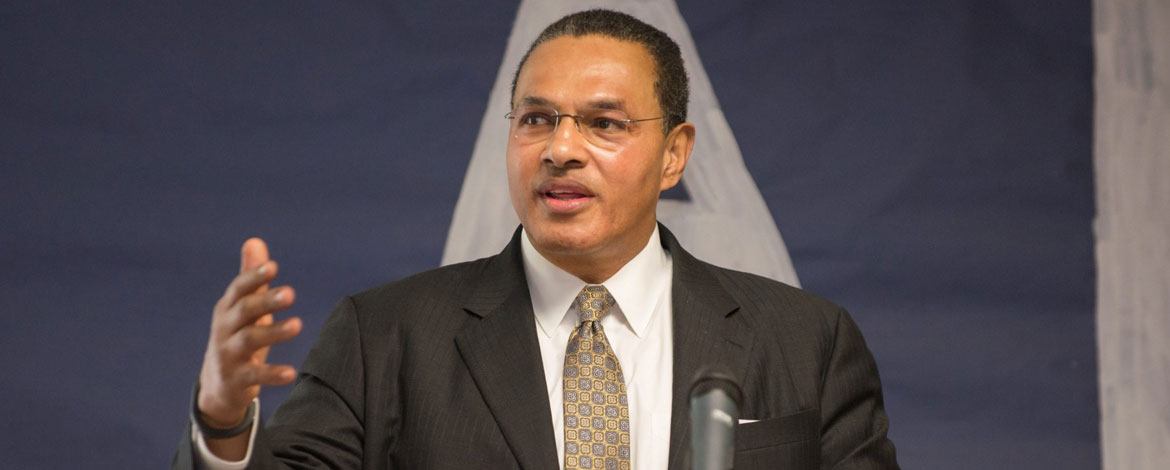 April 3, 2018
By Kari Plog '11
PLU Marketing & Communications
TACOMA, WASH. (April 3, 2018) — Freeman Hrabowski III — longtime president of University of Maryland, Baltimore County — sat in a jail cell in Birmingham, Alabama, following a protest with The Rev. Martin Luther King, Jr., dreaming of a better future.
"I wanted a better education. I did not want to have hand-me-down books," Hrabowski recalls in his 2013 TED Talk, titled "Four Pillars of College Success in Science."
Hrabowski is bringing his distinguished advocacy for equity in education to the Tacoma Dome May 26, as the keynote speaker for Pacific Lutheran University's Commencement 2018 ceremony.
"What makes our story especially important is that we were the first university in Maryland to welcome students of all races and backgrounds," Hrabowski says of UMBC. "We are a place for all students to participate equally in higher education, preparing them for meaningful lives and careers that work to solve the most pressing problems facing humanity."
He touts the university's unique story of learning how to help all students — including those who are underrepresented in higher education — be the best in the world in science and engineering. UMBC was founded in 1963, the year Hrabowksi — a wide-eyed ninth-grader who loved learning — participated in what's known in history books as the Birmingham Children's Crusade.
"For 50 years, it's been an experiment," Hrabowski says of the institution he's led since 1992. And the experiment is working.
UMBC leads the country in producing black students who complete science and engineering doctorate programs, as well as M.D.-Ph.D.s. The university draws from 150 countries around the world, and celebrates prominent alumni researchers at institutions such as Harvard University. UMBC's success is built on key pillars: cultivating community among students, hands-on research opportunities, maintaining high expectations, faculty involvement, and innovative curriculum designed to engage students.
"Children can be empowered to take control of their education," Hrabowski says. "They can be taught to be passionate about wanting to learn."
Hrabowski says developing a sense of self is pivotal for students to succeed, telling them "you can do this work."
Hrabowski's research focuses on science and math education, with a special emphasis on minority participation and performance. He chaired the National Academies' committee that produced the 2011 report titled "Expanding Underrepresented Minority Participation: America's Science and Technology Talent at the Crossroads."
Among his countless accolades, Hrabowski was named by President Obama to chair the President's Advisory Commission on Educational Excellence for African Americans in 2012. U.S. News & World Report named him one of "America's Best Leaders," and ranked UMBC the nation's No. 1 "Up and Coming" university for six years (2009-14). Among its other honors from the publication, UMBC earned top-10 recognition for "most innovative" universities (2015-17) and was among the nation's leading institutions for "Best Undergraduate Teaching" (nine years running).
In 2009, Hrabowski was named one of "America's 10 Best College Presidents" by TIME magazine, which also recognized him as one of the "100 Most Influential People in the World" in 2012. The Washington Post and the Harvard Kennedy School's Center for Public Leadership named Hrabowski one of seven "Top American Leaders."
His latest claim to fame? "Giddy basketball fan," according to The Washington Post, following UMBC's recent victory over No. 1 Virginia — the biggest upset in NCAA men's basketball tournament history.
Visit president.umbc.edu to read a full biography of Hrabowski and his achievements. Commencement 2018 is Saturday, May 26, at 2:30 p.m. at the Tacoma Dome. Visit plu.edu/commencement for details and a schedule of related events.