Currently Reading:
Three Lutes headed to Guinea through Peace Corps
Three Lutes headed to Guinea through Peace Corps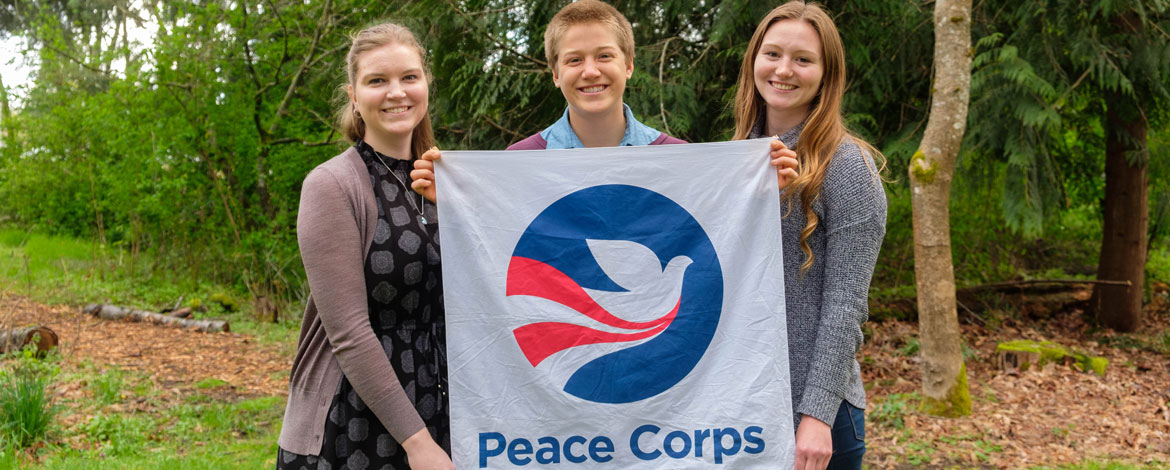 April 18, 2018
By Mackenzie Cooper '19
PLU Marketing & Communications
TACOMA, WASH. (April 18, 2018) — One of the first cohorts of Pacific Lutheran University's nascent Peace Corps Prep program will soon embark on a journey from the West Coast to West Africa.
The three humanitarians — Madeline Wentz '18, Haley Bridgewater '18 and Margaret Chell '18 — were just the second wave of students to enroll in and complete the program, which launched in March last year.  
"I always knew I wanted to serve others," Wentz said. "I think making a difference is what we are meant to do."
Wentz, Bridgewater and Chell are among this year's newest recruits for the Peace Corps, a hands-on volunteer organization with an emphasis on intercultural communication, global partnership and sustainable change. They will add to the 10 PLU alumni currently serving overseas — and add to the more than 250 Peace Corps participants PLU has touted over the years.
Historically, PLU's per capita enrollment of alumni into the Peace Corps has been significant.  This year is no different. PLU ranked No. 22 nationally for small colleges on the Peace Corps' 2018 Top Colleges annual list, which recognizes colleges with the highest volunteer participation.
The three graduating Lutes will live and work in Guinea, located in West Africa, for up to 27 months. Wentz and Bridgewater depart in July, while Chell follows in November.
For the first few months, each volunteer will complete an intensive course facilitating integration into local communities and administering pre-service safety and technical training.
"At first, we will be living with a host family to develop relationships within the community and receive training," Chell said. For the first three months, the Corps gauges their aptitude in specific tasks before assigning the volunteers to a particular region in Guinea.
When applying for a Peace Corps position, an applicant has the option to serve in a specific region or be placed by the Peace Corps. Wentz, Chell and Bridgewater all opted for random placement.
"The program provided helpful direction during my application process, helped with mock interviews and allowed me to step out of my comfort zone as a Peace Corps ambassador on campus."
- Madeline Wentz '18
"Initially, we didn't get placed together. I was headed for Mozambique, but the program was canceled," Chell said. "The Peace Corps offered me a new position in Guinea. After reading the description and knowing Madeline and Haley were there, I took it."
As for her acceptance into the Peace Corps' exceedingly competitive organization, Wentz acknowledged the value of PLU's Peace Corps Prep program.
"The program provided helpful direction during my application process, helped with mock interviews and allowed me to step out of my comfort zone as a Peace Corps ambassador on campus," Wentz said.
The certificate-based Peace Corps Prep program provides students with focused coursework coupled with hands-on experience to better position them as Peace Corps applicants. It also integrates experiences and classes completed prior to applying.
"We were able to jump right into the (Peace Corps Prep) program with most coursework and volunteering hours satisfied, which I think mainly speaks to PLU's alignment with the Peace Corps' goals and values," Bridgewater said.
The program aims to provide a realistic look at service work, said Katherine Wiley, assistant professor of anthropology and director of Peace Corps Prep. This helps mitigate culture shock for students, and cultivates a better understanding of what it means to be a citizen of the world.
For Wiley, global citizenship requires a nuanced and open-minded appreciation of diverse populations. The prep program underscores diversity training with targeted cross-cultural coursework and workshops, to prepare students to be ethical and thoughtful in their volunteer work.
Bridgewater said the best advice she received in the program was to listen and learn from the communities she will serve. "The experience should be collaborative, not imposing," she said.
While Peace Corps Prep has been successful in preparing students for post-graduate service work, Wiley and the cohort see potential for growth. They hope to see a diverse applicant pool and establish an extensive support network and community for students on campus.
"Our goal is to reach a broad swath of PLU's population and build a more enriching and diverse experience for the group," Wiley said.
To attract more applicants, Wiley is committed to strengthening on-campus partnerships with faculty and student leadership. Through more exposure, Wiley hopes to challenge the misconception that the prep program is only beneficial for potential Peace Corps applicants. It also equips students with valuable skills applicable across professions.  
"My biggest takeaway from PLU and the Peace Corps Prep program is to listen and learn from others," Chell said. "No matter where you go, those skills will always transfer."