Currently Reading:
Eagle vs. fox: Lute snaps breathtaking viral photos
Eagle vs. fox: Lute snaps breathtaking viral photos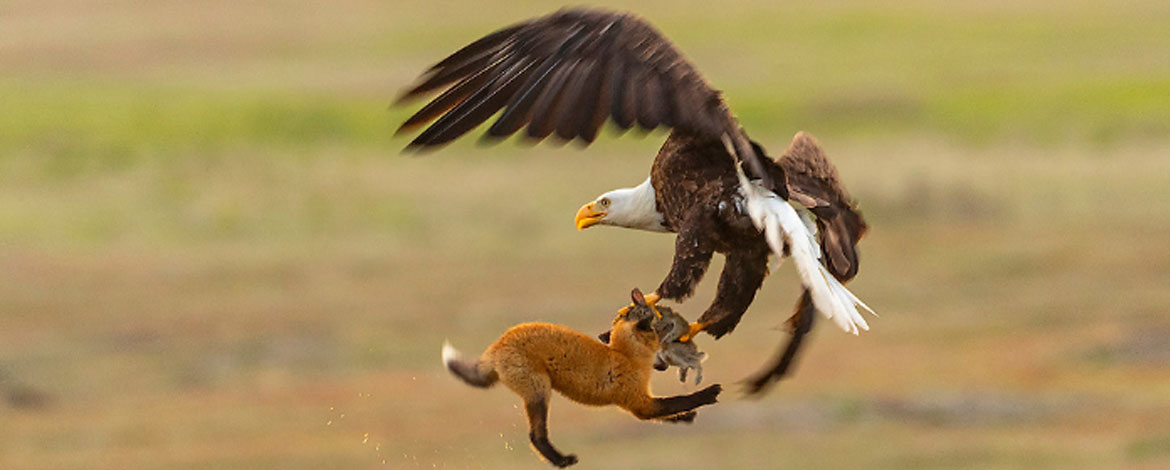 May 30, 2018
By Kari Plog '11
PLU Marketing & Communications
TACOMA, WASH. (May 30, 2018) — Kevin Ebi '95 was in the right place at the right time.
The Lute who took a photograph immortalized on a postage stamp can now claim viral celebrity status, after capturing the breathtaking battle of a young fox fighting for its prey with a dive-bombing eagle.
It was just another day for the wildlife photographer, who was shooting photos in San Juan Island National Historical Park.
Enter eagle. As the fox fought for its prey, Ebi wasn't even sure the images of the unexpected clash were usable.
"I was panning the camera with the running fox, using a relatively long shutter speed so that I could capture some motion," he said. "By the time I knew the eagle was approaching, I didn't really have time to adjust the camera. With such erratic action during the struggle, I was worried the slow shutter speed would result in blurry images."
When the dust settled, Ebi was relieved to find the opposite was true. Still, he didn't anticipate the frenzy that followed.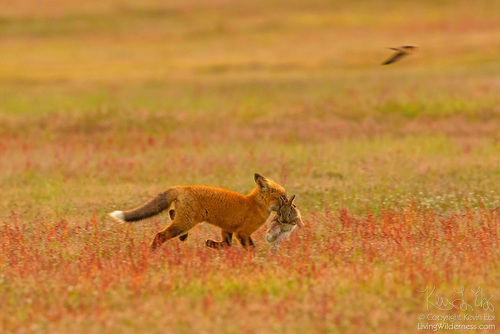 "At the time, I thought I had a few dramatic images, but I really didn't think they would travel the world as they have," Ebi said. "To a certain extent, I think it wasn't any one image that caused this to go viral — it was the story."
And the story has resonated. The images have appeared in newspapers from Russia to Australia. A quick internet search pulls up pages upon pages of stories citing Ebi's firsthand account.
"A friend of mine hosted a dinner party last week — without prompting, her guests were talking about the image and every one of them had seen it, but had seen it in a different place," Ebi said. "I've really been blessed with wide audiences for some of my images — like the postage stamp — but this has been incredible."
There are some downsides to the international attention. Some naysayers have accused him of "faking the images," and his one-person photo business has been difficult to manage with all the inquiries: "I'm still trying to catch up on messages — more than a week after the image took off."
But he's enjoyed seeing his photos come to life.
"It's been fun to read most of the comments and see the creative layouts that newspapers and magazines have made to showcase the images," he said.
Despite what most think, Ebi thinks one of the most popular images tells a story of triumph more than a story of loss.
"One of the most popular images is the picture of the fox looking out of its den after the eagle encounter," Ebi said. "I think that makes this a story of a brave little fox that lived to tell about its fight with an eagle. I think it makes the dramatic battle scene more interesting and less frightening."