Currently Reading:
For PLU's Mary Moller, Nurse of the Year award was a career in the making
For PLU's Mary Moller, Nurse of the Year award was a career in the making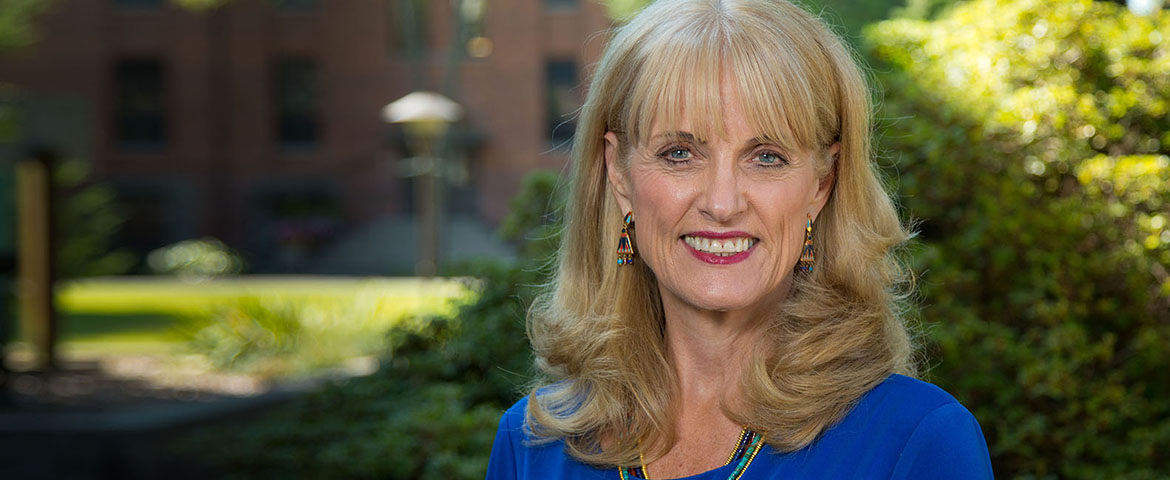 August 14, 2018
By Thomas Kyle-Milward
Marketing & Communication
TACOMA, WASH. (Aug. 14, 2018) — Mary Moller has always been a revolutionary.
After becoming the first nurse to be named to the editorial boards of two prestigious psychiatric journals, the Pacific Lutheran University associate professor was honored with the American Psychiatric Nurses Association's Psychiatric Nurse of the Year award last month, a well-earned achievement that sums up a career of pushing boundaries and innovative work in the nursing field.
"I have some really great colleagues around the country who respect me and my work over the years," Moller said. "To be selected is really rewarding and humbling, it's still a bit overwhelming to me."
The award is given annually to a nominated APNA member who meets criteria for being at the top of the field, an advocate dedicated to the profession while also providing a unique contribution, and Moller certainly qualifies. A native Nebraskan, she moved to Washington in 1992 and founded The Suncrest Wellness Center in Spokane, the first independent nurse-managed rural outpatient psychiatric clinic in the United States.
"I didn't have a clue what I was doing, right?" Moller said. "But that's sort of who I am — if there's a need, I'll see what I can do to meet that need and just figure it out as I go. My life has always been doing the next thing that comes my way."
The clinic was hugely successful, with four ARNPs, a child/adolescent therapist, a MSW who specialized in substance use disorders and a full-time office manager. Moller notes that over almost 17 years more than 2000 patients were treated. Over those years, there were fewer than 10 psychiatric hospitalizations. But in late 2008, the state was significantly behind on Medicaid payments and the clinic, which at that time served over 800 primarily public sector patients, was forced to close for financial reasons. It was on to the next challenge for Moller.
Moving into academia
In 2009, she began a six-year stint as the coordinator for the Psych Nurse Practitioner program at Yale's School of Nursing. The work was rewarding, but something kept pulling her back to Washington state: family.
As a faculty member at such a prestigious institution, Moller periodically received invitations from other universities advertising teaching positions. One such invitation was from PLU.
"Typically, I would just delete (those emails)," Moller said. "Then I got one (from PLU) in the fall of 2013. I thought, oh sure, it's a Washington school.  And it was really like three days later, sort of the Holy Spirit hit me square in the head. 'You need to apply for that job.'"
"I didn't want to be a Skype grandmother," she said. "You can't just pop from New Haven, Connecticut, to Bremerton. So we were trying to figure out, 'How do we get back to Washington?'"
Designing a curriculum
After landing the position and being named to head up the new psychiatric speciality area in the Doctor of Nursing Practice graduate program, Moller set about changing the way her students learned by building a program model from scratch.
"Nobody's teaching psych nurse practitioners in their curriculum like we are (at PLU)," Moller said. "Rather than interspersing therapy courses with assessment, diagnosis, and psychopathology, I wanted to approach the curriculum in the same way we do it in practice."
When an ARNP first meets a patient, they have to figure out what's wrong (complete a thorough psychiatric diagnostic evaluations), then come up with a diagnosis and a treatment plan to stabilize the acute symptoms/problems that brought them to treatment. Then begins the business of hopefully maintaining stability, improving overall function and working on achieving life goals — that's where the intensive therapy focus comes in.
That first year at PLU is all about assessment, diagnosis, psychopharmacology and patient care management. In the second year the students study family therapy, then group therapy, and then 1:1 therapy over a six-month intensive period. Their final semester is an immersion semester where they are implementing the full scope of the role including 1:1 psychotherapy and conducting groups.
Moller's first cohort, following the modernized curriculum, graduates in May.
"It's a different model, same outcome," she said. "But, I think, a better outcome. It meets the workplace needs of today and our graduates should be able to hit the ground running without needing a residency."
Overseas impact
Moller's groundbreaking work in nursing has taken her all over the world as a lecturer and consultant. But her proudest moment (and perhaps her biggest professional accomplishment) came when she addressed the Israeli Ministry of Health in 1998 — a partnership that began with an article in an international journal about Moller's Spokane practice, totaled four overseas visits and spanned two different decades.
"The Division of Psychiatric Nursing in the Israeli Ministry of Health was trying to include  our program, this program we developed (in Spokane) called the Three R's — relapse, recovery and rehabilitation, into their 'basket of services' that every citizen receives."
After Moller's presentation, the ministry voted down the proposal to adopt her program, partly because of a conceptual flaw: the country didn't have nurse practitioners or nurse-managed-clinics yet. But in 2016, the Ministry of Health finally voted to incorporate nurse practitioners in the workforce. Moller hosted a handful of top Israeli psychiatric nurses in Washington in 2017, organizing 20 site visits in 10 days, and then journeyed back over to Israel for more consulting. Training materials she'd authored were translated into Hebrew and being used throughout the country. Delayed by 16 years, her program was finally being adopted.
"It was my greatest high and my greatest low, because I failed but I didn't fail," Moller said. "That's a pretty big deal for a Nebraska farmer's daughter."