Currently Reading:
PLU hosts I Am Psyched! National Tour exhibit
PLU hosts I Am Psyched! National Tour exhibit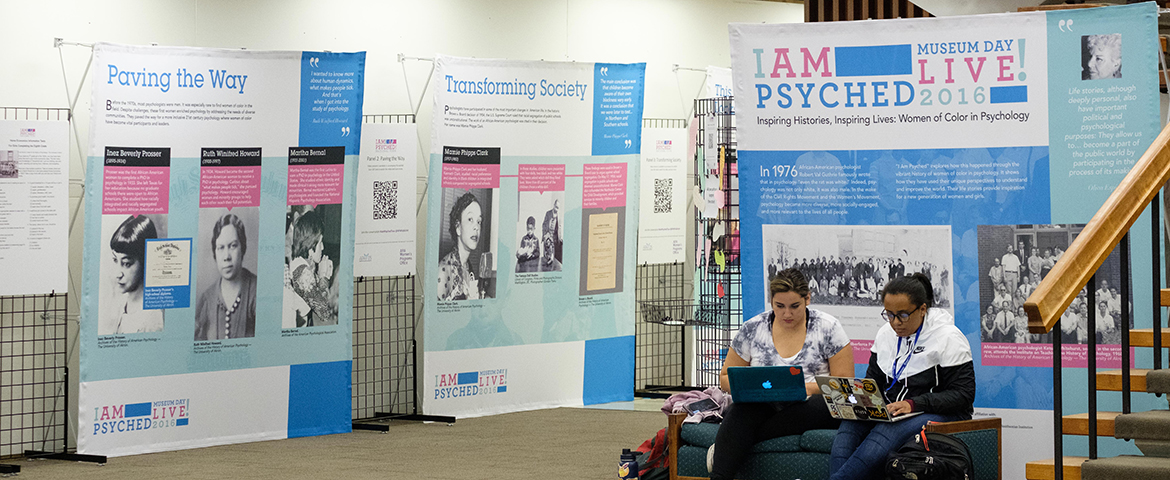 September 11, 2018
By Thomas Kyle-Milward
Marketing & Communication
TACOMA, WASH. (Sept. 11, 2018) — Pacific Lutheran University welcomes the I Am Psyched! National Tour to campus, where it will be housed in the Mortvedt Library until Sept. 24.
I Am Psyched! is a multimedia initiative launched by the American Psychological Association Women's Programs Office to explore the history and contemporary contributions of women of color in psychology as they engage in psychological science, practice and social justice.
The I am Psyched! National Tour got started in early 2017 with an installation at Howard University in Washington, D.C. The exhibit traveled across America to 12 institutions in 2017, and is scheduled to make more than 20 stops in 2018.
From the APA: "In partnership with the Drs. Nicholas and Dorothy Cummings Center for the History of Psychology and Psychology's Feminist Voices Oral History and Digital Archive Project, APA's Women's Programs Office created the first I am Psyched! exhibit to engage visitors, especially young women and girls of color, in exploring how psychology benefits daily life. I am Psyched! originated as part of the Smithsonian Institution Museum Day Live! in 2016. By communicating the topical diversity of the field and the racial, ethnic and cultural diversity of psychologists themselves, we are encouraging young women and girls of color, and all visitors, to consider careers in psychology, use psychology to improve their daily lives and create positive social change in their communities, and to be excited by the museum experience."
To learn more about the history of the exhibit, visit APA's website.