Currently Reading:
'Representation matters': Lute actor earns lead role in Seattle production of 'Legally Blonde'
'Representation matters': Lute actor earns lead role in Seattle production of 'Legally Blonde'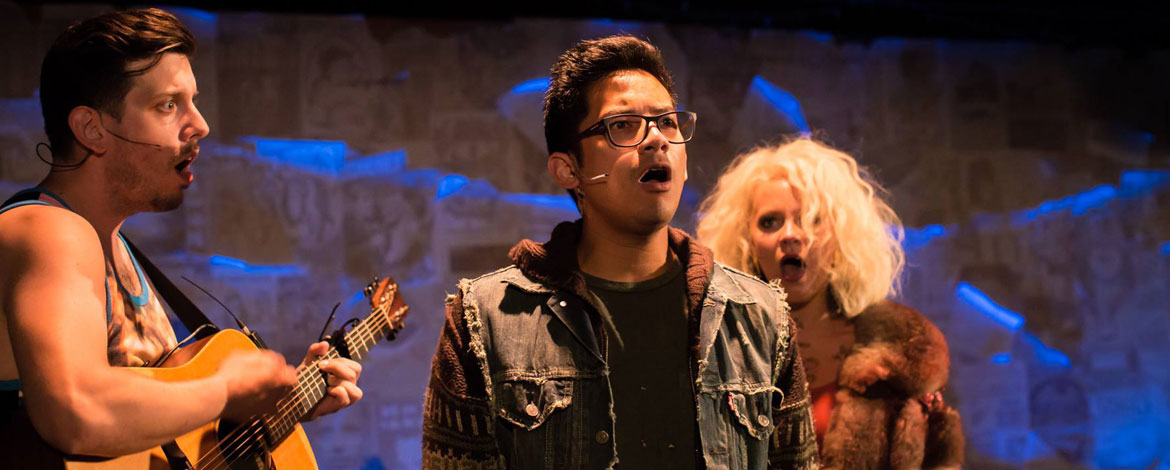 September 24, 2018
By Kari Plog '11
PLU Marketing & Communications
TACOMA, WASH. (Sept. 24, 2018) — Justin Huertas '09 says opening night of "Legally Blonde," presented by Seattle-based Showtunes Theatre Company, was electric.
Applause roared when his castmate, Alexandria Henderson, walked on stage for the first time Saturday night. Sure, Elle Woods is a lovable lead character in a story about perseverance and optimism. But Henderson and Huertas, black and Filipino actors who are playing roles often played by white actors, gave the crowd new reason for excitement.
"Representation matters," said Huertas, who studied theater at Pacific Lutheran University.
Showtunes' take on the musical, he added, invigorates a story that was already an achievement in uplifting "otherness." The storyline — a sorority girl's journey at Harvard Law School, initially intended to win back an ex-boyfriend, that morphs into a triumphant journey of self discovery — takes on new meaning when performed by people of color.
"I am visibly brown. When I was younger, I thought that would limit the roles I would be considered for," Huertas said. "We all deserve to be seen on stage in a variety of roles."
When Huertas got the call to audition for Emmett, a leading role he always dreamed of amid his longtime "Legally Blonde" obsession, he was shocked and excited. "I never thought I'd get to play him."
Once he started reading for the part, it became clear how important the new point of view was for the story.
"Emmett says something like 'if you're not born into privilege, you have to work twice as hard,'" Huertas said. "Putting us in those roles creates a whole new, deeper spin on this. What a way for the story to be seen. It's beautiful."
Huertas has been entrenched in the Seattle theater scene since graduating from PLU. His first show out of college was a production called "Speech and Debate" at the Seattle Repertory Theatre.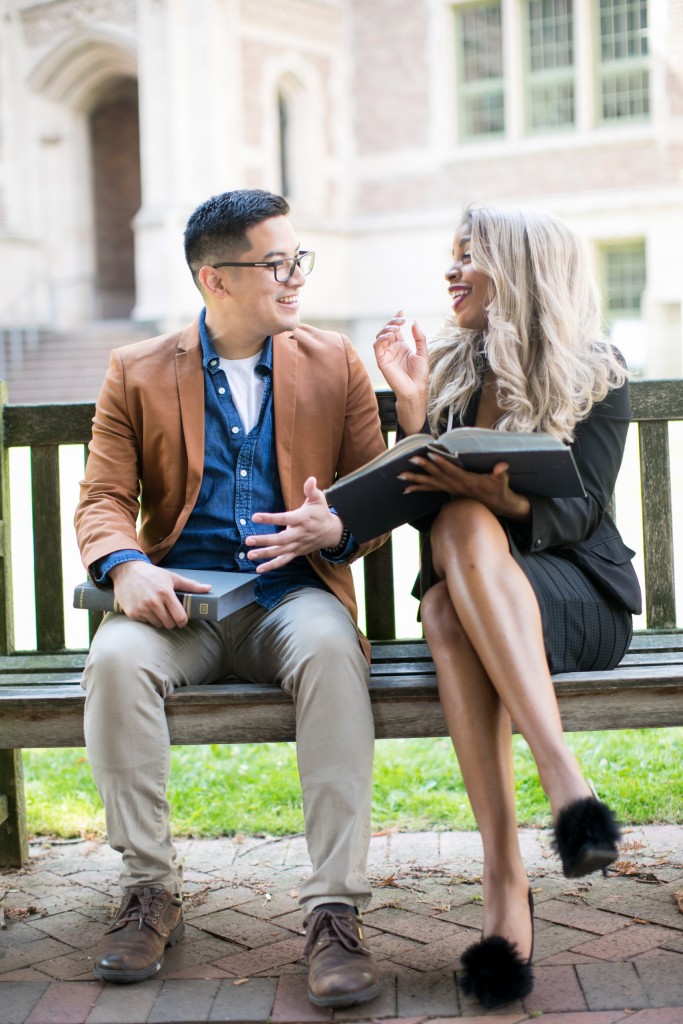 In 2015, he was commissioned to write his own musical for Seattle Rep, called "Lizard Boy," after the artistic director saw him play the cello in a musical theater concert.
"It was the most of me I've ever put on stage," Huertas said. "This was very much my words, coming out of my own mouth, playing my own music."
Huertas added that if audiences didn't like the show, it would feel like they didn't like him.
Well, they liked him very much. "Lizard Boy" won four Gregory Awards (think regional Tony Awards): New Play, Leading Actor in a Musical, Supporting Actress in a Musical, and Supporting Actor in a Musical. In 2016, it played at Diversionary Theatre in San Diego, where it won a Craig Noel Award for Outstanding Lead Performance in a Musical.
Huertas credits the musical's success to the desire for embracing otherness — similar to the show he stars in now. The superhero origin story, about a man in lizard skin who grew up insecure but learns to embrace his difference, resonates with people who feel vulnerable themselves.  
"Putting us in those roles creates a whole new, deeper spin on this. What a way for the story to be seen. It's beautiful."
- Justin Huertas '09
"There was a lot for people to connect to," he said.
During his time on campus, Huertas participated in all things theater. "The list is long," he said, laughing.
He was involved in productions such as "The Laramie Project," "Twelfth Night" and "Cabaret." His senior project was music directing for "Company," and he created a small musical theater concert called "Not Your Grandma's Showtunes" along with Kirsten deLohr Helland '10. (Helland also performed alongside Huertas in "Lizard Boy;" the third part in the cast — a three-person folk rock band — was played by William A. Williams.)
"A lot of us yearned for musical theater, so we created our own opportunities here and there," Huertas said of his time on campus.
Huertas is thankful that he's able to work in theater full time, holding a variety of roles throughout the productions he's a part of.
Since "Lizard Boy," he's been commissioned to write for Book-It Repertory Theatre, The 5th Avenue Theatre, ArtsWest Playhouse and Gallery, and Seattle Repertory Theatre again.
He says musical theater is his true passion, combining everything he grew up learning: visual art, music, writing and acting.
"It's the intersection of all the forms of art that I enjoy," he said.
'LEGALLY BLONDE: THE MUSICAL'
See Justin Huertas '09 (Emmett), alongside star Alexandria Henderson (Elle), in the final performances Sept. 29-30 at Cornish Playhouse — Seattle Center. Saturday's show begins at 8 p.m., and Sunday's matinee starts at 2 p.m. Tickets range from $25 to $45.