Currently Reading:
New federal grant boosts PLU doctoral nursing students serving in underserved WA areas
New federal grant boosts PLU doctoral nursing students serving in underserved WA areas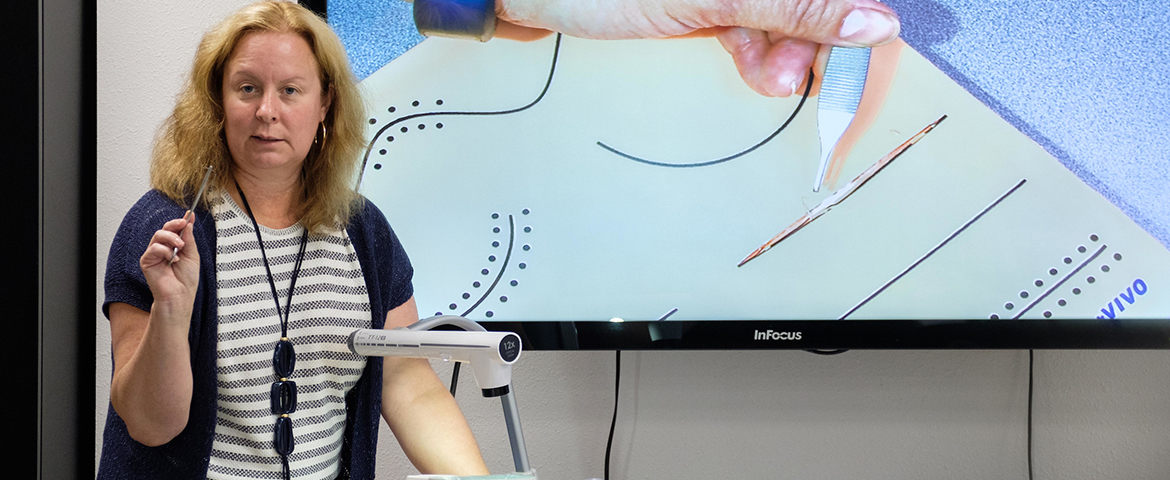 September 3, 2019
By Staff
Marketing and Communication
TACOMA, WASH. (Sept. 3, 2019) — A new $2.8 million federal grant will help increase the number of PLU Doctor of Nursing Practice students who can serve rural and underserved populations in Washington.
The grant, from the federal Health Resources & Services Administration (HRSA), will strengthen training partnerships between the university and healthcare practices in those communities. And it will help train graduates in the use of telehealth, a growing area of modern healthcare that employs computer and video technology to connect patients and practitioners virtually.
"We are trying to grow the nurse-practitioner workforce so that they can practice in multiple settings," said Kathy Richardson, graduate nursing program director in the School of Nursing. "The goal is to improve access to care for rural and underserved populations."
Graduates of PLU's doctoral program help fill a pressing need for more primary-care providers in Washington, where shortages are particularly acute in rural areas. Graduates are trained to work as family-care nurse practitioners or as nurse practitioners providing mental-health care — both fields suffering from a shortage of providers.
The HRSA grant, from the agency's Advanced Nursing Education Workforce (ANEW) program, will support training for 72 Doctor of Nursing primary-care nurse practitioners, beginning with the 2019-2020 school year. The grant is for $2.8 million over four years, with annual funding subject to Congressional budgeting.
The grant's goals are broad. Among its aims:
Increase the number of nurse-practitioner students practicing in clinical rotations with medically underserved patients in both urban and rural settings.
Provide extended rotations for students in those settings by establishing new partnerships for clinical training. The goal is to ensure that every PLU nurse-practitioner student experiences at least three months of training with preceptors (experienced clinicians who serve as trainers in the field) at a rural or medically underserved site.
Recruit, educate, develop, support and evaluate new preceptors to work with nurse-practitioner students, including hosting an annual workshop for them.
Increase the number of underrepresented minority students who apply to and graduate from PLU's nurse-practitioner program. This will include efforts to recruit from local populations, such as veterans and tribal communities.
Enhance training opportunities for students to integrate mental-health care into primary care.
Provide roughly $350,000 each year in tuition assistance and stipends for students who wish to pursue primary-care training in rural and underserved communities.
Offer funding for doctoral student projects focused in the areas of mental health, opioid addiction treatment, care of rural/underserved populations and telehealth.
Telehealth allows patients in remote areas to "visit" a healthcare provider without traveling long distances. But it also offers convenience for patients in all kinds of communities.
"It's cost-effective, and it allows patients to choose to access healthcare when they want it," said Cheryl Graf, a nurse practitioner and Clinical Assistant Professor in PLU's School of Nursing, who also works in the field of telehealth.
Telehealth allows clinical faculty members to monitor students training with preceptors without the need to drive to each student's location.
"We can observe their interactions and give more real-time feedback," Richardson said.
The grant includes funding for telehealth equipment that can capture and transmit heart, lung and other sounds, visualize inner eye and ear images, and allow face-to-face communication.
The grant will help the School of Nursing integrate telehealth training into its curriculum.
One Doctor of Nursing Practice student, Pennie Khong, is already working on a project to expand telehealth education at PLU.
Khong said her project is designed to "better prepare undergraduate and graduate nursing students to utilize telehealth in their clinical practice once they graduate."
The HRSA grant application was the work of a School of Nursing faculty team that included Richardson, Graf, Clinical Assistant Professor Jessica Schwinck, Associate Professor Marylou Robinson, Clinical Assistant Professor Carrie Anne Matyac, Associate Professor Mary Moller and Assistant Professor Lorena Guerrero.
Their efforts drew support from members of Washington's congressional delegation.
"By training students through first-hand experiences in community-based settings with individualized instruction, PLU supports Tacoma and the broader Pacific Northwest," U.S. Senator Patty Murray wrote in a letter supporting the grant.
U.S. Representatives Denny Heck and Derek Kilmer also wrote in support of the grant and the training placements it will support: "These real-world opportunities will ensure that students receive the incalculable first-hand experience they need to complete their program and enter the workforce ready to practice."