Currently Reading:
253 PLU Bound Scholarship seniors prepare for final year as program grows
253 PLU Bound Scholarship seniors prepare for final year as program grows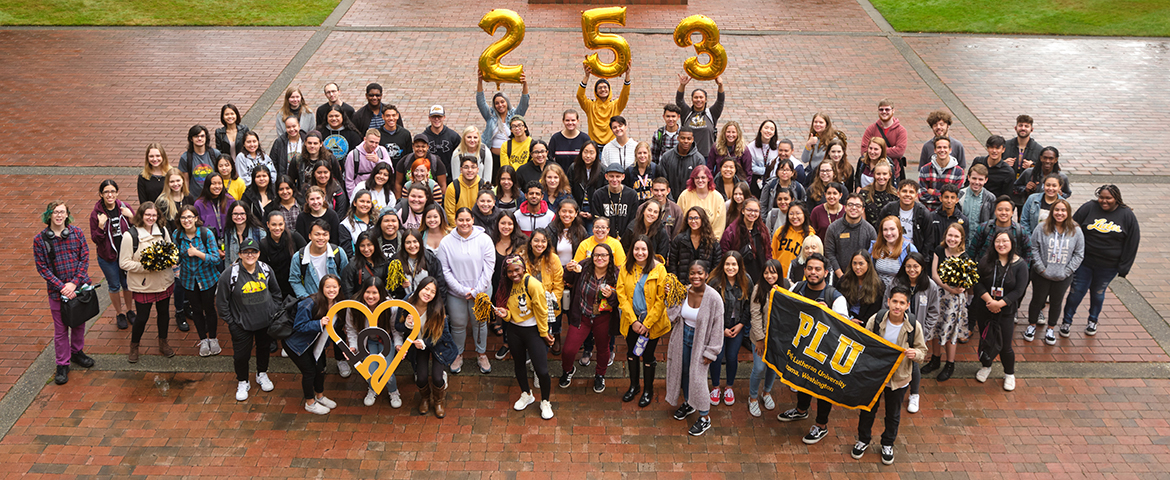 September 10, 2019
By Thomas Kyle-Milward
Marketing & Communications
TACOMA, WASH. (Sept. 10, 2019) — With Monday's Convocation marking the beginning of their senior years, Pacific Lutheran University's first full class of 253 PLU Bound Scholarship recipients are just two semesters away from completing their journey to graduation — and what a journey it has been.
"Having the 253 PLU Bound scholarship enabled me to come to a great school, major in nursing … and be a part of this tight-knit community," said Alex Gutierrez '20. "Going to PLU was just a dream come true." 
Before becoming a 253 PLU Bound recipient, Gutierrez was considering attending a community college due to financial constraints. A timely meeting with a PLU admissions counselor, however, inspired him to take advantage of this scholarship opportunity and give PLU a try. He's been excelling here ever since. 
"The 253 PLU Bound Scholarship program was really designed for students who believed they couldn't afford a private liberal arts education," said Melody Ferguson, PLU's Associate Dean of Admission. "Access is important, and this opportunity makes PLU a reality for students from all financial backgrounds." 
The program is available for any student from Washington state who is College Bound eligible and has a 3.30 or higher weighted cumulative GPA. Students are awarded full tuition for all four years at PLU through a combination of federal, state, PLU grant and scholarship aid. They will also receive a grant for $1,000 that goes toward books. Additional financial aid can be applied to room, meals and other expenses.
That combination means that as tuition costs fluctuate, the scholarship adjusts with those costs — meaning eligible students get comprehensive financial aid coverage throughout their four-year experience. 
"Having the 253 Bound will help me have a better footing after I graduate college, because I don't have to worry about having a monthly fee to pay back my federal loans," said Anamaries Garcia Marrero '20, who is double-majoring in psychology and sociology. 
Entering its fourth year, the 253 PLU Bound Scholarship has taken great strides and demonstrated a real impact on student access and success at PLU. Initially designed for graduating high school students within the 253 area code, it was expanded in 2017 to extend across Washington. This year, the GPA requirement was reset from 3.70 to help level the playing field as PLU shifts towards a more holistic admissions process.
After being awarded to 141 students over the first three years, this Fall's incoming class numbers 107 new recipients — 20 percent of PLU's first-year students. More than 79 percent of recipients are first-generation college students. Receiving the scholarship has benefits beyond helping make higher education make accessible, however. 253 PLU Bound students have a retention rate of 93.6 percent, significantly higher than the national average. 
Gutierrez believes receiving the scholarship, combined with the subsequent success he's had at PLU, showed his high school peers in similar financial aid predicaments a path forward, and he encouraged high school seniors considering colleges to follow his 253 PLU Bound example. 
"Definitely don't be afraid to apply places that you think you might not (afford) because you just don't know what doors might open for you," he said. "And in the end, you may get into that one school that matches you perfectly."
253 PLU Bound Facts
Full-tuition scholarship

Retention percentage: 93.6%
First-Gen: 79.4%
Percentage of incoming class: 20%
Average PLU GPA: 3.24
Lives on campus: 69.6%