Currently Reading:
Justin Kjolseth '10 on law school, PLU debate and life as an Assistant Attorney General
Justin Kjolseth '10 on law school, PLU debate and life as an Assistant Attorney General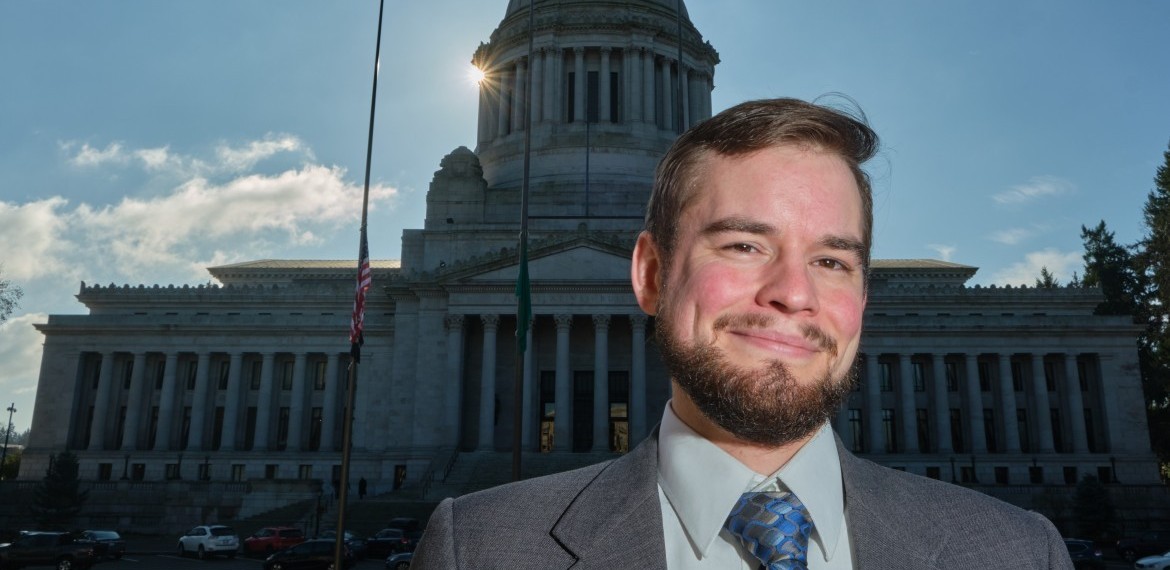 November 22, 2019
By Zach Powers
Marketing & Communications
OLYMPIA, WASH. (Nov. 22, 2019) — When asked the simple question "What's an average week at work like for you?" Justin Kjolseth '10 doesn't have a clear answer. "It varies," they say. "There really is no average work week for me." Kjolseth isn't dodging the question, they're just being honest. An assistant attorney general for Washington state, there's no predicting the cases and conundrums that will land on Kjolseth's desk. That's part of the reason they love their job.
What does your practice at the Washington State Attorney General's Office include?
I work in the education division at the Attorney General's office, so my practice includes both K-12 and higher education law. I am general counsel to a couple of technical colleges and the Workforce Training and Education Coordinating Board. And then I also do some work in the K-12 system, including teacher discipline litigation.
What might an average week in the office for you include?
Hmm, it varies. There really is no average week for me. Large institutions deal with a variety of problems and they have varied calendars throughout the year, so my average week is about as varied as the average week at a college campus. All the different things that are happening on college campuses are coming through my office, but it's multiple campuses, as well as other work on top of that. It can be wild. Some weeks I'm in court, some weeks I'm at board meetings, some weeks I'm traveling to conferences. There is no such thing as a standard.
What do you enjoy most about your work?
Really, I enjoy the variety. Every day is an opportunity to learn something new, and that works well with my personality and also with my desire to move on to new things constantly. I have a hard time doing the same thing over and over again for a long period of time. This job gives me opportunities to do lots of different things, develop lots of different forms of expertise and learn a lot of new skills.
Is this the particular legal field you'd hoped to enter when you were a law student?
I thought I was going to be an environmental lawyer. I went to Vermont Law School specifically because of its environmental law program. What I didn't realize was how well an environmental law education dovetails with education law work. You learn a lot of the same principles, administrative law, and constitutional law that apply in both fields. My education did prepare me for this job, but it is not what I thought I was going to be doing.
If you look back, are there elements of your PLU education that stand out as being especially helpful in law school and as an attorney?
There are absolutely aspects of my undergraduate education that prepared me for law school. My time spent on the debate team at PLU was very helpful for a lot of the speech and advocacy work that I have to do as a part of my job. I was a political science major, so learning about the political process was helpful. Another thing that helped me a lot was doing the legislative internship for my capstone project during the spring semester of my junior year.
Why was that such a big help?
It's just a really awesome program and definitely something that lent itself to my career. I learned about the legislative process. I learned how to read and interpret statutes — something I now do every day as a part of my job. I mean, seriously, you can get a window into just about any aspect of state government through doing that internship. I highly recommend it.
In addition to that strong legislative internship endorsement, what other advice would you give to current PLU students interested in attending law school?
Talk to your advisors now. Make sure your advisor knows what you need to get into law school. If they don't know, ask them to connect you to somebody who does. The two most important factors for getting into law school are your LSAT score and your undergraduate GPA. An LSAT prep course is worth every single penny. I highly recommend doing something like that. Don't just throw yourself at the test like I did. And don't get distracted by all the other things that you can do as an undergrad. Make sure that you're always focusing on academics.