Currently Reading:
It's Mylie Miller's job to market Wild Waves. And yes, she has a lot of fun at work
It's Mylie Miller's job to market Wild Waves. And yes, she has a lot of fun at work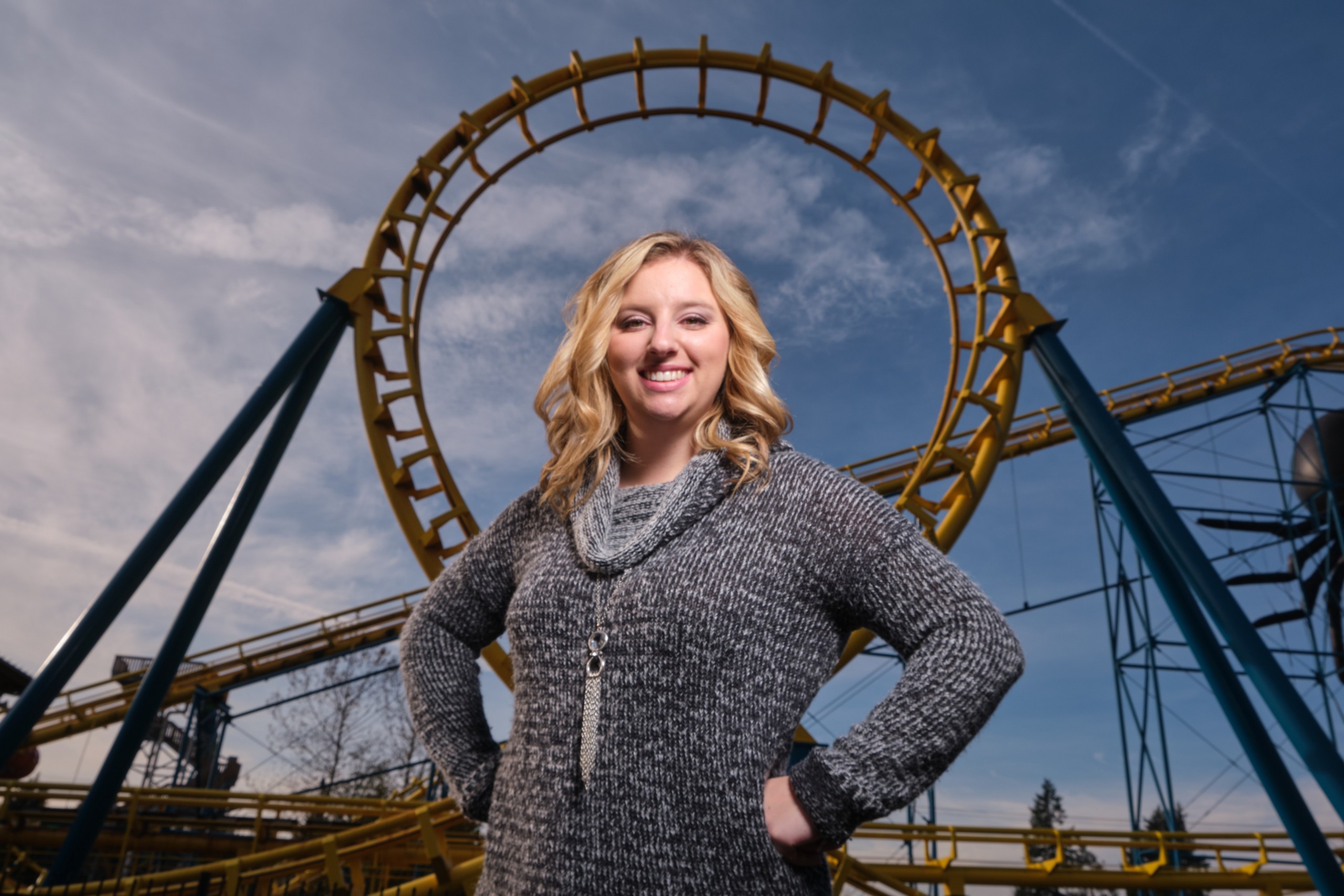 November 22, 2019
By Ernest Jasmin
Guest Writer for Marketing & Communications
Mylie Miller '19 had only visited Federal Way's Wild Waves Theme & Water Park once before last spring, and that episode ended with her looking like a pint-sized extra from "Fight Club."
"It's kind of funny, but it's kind of embarrassing," she said, laughing about a water slide mishap from elementary school. "As I was going down, I hit my face and I got a bloody nose. I get out and the blood looks like it's everywhere because of the water. So my mom is like, 'We're never going to Wild Waves ever again.'"
It took several years, but Miller finally found a good reason to risk subsequent visits: gainful employment. The 22-year-old graduated from Pacific Lutheran University in May, and Wild Waves hired her to be their marketing communication coordinator soon after. So far, her adult experience has been far more enjoyable than that first visit.
"You get to sell fun. That's totally what I get to do," Miller said, citing the park's inaugural Paw Pool-ooza as her favorite event that she has helped organize so far.
On that day, the park opened its half-million-gallon wave pool and its kiddie swimming area, Hook's Lagoon, to the dogs-only swimming event, a fundraiser for Seattle Humane. "This was the first year that we did it, and it was super fun," she said. "All I did was walk around and take pictures and videos of dogs. It was pretty great."
Miller joined the Wild Waves marketing team during a time of big changes, and she recently helped announce three major additions coming to the park for 2020. Next year, Wild Waves will unveil a new great-white-themed ride, called Shark Frenzy. Its Wave Pool will churn with bigger waves once a new WaveTek system is installed, and films showcased by the park's Dive in Movie series will be easier to see — night or day — thanks to a giant new LED video screen.
The coming spring will also mark the return of Miller's biggest contribution to Wild Waves: the Cornhole Classic. "That was the main wacky idea I personally came up with and got to put together," she says. Miller thought up the event, which pits teams of cornhole players against one another for prizes and glory, after the park's parent company tasked her team with creating a new summer event.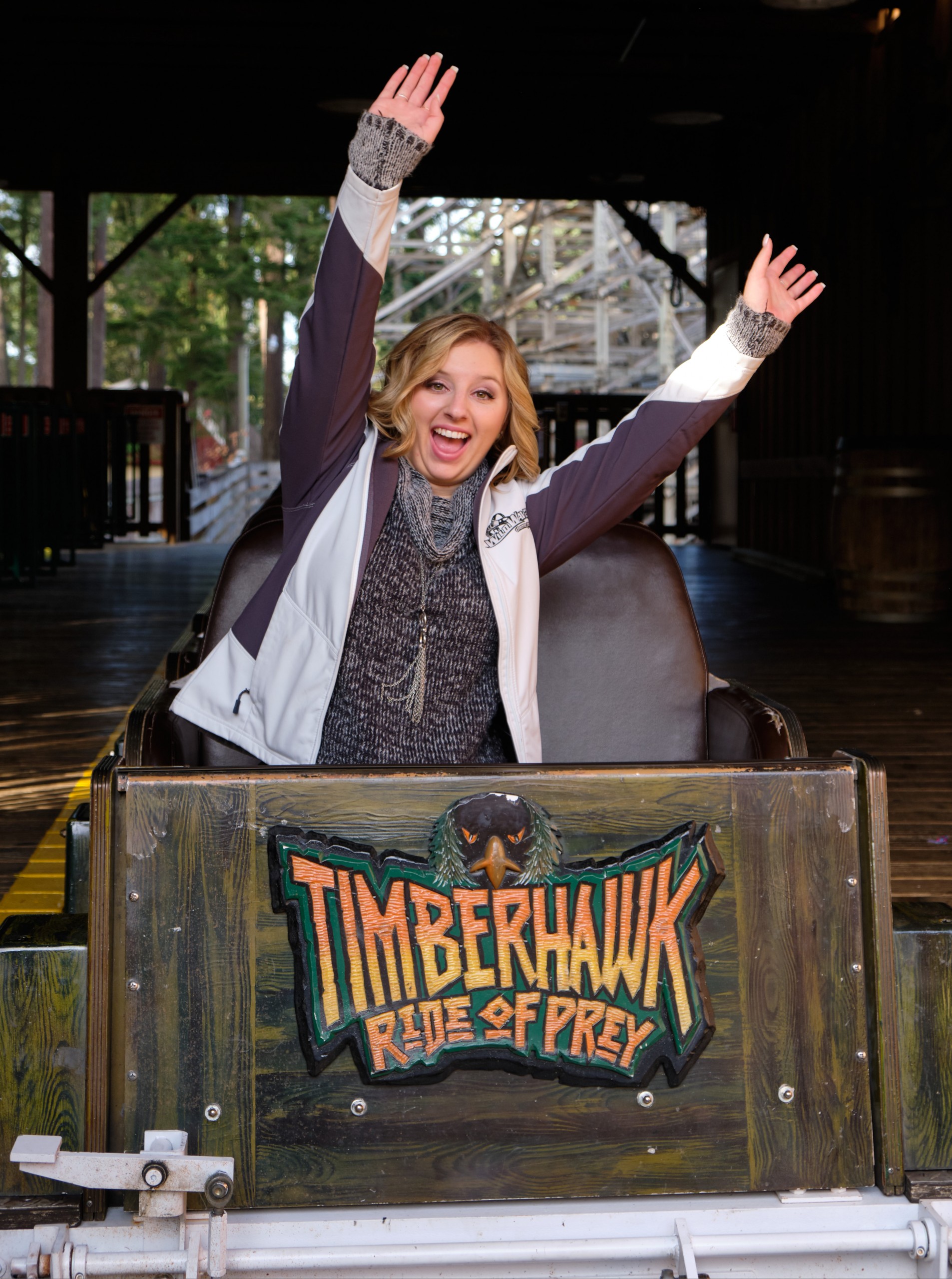 Miller, who majored in communication, says that her experiences working for MediaLab, a student-run media organization within PLU's School of Arts and Communication, helped her land her dream gig at Wild Waves and hit the ground running.
"I was the public relations executive," Miller said. "That role really prepared me for social media management, planning out projects and research, and coordinating timely messaging in a variety of mediums."
Through MediaLab, Miller gained valuable experience promoting "Living on the Edge," a student-directed documentary on coastal erosion in North Cove, Washington, that debuted this year; and she cited advisor Kate Hoyt as one of several advisers that gave her invaluable advice along the way.
"That was the first time I had ever done a premier, so of course I had a billion questions," she recalled. "She was always there, and if she didn't know the answer to some weird, specific question I had, she would always do her best and ask around and help me find the answer."
Miller laughs when she thinks back to her mother's declaration that they would never return to Wild Waves. The park is now a place where she is creative, a leader, and has become a communications and marketing professional. Some things, however, never do change. 

"I unfortunately have not gone down any of the water slides since my first trip to Wild Waves," Miller admits. "I have been on the Timberhawk Roller Coaster, and that definitely made up for my water slide experience."