Currently Reading:
PLU announces Master of Science in Kinesiology program
PLU announces Master of Science in Kinesiology program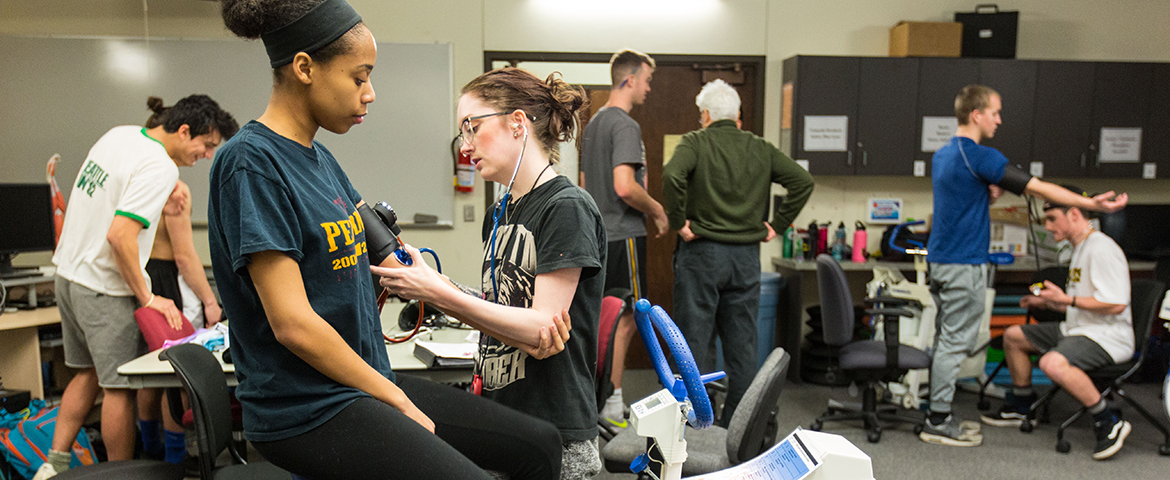 December 3, 2019
By Thomas Kyle-Milward
Marketing & Communication
TACOMA, WASH. (Dec. 2, 2019) — After almost six years of deliberation and preparation, Pacific Lutheran University is rolling out a prestigious new Master of Science in Kinesiology program.
Aimed at both graduate students looking for rigorous curriculum blended with real-world experiences and working professionals already in the field but looking to broaden their horizons, the university's MS in Kinesiology program strives to open the door to expanded career opportunities for its participants.
"This is a different master's degree," said Dr. Karen McConnell, dean of PLU's School of Education and Kinesiology. "If you look around the region in our field, most of the degrees are very research-focused and they're really catering towards people who want to go on and get a Ph.D. in the field. We decided to take a very different stance."
Instead, the university is leveraging its standard-setting Kinesiology faculty and tradition of excellence — PLU's undergraduate program is ranked in the top 50 nationally and rated No. 1 in the Pacific Northwest by Niche — to provide an intimate, mentorship-driven experience that prioritizes one-on-one learning in a practitioner-focused environment.
Participants will choose between two concentrations, Applied Sport Psychology and Applied Exercise Science, and every student will pair with a faculty advisor to complete an applied, evidence-based final project before graduation.
"We just have incredible faculty right now that, quite honestly, are unmatched. I mean that sincerely," said Dr. Colleen Hacker, a PLU Kinesiology professor and medal-winning Olympics mental skills coach. "My colleagues are rock stars in their respective disciplines."
In addition to centering strong faculty mentorship, there was a lot of intentionality behind crafting a program structure that features opportunities for summer study, evening classes and hybrid classes that pair one on-campus day per week with online coursework. Students will choose between 14- or 26-month completion paths, further increasing part-time or full-time flexibility.
"We wanted to be able to have teachers, coaches, trainers — people who are already in the field that would benefit from having a graduate degree — able to do this program," McConnell said. "That's also why some of the classes have the hybrid design, because we know it's unrealistic for working people to want to come to campus more than once a week. So we're trying to create that reality for them."
Another purposeful element of the program's design is diversity and inclusion — preparing graduates for work with people from all backgrounds and with a range of abilities.
"If we have an individual with cerebral palsy or even just an older individual with mobility impairments, what are some ways that we can safely prescribe exercise for them?" said Dr. Charlie Katica, an assistant professor of Kinesiology and wheelchair sports specialist. "What would that look like? I'll be teaching an adapted strength training class that figures out those strategies."
The road to the unveiling of the graduate program began in 2014, when Hacker started researching what a new curriculum could look like and what other regional universities were offering while she was on sabbatical for the Sochi Winter Games. The process culminated in an off-campus retreat this past January for the entire department to hash out the viability of offering a master's in Kinesiology. The answer, after two days of detailed discussion? A unanimous yes.
"We based a lot of things on who we have currently as faculty and what our strengths are, who are we and what each one of us brings to the table — and how we can enhance that curriculum to help those students to become better practitioners," said Dr. Harry Papadopoulos, PLU's associate dean of Kinesiology.
The PLU program opened the applications process on Dec. 2, with a priority deadline of Feb. 15, and the first cohort will start classes in Summer 2020. There's a swell of anticipation and excitement among the faculty as the prospect of graduate students beginning the first-class program they've created becomes a reality.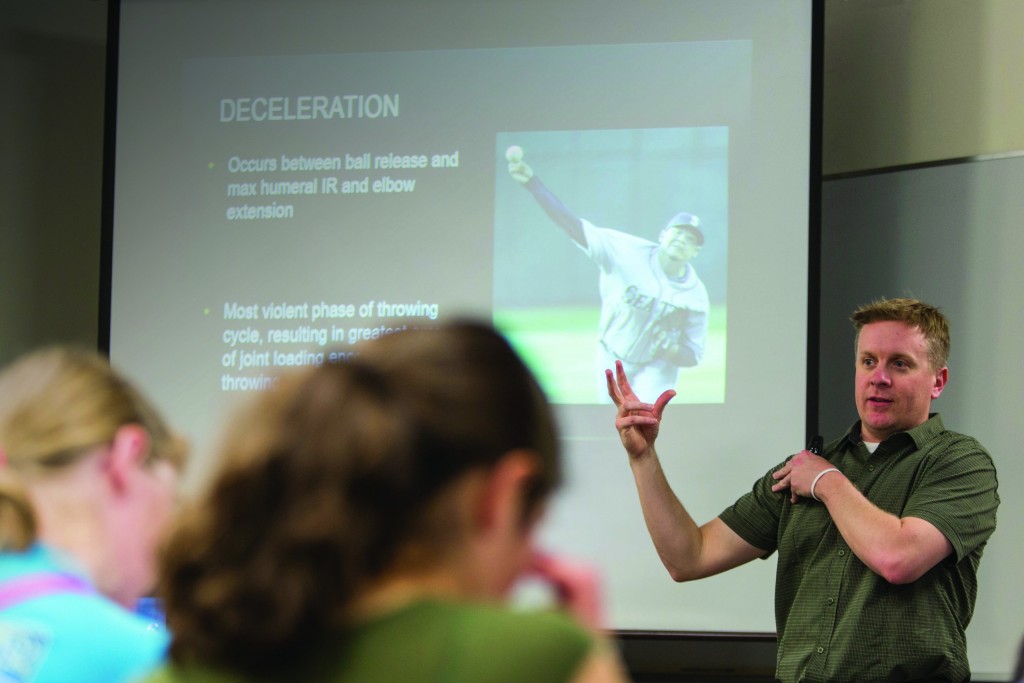 "It's unique, it's distinct in the marketplace," Hacker said. "They're in for a ride. They're in for a special graduate educational experience."