Currently Reading:
Andrew Miller '14 leverages his PLU MBA to help Tulip Town adapt during COVID-19
Andrew Miller '14 leverages his PLU MBA to help Tulip Town adapt during COVID-19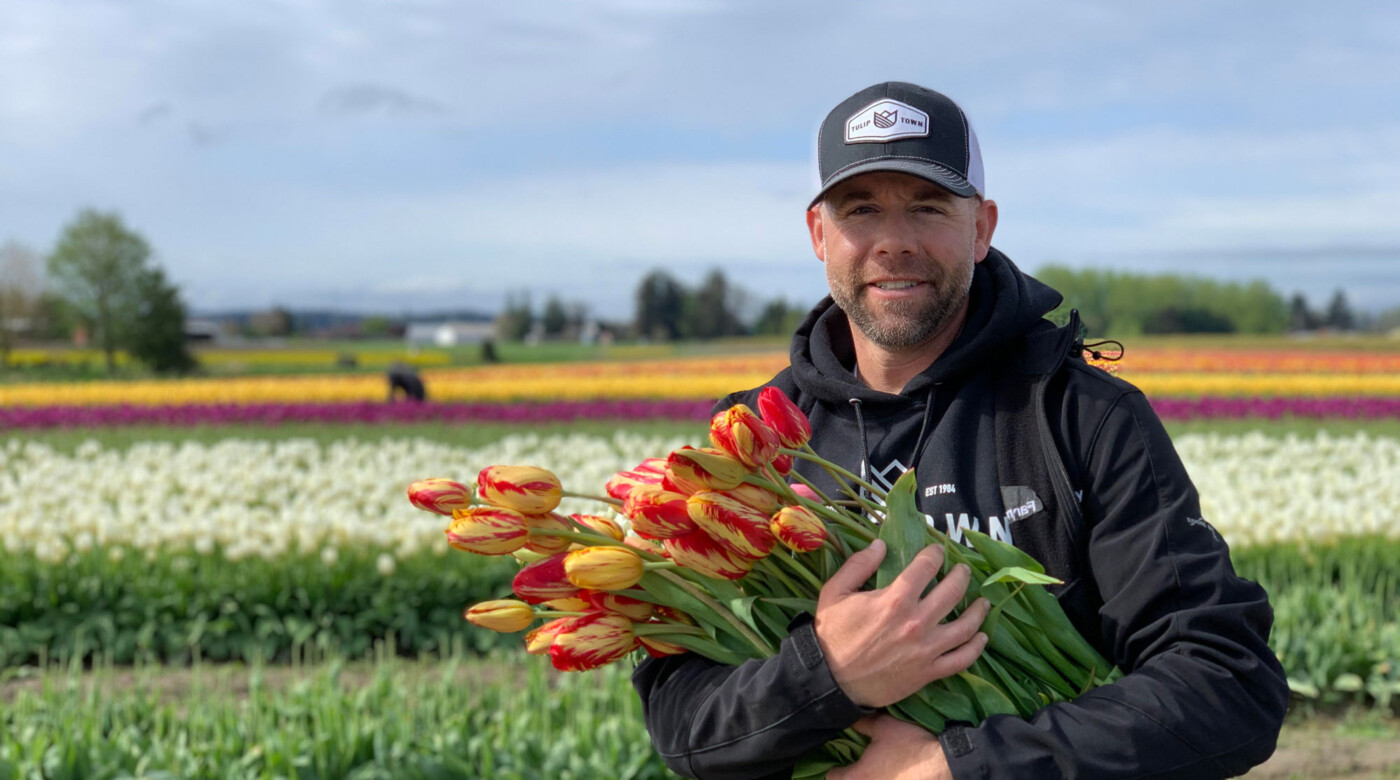 May 26, 2020
By Ernest Jasmin
Marketing and Communications Guest Writer
Andrew Miller '14 and his partners at Mount Vernon's Tulip Town were counting on a big haul in April. That's when 350,000 tourists normally flock to the area to celebrate the Skagit Valley Tulip Festival and admire seas of colorful blooms.
A graduate of PLU's MBA program, Miller is CEO of Spinach Bus Ventures, a group of five longtime friends that bought Tulip Town last June, anticipating a return on their investment once the tourists arrived in the spring. Sales of bulbs, bouquets, and other merchandise during the festival could account for as much as 95 percent of the farm's annual revenue.
But that was before the novel coronavirus (COVID-19) struck, and Gov. Jay Inslee issued a stay-at-home order in March in an effort to slow the spread. The Skagit Valley Tulip Festival was canceled, and Tulip Town's new owners suddenly faced the possibility of going out of business in their first year.
"We'd been tracking COVID-19 since January, thinking that it might be a disruption," Miller recalled. "We knew we were going to have to flip the switch and do some things differently. So, in about 72 hours, we completely rewrote our business plan for 2020."
Miller drew heavily on lessons he had learned while enrolled in PLU's MBA program. He also solicited advice from PLU business school dean Mark Mulder, whose marketing class had worked with the Economic Development Association of Skagit County to study value-added agriculture.
"I use a lot of that research every day up here, and there are other farms that do, as well," Miller said.
"We just really rolled up our sleeves and realized we're not going to hit projections; but if we can hit costs, we get to do this again next year."
Deprived of their main revenue source, Tulip Town staff sold bulbs and organic flour from a farm stand in their parking lot. They also developed a shipping program, allowing them to sell to remote customers for the first time.
Less orthodox was a new program called "What's at Stake" that allowed customers to honor loved ones by placing memory markers in the tulip fields. These are displayed on the company web site and were a much bigger hit than anticipated.
"We thought there would be about 300 people that would like to do that, and it ended up being like 2,200 people," Miller said.
Then there was Tulip Town's Colors of Courage campaign, through which tulip lovers could honor some of those most affected by the pandemic.
"As a commercial grower we were able to move flowers into areas that were otherwise shut down," Miller said. "We could get into nursing homes and hospitals, and to first responders. So we started selling bouquets of flowers online that can then be donated."
And while social distancing has kept large crowds away from Tulip Town, tulip lovers can still tour the 7-acre farm thanks to a new virtual app.
"If you're flying over the field and you want to look down, you just point your phone down," Miller explains. "You can spin it around and see what it looks like behind you. It's a fully immersive experience."
"Without all of these adjustments, we wouldn't have Tulip Town next year," Miller said. "The most important lesson I took away from this was that you absolutely have to lead with your values. When you lead with your values, and you figure out what's most important and can create community and connection around that. It helps every step of the way, especially in stressful times."
Mark Mulder, Dean of the PLU School of Business, on his spring volunteer experience with Tulip Town:
"It's been fun to collaborate with Andrew… as a true Lute, he has a heart for serving others and thinks of his team as being in the smile business, not the tulip business.
"Recently, my wife and I were able to help with the Tulip Town operations for a day in Mount Vernon and pick up around 200 tulip bouquets donated to bring smiles to those serving others. We connected with Good Samaritan Hospital, where they were able to put fresh bouquets of brightly colored tulips in every department of the hospital. We also delivered some to Central Pierce Fire and Rescue, the Pierce County Sheriff's Department, Saar's Supersaver Foods, the Parkland Post Office, a local retirement community, and other locations around the Parkland area.
"We were also able to receive another shipment to spread the smiles, and delivered bouquets to the staff at Franklin Pierce School District who are feeding our youth. We are also able to drop off some to the PLU culinary teams for their work in serving students, and well, a few to our friends in the President's Office who also serve generously to find ways to support students, staff and faculty at PLU."