Currently Reading:
Aminda Cheney-Irgens '20 on her chemistry and Hispanic studies double major, research in Puerto Rico, and preparing for graduate school
Aminda Cheney-Irgens '20 on her chemistry and Hispanic studies double major, research in Puerto Rico, and preparing for graduate school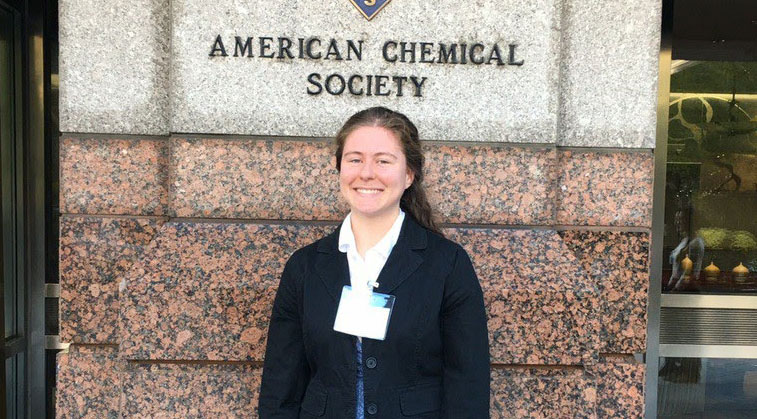 May 20, 2020
By Lisa Patterson '98
Marketing & Communications Guest Writer
Aminda Cheney-Irgens is a smart, driven, and globally-minded Pacific Lutheran University senior who, like her peers, spent her spring adjusting to a new way of doing college. She's learned to record Zoom lessons, sharpened her Google Docs skills, and misses the real-life campus interactions.
She's also had to pass on accepting the prestigious Fulbright scholarship she was offered because coronavirus-related travel restrictions would delay her service as an English as a Second Language Assistant in Mexico, where she also planned a secondary study of the water quality.
But Cheney-Irgens, who was raised in the Dallas-Fort Worth area and chose PLU for its beauty and proximity to her grandparents, is resilient. She has big plans for her future (which include applying for the Fulbright again down the road). We connected with her for advice about how other Lutes can forge their own paths and how to gracefully weather unexpected detours.
You have an interesting double major (chemistry and Hispanic studies). Tell us about that.
I actually started out at PLU as an environmental studies major. My freshman year, I took awesome courses in religion and economics that taught me about ways people perceive and interact with the environment and asked me to critically consider negative social externalities that arise from pollution and other concerns. I really enjoyed these classes but wanted the opportunity to take more math and science courses and ended up shifting the environmental studies degree to a minor and adding a chemistry major.
The Hispanic Studies degree was really inspired by my high school Spanish teacher. I took AP Spanish 4 and 5 in high school and loved being able to read literature, listen to songs, and communicate with others in a different language. Because of schedule complications, I started at PLU as a Hispanic Studies minor. But after studying away in Oaxaca, Mexico, and realizing I was able to fit in the last few courses I needed for the major, I decided to switch over. 
How do you think PLU has prepared you for the next steps in your life/career?
Having the opportunity to travel to another country and engage in summer undergraduate research were fantastic personal- and professional-development experiences that will certainly help me succeed in the future.
How has this combination been beneficial?
This combination of degrees has opened many doors for me. I was accepted to a chemistry REU (Research Experience for Undergraduates) in Puerto Rico the summer after studying away, and this December I traveled to Madrid to participate as an ACS Student Affiliate in the United Nations COP 25 Conference. Being able to grocery shop and buy train tickets in Spanish during these experiences was really fun and made me feel confident in pursuing other opportunities in the future.
What did you do for your senior capstone?
My capstone for chemistry is focused on the research I helped with in Puerto Rico, working to develop metal-free electrocatalysts to facilitate the oxygen reduction reaction in air batteries. For my Hispanic studies capstone, I was able to incorporate my environmental studies interests by choosing a project that considers implicit bias in the representation of water justice movements in Bolivia.
What do you think are some of the biggest lessons you learned at PLU — either in class or during any experience?
As cliché as it sounds, I really think my study-away experience taught me the most about what it means to be a citizen of our world and put many aspects of life into perspective. There's nothing quite like living in another country for four months. Through Environmental Studies, I've also really learned about the importance of collaboration and kindness in advocating for change. We've got to be informed on the topic of concern, and then work together to solve it!
You are getting your master's degree next at the University of Washington. Tell us more about that.
I'm excited to be attending UW Seattle for environmental engineering. I've loved my chemistry and environmental studies coursework at PLU and am really happy about this opportunity to continue developing these skill sets through engaging in coursework and research around environmental concerns.
What advice do you have for other students who want to create their own paths at PLU?
First, get to know your professors — I was really grateful to have fantastic professors in my courses at PLU. Through their guidance and support, I was encouraged to present at the American Academy of Religion conference and the American Chemical Society conference. Because of connections I'd made with faculty, I was recommended to participate in the Rachel Carson Lecture Planning Committee, which was a great experience to meet and work with faculty to plan such a meaningful STEM event for campus. And I would never have learned about the opportunity to attend a United Nations conference as an undergraduate student if I hadn't talked with Professor Yakelis about why I wanted to major in chemistry!
Second, pursue opportunities outside of PLU — PLU has awesome on-campus opportunities to build community and engage in professional development, like the Natural Sciences Undergraduate Summer Research Program and student employment opportunities. But it's also great to gain experiences and build connections off-campus, too.
Third, study away — For some degrees, it's a lot harder to fit in a study-away semester. But if you can, I highly recommend it! PLU financial aid applies, which is really helpful. And it is a seriously impactful experience.
What are your long-term goals (career or otherwise)?
Right now, I'm not exactly sure of the career I'll pursue, but know I want to work for environmental health and participate in research and community outreach. And if I can be outside sometimes, even better! I've got an internship with the Environmental Division of Code Compliance for the City of Fort Worth planned for this summer, and I'm really looking forward to this work. I also hope to keep developing my Spanish and to pursue learning and volunteer experiences that will utilize my language skills.