Currently Reading:
PLU School of Nursing professor to be inducted as a fellow of the American Academy of Nursing
PLU School of Nursing professor to be inducted as a fellow of the American Academy of Nursing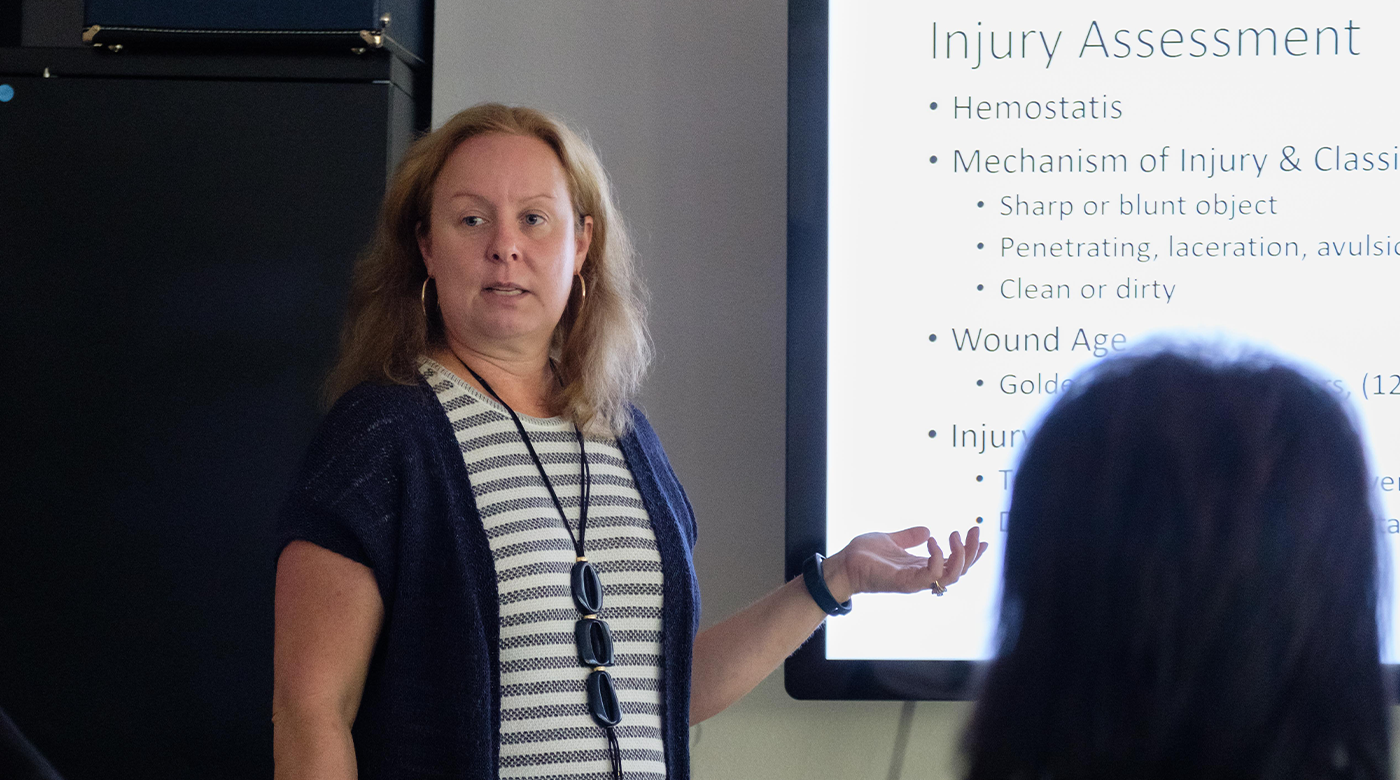 August 15, 2022
By Veronica Craker
Marketing & Communications
Tacoma, Wash. — Pacific Lutheran University is pleased to announce that Kathleen Richardson, assistant professor of nursing, has been selected to be a Fellow of the American Academy of Nursing (Academy). Richardson also serves as associate dean of academic affairs at PLU.
"Dr. Richardson has been recognized for her significant contributions to advanced nursing practice and her leadership both in the military and in academia," Barbara Habermann, dean of the school of nursing, said. "Her induction into the Academy represents a significant milestone after a rigorous and competitive application and review process."
Richardson is a dual board-certified Family and Emergency Nurse practitioner with over 25 years of healthcare experience in both the military and civilian settings. In addition to her role as associate dean for Academic Affairs and faculty member, she is extremely active in professional organizations, on the board of ARNP's United, and maintains an active clinical practice.
The Academy is an honorific society that recognizes nursing's most accomplished leaders in policy, research, practice, administration, and academia. Academy Fellows, from nearly 40 countries, hold a wide variety of influential roles in health care. Induction into the Fellowship represents more than recognition of one's accomplishments within the nursing profession. Fellows contribute their collective expertise to the Academy, engaging with health leaders nationally and globally to improve health and achieve health equity by impacting policy through nursing leadership, innovation, and science.  
Through a competitive, rigorous application process, the Academy's Fellow Selection Committee reviewed a record number of applications, representing a 30% increase from the previous year, to select the 2022 Fellows. Richardson was one of 250 individuals selected to be inducted. The 2022 Fellows represent 35 states, the District of Columbia, Puerto Rico, the U.S. Virgin Islands, and 17 countries. 
The 2022 inductees will be recognized for their significant contributions to health and health care at the Academy's annual Health Policy Conference, taking place on October 27-29, 2022 in Washington, DC.