Currently Reading:
PLU to host environmental symposium and Earth Week events exploring the violence of natural resource extraction
PLU to host environmental symposium and Earth Week events exploring the violence of natural resource extraction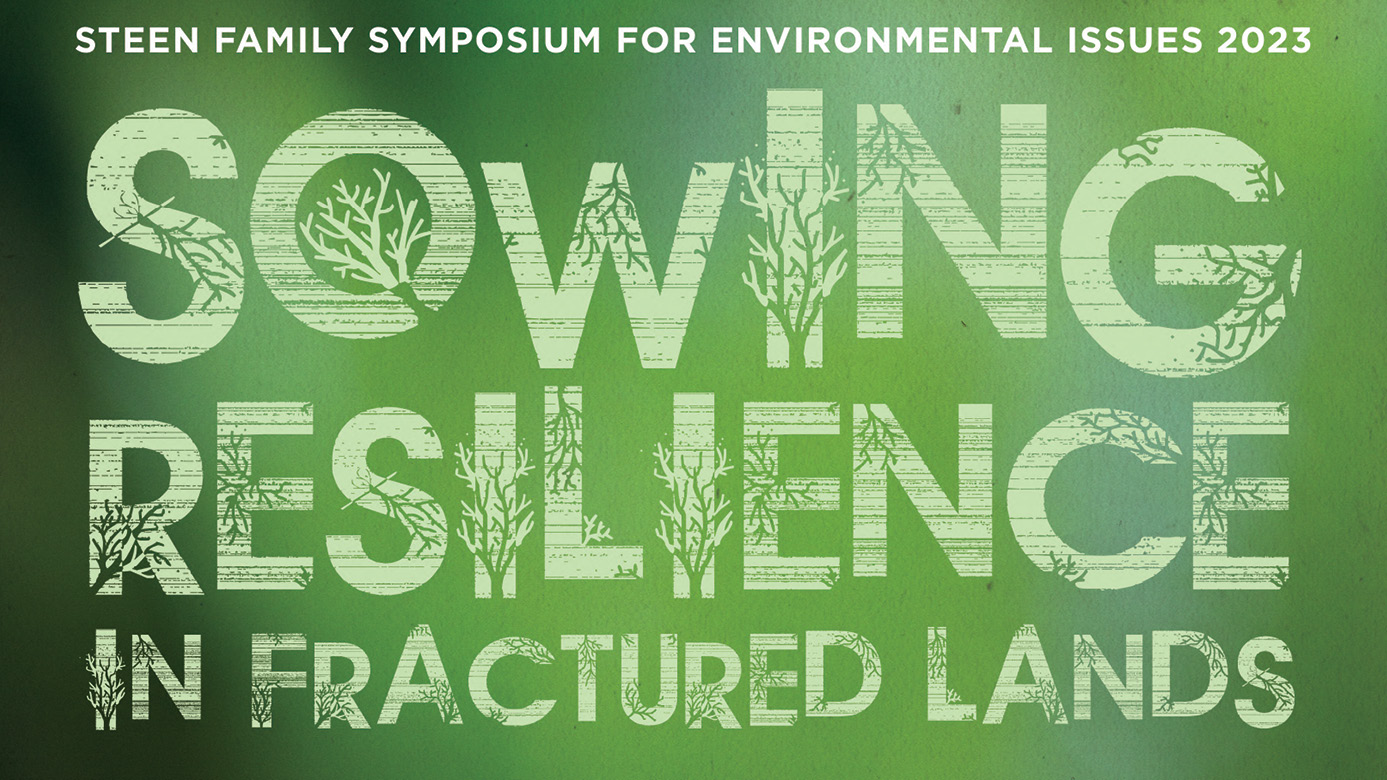 March 27, 2023
Steen Family Symposium Steen Family Symposium on Environmental Issues
April 17-19 | Free and open to the public
Established in 2022 through a gift from David '57 and Lorilie Steen '58, the Steen Family Symposium brings informed speakers who challenge current thinking and propose healthy change to the PLU campus for the purpose of contributing to educate for "lives of thoughtful inquiry, service, leadership and care — for other people, for their communities and for the Earth."
Organizers say the symposium reflects the PLU environmental studies program's commitment to thinking about environmental issues from intersectional perspectives that bring into focus the connection between the health of the environment and the health of people and their communities.
"This year's annual symposium topic, Sowing Resilience in Fractured Land, will invite us to challenge our current thinking and consider how the violence of natural resource extraction impacts ecosystems, communities, and individuals," said professor Adela Ramos, a co-organizer of the symposium and chair of PLU's environmental studies program. "Our guest speakers will offer alternative ways of living and coexisting on fractured lands and watersheds, and demonstrate how creativity, tradition, ingenuity, and community-based work can create local, regional, and social resilience." 
The symposium begins on April 17 with a talk by Eileen Quigley, Executive Director of the Clean Energy Transition Institute, titled "Decarbonizing the Northwest Economy." The next two days of the symposium will include a story festival co-organized with the Tacoma Public Library's Community Archives Center, a book discussion, a watershed exhibit, and the Steen Family Symposium Inaugural Panel on Environmental Issues with speakers from the Center for Responsible Forestry, Nisqually Tribe, and Tacoma Tree Foundation.
Earth Day Lecture
April 19 | Free and open to the public

PLU's annual Earth Day lecture will feature Taylor Brorby, author of the recently released book, "Boys and Oil: Growing Up Gay in a Fractured Land." Like his book, Brorby's lecture will contrast the gentle stirrings of the prairie with the violence of the oil and gas industry. Through the lens of his experience as a gay man growing up on fractured land, he will explore how character and identity are shaped by the landscapes that raise us.
Earth and Diversity Week
April 19-23 | Attendance limited to students and PLU employees
PLU's annual Earth and Diversity week will include student-directed events, including a clothing swap that encourages students to consider different experiences while considering the relationship between the clothes we wear and the extraction of resources such as cotton, wool, and other raw materials; a birding evening excursion titled Gritty Ornithology: Birds of Industrial Tacoma; and a bean planting party at the PLU Community Garden. 
For times, locations, and additional information about all of the events associated with the Steen Family Symposium and Earth and Diversity Week visit the series website.