ASPLU, the dCenter, the Environmental Studies Program, and Dr. Suzanne Crawford O'Brien (Dean of Interdisciplinary Studies) invite you to join us in this year's Earth and Diversity Week activities, which have been organized to engage in hope and provide paths to action in a time of crisis and grief. Please join us starting today by participating in the 40 Days of Care and Action that will lead up to Earth and Diversity Week!
March 2 - April 17
In many Christian traditions, including in ELCA Lutheran traditions, Lent is the 40 days (excluding Sundays) of reflection and preparation that begins on Ash Wednesday and leads up to Holy Week and Easter. While we often associate Lent with giving things up, it can also be a time of new commitments and growth. The word "Lent" comes from the Anglo-Saxon word for Spring (Lenten) and gives us an opportunity to celebrate a season when we are coming out of darkness and growing into light.
This year, we're drawing on this Lenten tradition, to encourage us all to take up 40+ days of Care and Activism, leading up to Earth and Diversity Week. Each day, we provide opportunities for action, activism, care, reflection, meditation, or service. Hope and joy don't always come easy–sometimes they require practice. Whether you participate for one day or all of them, we encourage you to join us in building new habits of purposeful action. We're all in this together! Consider posting updates or photos of you and your community as we journey through the season as a community. #PLU40DAYS
In the ELCA Lutheran church, the 40 days of Lent commemorate the 40 days that Jesus spent fasting in the desert after his baptism. It's a very Christian tradition, and one that fits with our Lutheran heritage. Students wishing to connect more closely with our Lutheran traditions around this time are encouraged to connect with Campus Ministry, including our Ash Wednesday service, other chapel services and celebrations, and the Spring Retreat. PLU also deeply values interfaith work, and in that spirit, this calendar is decidedly interfaith: it includes activities and meditations that are both secular and grounded in a variety of faith traditions. These are 40+ days when everyone is welcome.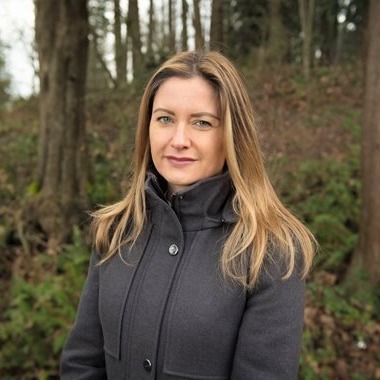 Beyond Climate Doom:
Navigating Grief and Anxiety in the Age of Crisis
2:00-4:00pm, Scandinavian Cultural Center
As our climate crisis deepens, feelings of anxiety, grief, and hopelessness are on the rise. Staying engaged in climate solutions over the long term requires us to avoid emotional burnout; yet when bombarded with so much bad news – mass extinction, dying oceans, displaced communities and burning forests – this is easier said than done. This talk explores the mental health dimensions of climate disruption among students, scientists, activists, and frontline communities, and shares practical strategies for building the emotional resilience to channel despair into meaningful action. Join the lecture livestream here.
Dr. Jennifer Atkinson is an Associate Professor of environmental humanities at the University of Washington, Bothell. Her seminars on Eco-Grief & Climate Anxiety have been featured in the New York Times, Washington Post Magazine, the Los Angeles Times, NBC News, the Seattle Times, Grist, the Washington Post, KUOW and many other outlets. She leads public seminars on climate and mental health in partnership with youth activists, psychologists, climate scientists and policy makers. Her podcast "Facing It" also gives people tools to channel eco-anxiety into action.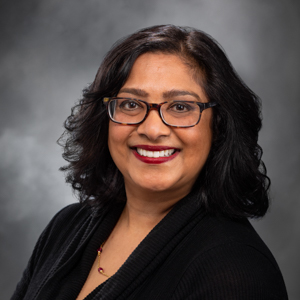 Mobilizing for Environmental Justice
4:00-5:30pm, Ness Family Lobby
Senator Mona Das (WA D-47) has made environmental issues a central concern of her time in office. She is the primary sponsor for SB 5697: the RENEW Recycling Act, a bill that would hold packaging producers accountable for the waste they create. Previous bills have included SB 5323 (a statewide ban on single use plastics), and SB 6272 (a bill to limit statewide greenhouse gas emissions). The Senator will speak about her journey to the senate as a woman of color, a first generation daughter of immigrants, and a fierce advocate for environmental and social justice, and will offer advice to students considering work in public policy, activism, and government.
There will be a reception from 3:00-4:00pm with Senator Das in the DJS Lounge before the conversation.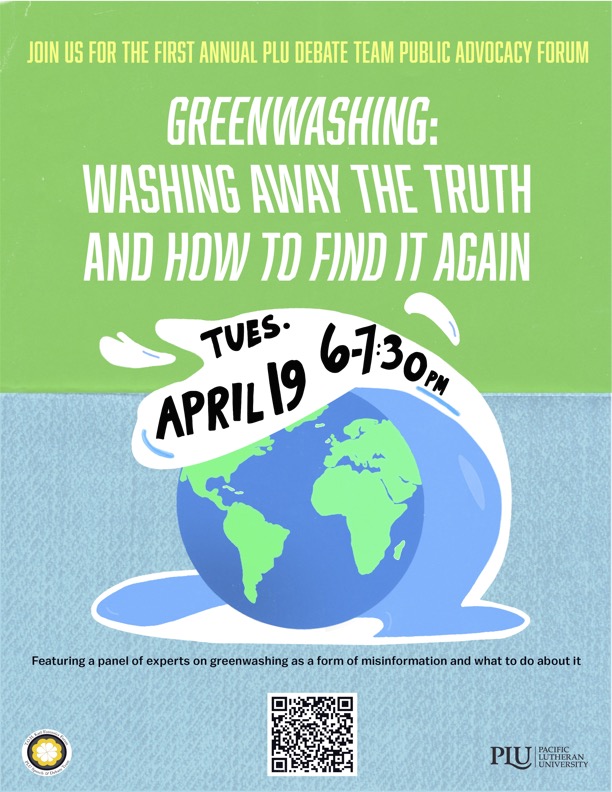 Greenwashing: Washing Away the Truth and How to Find it Again
6:00-7:30pm, via Zoom
Are you concerned about how fossil fuel disinformation shows up in the news and your social media? Are you unsure of what regulations exist to counteract climate misinformation? Do you wonder what environmentalist PR and advertising look like in practice? Do you want to learn how to notice "red flags" with "green" products and brands?
Then, we invite you to dialogue with our panel experts about greenwashing, "the use of unsubstantiated or misleading claims about… environmental performance or best practice for commercial or political gain" (Climate Social Science Network, 2022).
Forum Panelists:
Dr. Lisa Benjamin – Assistant Professor at Lewis & Clark Law School
Dr. Benjamin's research focuses on climate justice and climate risk, and how these issues intersect with energy law and administrative law. She is a member of the UNFCCC Compliance Committee, a Director of the Northwest Environmental Defense Center, co-Chair of the Climate Accountability working group of the Climate Social Science Network, and a member of the Expert Peer Review Group in the Race to Zero campaign. Dr. Benjamin was the legal advisor to The Bahamas during the UNFCCC Paris Agreement negotiations.
Mr. Duncan Meisel – Director, Clean Creatives, a group of PR and advertising professionals
Clean Creatives is a group of "strategists, creatives, and industry leaders who believe that fossil fuel clients represent a threat to our shared future." Mr. Meisel was previously a communications advisor to the Sunrise Movement and a lead digital campaigner for 350.org. He is the author of numerous opinion pieces including at The Independent, The Drum, and Yes Magazine.
Dr. Geoffrey Supran – Research Associate in the Department of the History of Science at Harvard University
From 2020-21, Dr. Supran was Director of Climate Accountability Communication at the Climate Social Science Network headquartered at Brown University. He is a frequent commentator in international media, such as PBS Newshour, The New York Times, The LA Times, The Financial Times, and The Guardian. Dr. Supran's academic publications include the first ever peer-reviewed analysis of ExxonMobil's 40-year history of climate change communications, which demonstrated that the company misled the public about climate science and its implications–a study cited by Anderson Cooper in CNN's 2019 Presidential Climate Town Hall.
Register here for the virtual event: https://plu-edu.zoom.us/webinar/register/WN_gj9Z1pHxRda9hmN3Dl2Z1A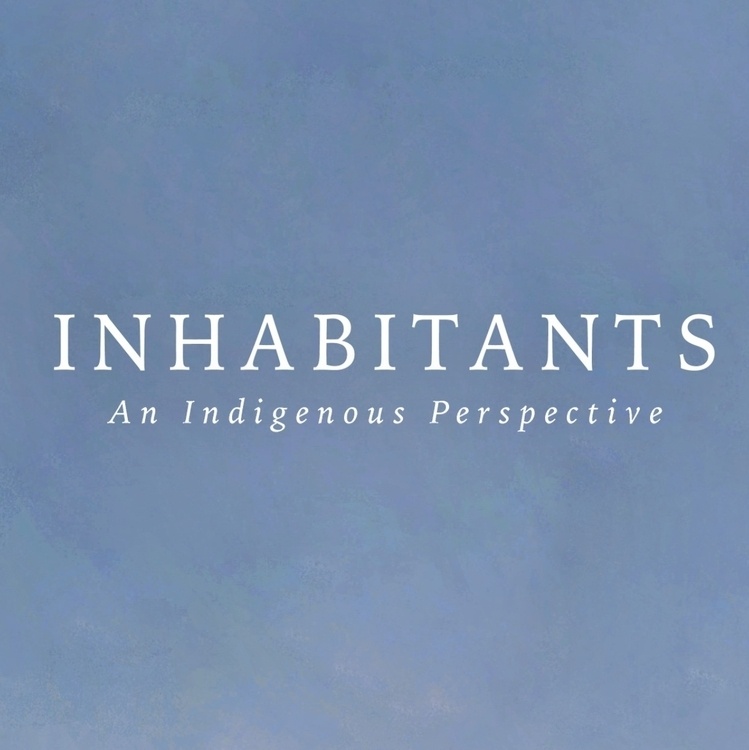 Inhabitants: Indigenous perspectives on restoring our world
Film Viewing April 11-24
Live Screening: Wed April 20, 6pm - 8pm, The CAVE
With the clock ticking on climate change, how can we "inhabit" where we live? Have your class watch Inhabitants: Indigenous perspectives on restoring our world , a new documentary that shows us how we can learn from traditional climate-resilient conservation practices of Native peoples . This hour-long film shows five sovereign nations' strategies in successfully dealing with many of the issues we are recognizing today associated with climate change – fire, drought, and loss of biodiversity. Inhabitants film review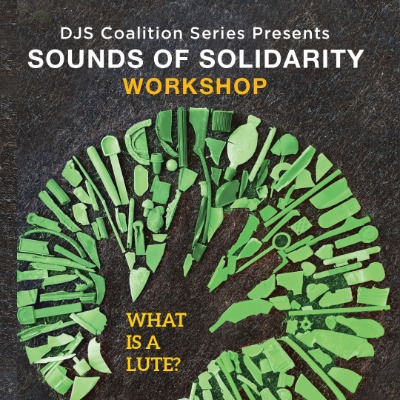 Sounds of Solidarity Workshop
What is a Lute?
6:00-7:30pm, Anderson University Center 203 Regency
DJS Coalition Series invites students to join and actively contribute to the critical conversations we are working through as a PLU community. In these monthly conversations, participants will engage in critical reflection and perspective taking as we collaborate together to move our big question towards action as a community of care.
In celebration of Earth & Diversity Week, we invite you to join us in our Sounds of Solidarity Workshop exploring What is a Lute? As we live in a time where voices are repressed, ignored, and erased, Sounds of Solidarity at its heart asks us to engage ourselves as through critical reflection as storytellers and as a listener for perspective taking to share and hear our communities diverse stories about our intersecting identities. In this workshop students will be able to express through creative writing, art, or other form of mixed media as we explore together the question, What is a Lute?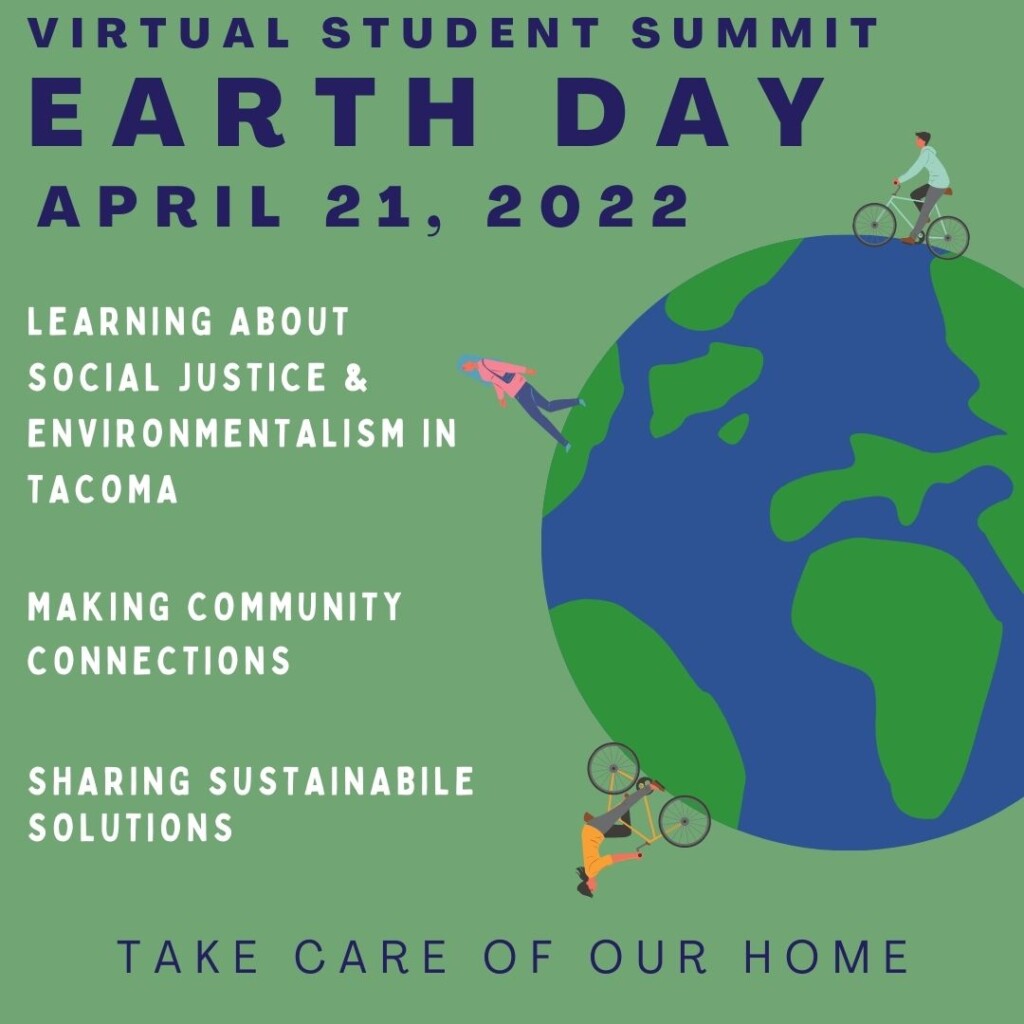 Virtual Student Summit: Earth Day
4:00-6:30pm, Virtual
Join local students in an event where representatives from 15+ local organizations, including Surfrider, Downtown on the Go, Tahoma Audubon, Northwest Trek Wildlife Park, Pierce Conservation District, Food Not Bombs, Forterra, Tacoma Green Drinks, 350 Washington, Communities for a Healthy Bay, Ikkatsu Project, Farm at Franklin Pierce, and CHIP-In, will participate to advocate for environmental justice. The main goal of this event is to bridge the gap between students interested in environmental and social justice and the greater Tacoma community. To do this, our event creates an opportunity for college students to directly talk with local organizations, learn about what they do, and gain volunteer opportunities. Especially with COVID-19, it can seem impossible to find tangible ways to contribute to environmental justice, but this event aims at making it less challenging. Our plan is to have students listen to brief overviews of each organization, then go into breakout rooms where they will have the chance to ask questions and talk more to each organization, ending with a student forum about how to address climate change on our campuses.
Students from Pacific Lutheran University can register using the following link: https://bit.ly/tacomastudents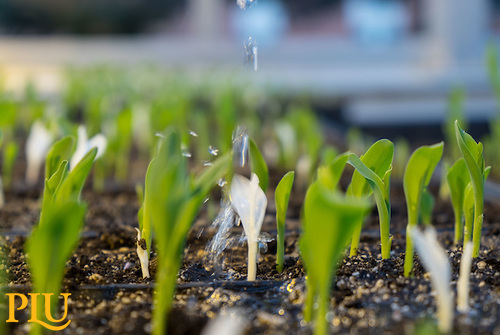 Seeds of Change
1-3pm, Makerspace, Hinderlie Hall
Join us to learn about enacting environmental change through civic engagement.  As an incentive for this learning experience, students will be able to plant plants and paint pots for those plants.  This event is hosted by Lute Vote, Student Sustainability Committee, and GREAN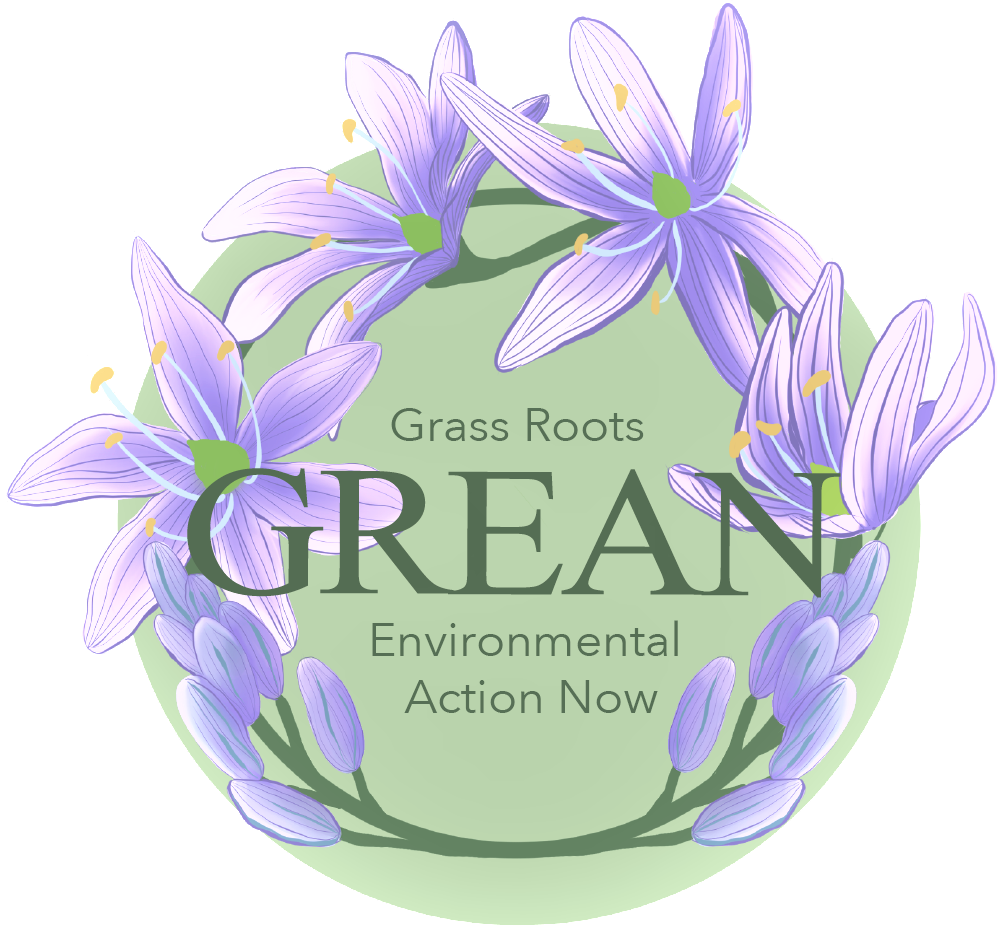 Invasive Species Removals
Saturday 4/23 12:30pm-3:30pm, Tobiason Center
Join GREAN Club outside of the CAVE on lower Campus around 12:30 where we will be meeting to remove invasive species from the Fred L. Tobiason Center. This is an easy and hands-on way to get involved on campus and learn about some indigenous and invasive species to the area. Tools and gloves are provided, we recommend you bring your own water bottle and clothes that can get a little dirty and that are durable as sometimes Blackberry thorns can catch. We hope that you can join us to help promote biodiversity on campus and have some fun! Meet at the picnic tables outside of the Cave entrance at the south entrance of the Andersen University Center [AUC]
Earth & Diversity Week Events
2016 – Associate Professor and the Academic Director of the Aboriginal Education Research Centre at the University of Saskatchewan, Alexandria (Alex) Wilson delivered her lecture "Indigenous Sovereignty: Bodies, Water, Land, Sky, and Scholarship."
2015 – Associate Professor of Geography at the University of Kentucky, Carolyn Finney delivered her lecture "This Patch of Soil: Race, Nature, and Stories of Future Belonging."
2014 – Former Washington Gov. Christine Gregoire spoke on her record of environmental stewardship.
2013 – Dr. Michael E. Smith, Professor of Anthropology at Arizona State University
"When Small Was Beautiful: The Ancient History of Resilient Practices"
2012 – Dr. Michael Pavel, Professor of Native American Studies in the Department of Education Studies at the University of Oregon
"Connecting to Everything on Earth: Its Land, Water, and Peoples (Plant, Animal, and Human"
2011 – Greg Nickels, Former Mayor of Seattle and U.S. Public Delegate to the United Nations
"All Politics is Local: Even Global Warming"
2010 – Dr. David Montgomery, Professor of Earth & Space Sciences at the University of Washington
"Dirt: The Erosion of Civilizations"
2009 – Dr. Coll Thrush, Professor of History at the University of British Columbia in Vancouver
"The Environmental History of Not-Seeing: Indigenous Landscapes and the Re-Imagining of Cascadia"